Cokie Roberts Is Enjoying Her Rest Of Life With Husband Amid Cancer Issues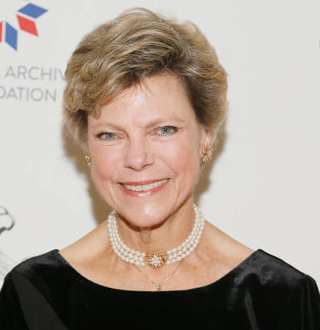 Quick Information
Date of Birth

Dec 27, 1943

Age

79 Years, 9 Months

Nationality American
Birth Place

New Orleans, Louisiana, United States

Birth Name

Mary Martha Corinne Morrison Claiborne

Profession

Journalist

Relationship Status

Married

Husband/Spouse

Steven V. Roberts (m. 1966)

Divorce/Split

Not Yet

Wedding Date

September 10, 1966

Dating/Affair

No

Net Worth

$5 Million (Estimated)

Ethnicity/Race

Mixed

Father

Hale Boggs

Mother

Lindy Boggs

Sister/s

Barbara Boggs Sigmund

Brother/s

Thomas Hale Boggs Jr.

College

Wellesley College

Height/ How Tall?

N/A

Weight

N/A

Hair

Short

Hair Color

Dark Brown

Eye Color

Blue

Lesbian

No

Son/s

Lee Roberts

Daughter/s

Rebecca Roberts
Cokie Roberts has come a long way since she started as a beautiful lady with sleek black hair and a slender figure. The grey ones have now replaced her black hairs, and her thin frame has gone long, but one person has remained with her through thick and thins. 
Cokie Roberts, age 74, is a veteran media personality and author. She is the news analyst and political commentator for the National Public Radio where she has been contracted since 1992. She also appears regularly in TV through her association with the ABC network where she is an on-air analyst. 
Powerhouse Roundtable: Cokie Roberts discusses President Trump's support of Roy Moore (published on 26 November 201)
When Cokie, whose real name was Corinne, was young her younger brother couldn't pronounce her name and thus called her Cokie. Thus started, people started calling her Cokie and her name remained so.
Cokie Roberts Was Born To Politically Involved Parents
Born on 27 December 1943, as Mary Martha Corinne Morrison Claiborne Boggs she attended an all-girls school in her childhood.
Her father, Hale Boggs, was a Democratic Congressman from Louisiana. He was also a Majority Leader of the House of Representatives and was lost in one of the most talked about aviation accident in 1972. Cokie's father was campaigning in Alaska for a congressional election when his plane lost contact, and despite a manhunt of more than a month, neither he nor the plane's traces could be found.
Cokie's mother Lindy Boggs was also a long-time congressman and even acted as ambassador. She is still haunted by her father's traumatic disappearance and provides condolences to air crash victims regularly.
Cokie attended an all-girls school in New Orleans, Academy of the Sacred Heart but actually graduated high school from another all-girls school in Washington D.C., Stone Ridge School. Probably inspired by her parents, she later graduated with a degree in Political Science from Wellesley College, another all-women college.
Cokie Roberts Dedicated Her Life To Journalism Since Young Age; Had Highs & Lows
Beginning her career as an out of the country reporter for CBS News, Cokie was stationed in Athens. After returning to the states, she held a variety of positions in local TVs from 1981-84, before joining the ABC network in 1988. Before joining the ABC, she was already reporting for the National Public Radio. 
Cokie slowly rose ranks in NPR, and as of 2018, she is a senior news analyst and political commentator. She ran a parallel career in ABC and hosted various programs with the network. She is also the on-air-analyst of the channel. She even became a guest panelist for the network's show This Week With George Stephanopoulos.
Another Veteran Journalist: CNN's Joan Walsh Age 60 Married & Separated With Husband! Family Now
Her dedication of the hole life to journalism has seen her bestowed with numerous awards including Edward R. Murrow Award, and The Everett McKinley Dirksen Award. What's more, she was also awarded an Emmy in 1991 for her contribution to docudrama Who is Ross Perot?
While most of her career is graced with awards and praises, there was also a time in her career when her credibility as a journalist was questioned. The most of these happened after an interview with a Mexican nun who was stationed in Guatemala.
Apparently, the nun was abducted and raped by a government-backed death squad among which, according to the nun, was an American. But Cokie seemed to refuse to believe this. The reason behind this, as many of critics pointed, was because Cokie's brother's law firm was lobbying for the Guatemalan government and trying to present it in the positive light.
The incident brought the question of Cokie's biases in journalism, a rather dark smudge in her otherwise spotless career.
Cokie Roberts & Her Husband Are Together Since They Were Teenagers
As of her love life, she is married to journalist turned professor Steven V. Roberts and has two children and four grandchildren. Despite having been married for more than half a century, the husband and wife are still going strong.
Related: CNN Commentator Carl Bernstein's Love For Spouse Enhancing With Age, Like Whisky
The old age couple met during their teenage years in 1962 at a political conference during their college days. Cokie was 18 when she met with Steven who himself was a year older at 19 years of age. After dating for about five years, the couple decided to tie the knots. And in the summer of 1966, at Cokie's home in Bethesda, Maryland, the couple exchanged the vows to remain together and face all the adversities together.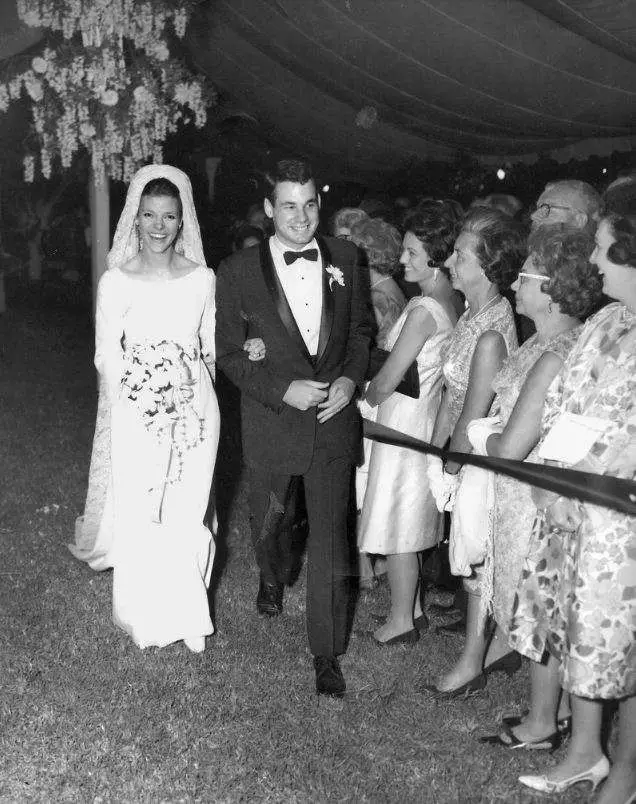 Bond of Promise: Cokie Roberts gets married to Steven Roberts in 1966 (Photo: nytimes.com)
The couple, both belonging to journalism, had regular professional differences. However, their professional life never got into their personal life and love prevailed in every situation. What's more, despite differences in their thinking and ideologies, the age wrote a synergized column together, which is syndicated to national dailies all over the States. 
The couple was blessed with two children and whats more; their happiness has quadrupled now after the arrival of great-grandchildren.
Cancer Cannot Break the Unbreakable Bond With Husband
The couple's marriage suffered a first real test when Cokie suffered a significant health scare after being diagnosed with breast cancer in 2002. Fortunately for the ABC broadcaster, the diagnosis of cancer was made at an early age. And after experiencing surgery to remove the tumor in her breast, she was declared free from disease in the same year. She returned to full health after the surgery. 
Speaking to the New York Times in December 2017, the couple revealed that marriage was an ever-evolving experience and their openness to change and adaptation was the secret to the longevity of their marriage. They further told that mutual respect and sense of equality was another most important quality they had in them which helped them to respect other partner's contribution to the family.
Similar: ESPN Chris Mortensen Battles Cancer For Health Stability But Weight Loss Hints Panic
This not only increased a sense of respect between the husband-wife, but it also brought them closer. Despite having spent 52 springs with each other and having seen their transformation from a teen to old age, they still haven't got enough of each other.