CNN's Joan Walsh Age 60 Married & Separated With Husband! Family Now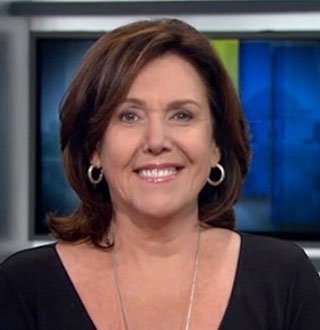 The American journalist and columnist Joan Walsh once had a blissful married life with a supporting and loving husband, but the blows of life swung so wildly, without any particular direction, that the married life ended without any particular reasons.
The New York City native is well known among the American masses as one of the best progressive voices of reason in the country. She has worked for Salon editor in chief and columnist, for MSNBC as a political analyst. Currently, she is working with CNN.
CNN News Tonight: Watch Joan Walsh talk about Pittsburgh Synagogue shooting and religiosity in the US (Published on 29 October 2018)
From her years of works in journalism, Joan Walsh has earned a massive net worth; the exact sum, however, is not disclosed.
Joan Walsh Was Born And Got Education In Religious But Liberal Family
On 18 September of 1958, Joan Walsh was born to Irish Catholic family in Brooklyn, New York City. When Joan was only two years of age, her family moved to Oceanside, Long Island, and Joan grew up there with a sister and a brother.
You Might Like Reading This: CBS' Norah O'Donnell: Political Affiliation, House, Salary, Net Worth - Career Details
Later, when Joan was aged 13, they moved to Milwaukee, Wisconsin and she got her education in Shorewood High in Milwaukee and went on to attend the University of Wisconsin.
Although devout Catholics, Walsh family was one of the liberal minds and actively supported the civil rights movements raging at that time. This might have had a lasting impression on the young mind of Joan.
Joan Walsh's Career Heights: Long Years With Salon, MSNBC & CNN
Right out of college, and young hot desire for progressive change, Joan worked as a freelance journalist for a while. When the internet was just hitting America, Joan was offered to work for an online magazine, Salon, for which she worked for almost 16 years and also served as an editor in chief.
After Salon, Joan worked for MSNBC for 12 years until 2017, when MSNBC decided not to renew her work contract. After MSNBC let her go, and the public erupted in support of Joan, CNN picked her up and allowed the world more of progressive and distinct commentary of Joan.
Joan's insights into today's world are even more evidenced by her recent book, What's the Matter with White People? Why We Long for a Golden Age That Never Was, which chronicles the grand narrative of the failing middle class in the first world countries.
Related: CNN Commentator Carl Bernstein's Love For Spouse Enhancing With Age, Like Whisky
Ex-Husband's Support During Early Days Couldn't Save Joan Walsh's Married Life
Now, 60 years old, Joan Walsh once had a very enviable married life but that couldn't continue for long.
Joan was married to a husband, who supported her well during her early years when she wasn't yet established in the journalism and wasn't earning much.
Things, however, didn't go as planned and Joan had to separate from her then-husband; not even having a daughter together could save their marriage.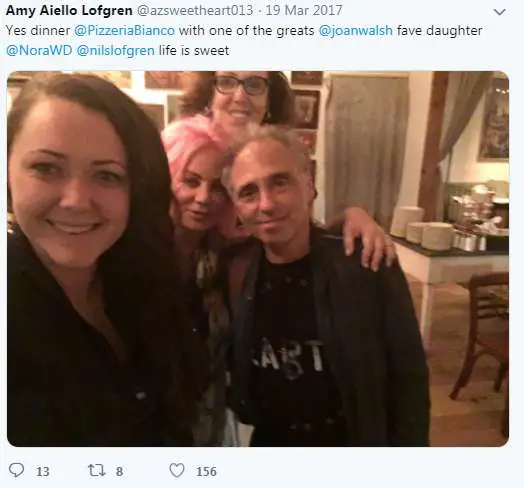 Beautiful Daughter: Joan Walsh (back) and her daughter (front) with their friends (Photo: Twitter)
Named with both Joan's and her husband's surname, Nora Walsh DeVries (daughter), is now aged 27 and on her own way to success.
Keep Reading: Attorney Faith Jenkins Age 40 Is Married! Furtive Husband, Salary, Net Worth & Essential Details
Since her divorce, Joan has had few relationships here and there but nothing significant enough to get married or turn the date into a husband.
Whatever shape her personal life took and/or is taking, Joan remains one of the most significant social theorist and political analyst of modern times.
---