Candice Boyd Has Boyfriend As Supportive As Family At Age 27 & It's Not Steve J
Candice was interested in singing from a young age...Candice had kept her love-life details into the dark, not opening up about her boyfriend and wedding plans...introduced her boyfriend and made it clear that she is not dating Stevie J...As per the wiki...She is very close to her family

Musical artist Candice Boyd was once speculated to be dating the Leave It To Stevie star Stevie J. But she clarified the dating rumors by introducing her real boyfriend and the world can't stop suspecting if she is having a wedding with him. 
The Southern California native aged 27 became famous after reaching the finals of the first season of the singing competition The Four: Battle for Stardom. She also has an affiliation with Epic Records, a sony owned label who has famous singers, Mariah Carey and Louis Tomlinson on their books.
The Four: Candice Boyd performs amid live studio audiences in the set of The Four: Battle for Stardom in the challenge round. (Published: 11 Jan 2018)
Candice was interested in singing from a young age after she found herself in love with music while singing in the church. As per the wiki, Candice officially entered the musical realm as a background singer in early 2010. She contributed to the tracks of famous singers such as David Guetta, Flo Rida, and Nelly. 
She Won The Show: 'The Four' Winner Evvie McKinney Age 20, Gushes About Father, Reason To Sing!
She started to sing and dug her way to the singing career by creating a YouTube Channel. 
Candice Boyd's Bio: Started Youtube Channel At Age Of 25
She initiated uploading videos of her singing on her channel titled "CandiceBoydVEVO" which she created in 2015. During the time, her singing talent was recognized by APG/Atlantic Records, which eventually led her to affiliate with Epic Records.
Subsequently, she teamed up with Ne-Yo and joined his Compound University roster. Candice also recorded with Nicki Minaj on The Pinkprint. In 2015, she appeared on Ne-Yo's song, She Said I'm Hood Tho and even took the credit as co-composer of Tamar Braxton's Never.
Afterward, Candice made her solo debut for Epic with the song  Damn Good Time in June 2016.
The year 2017 seemed to a golden year for her career. She was featured in BET Music's The Showcase in New York City. Moreover, she released her second single titled, Make Me Over in March  2017. 
The same year, Candice also participated in the first season of the singing competition, The Four: Battle of Stardom as a challenger.
Read About This Rising Star: Grace VanderWaal From AGT Sister & Family Details Amid Raging Popularity
Candice was able to earn a seat for herself in the first episode, but on the third, she was eliminated. Nevertheless, the four judges brought Candice back as a comeback in the fifth episode, and Candice succeedingly made her way to the finals. But she ended up being the runner-up of the season while Evvie McKinney won the title. 
Despite, not winning the title, Candice won the heart of millions of fans and her judges. And it is no doubt that she made her family members also proud.
Candice Boys Showers Her Family With Love On Social Sites
Candice was born on 2 December 1990, to father Elder Randy Boyd and mother, Shiela Boyd. She grew up along with his sister named Nisharese. 
She is very close to her family and does not feel bashful to flaunt her close bond with her family members. On the occasion of her father's birthday, she made a tweet in May 2016 wishing birthday to him for being an amazing example of a god fearing man, husband, and father.
Similarly, she recently wished mother's day to her mother and sister via a tweet on the Mother's day in May 2018.
Candice also loves her sister's adoring 7 years old twin daughters, Aniyah and Alonah and frequently mentions them on her Instagram.
Candice Boyd Got Some Muscles Huh!
Although Candice couldn't make it a win at The Four, she has won the heart of thousands of her admirers. Her supporters don't hesitate to boast that she is their role model. And indeed, she has all the potentials to be a role model for all the right reasons. 
In addition to having a magical voice, she flaunts a lit personality. From using hashtags reading 'comfortable in my own skin' to exhibiting natural beauty amidst nature, she has been showing her lively personality and it is visible all over her Instagram.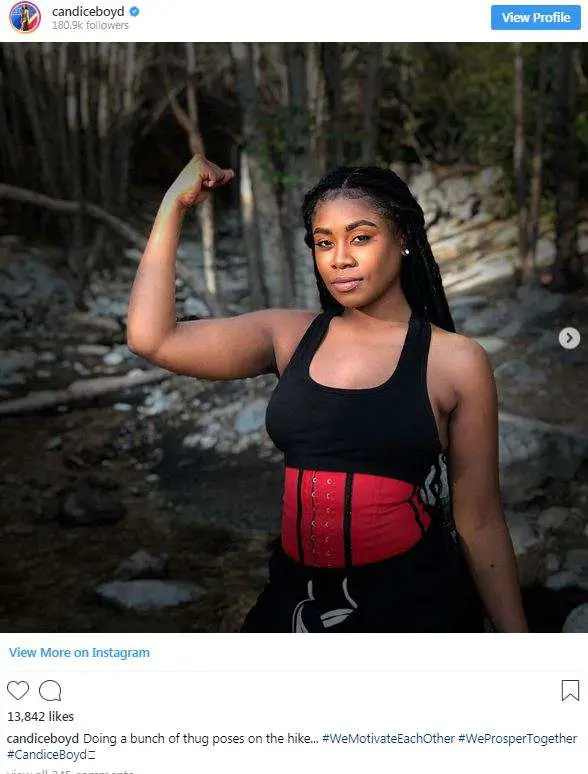 Muscle Up Buttercup: Candice Boyd shared pictures from her hike during March. (Photo: Candice Boyd's Instagram)
Dark armpits, bare lips, and locked hair; she flaunted the all natural look like a diva. 
The singer often shares her willings to get recognized for her works through captions in her Instagram posts. Her voice has the power to get goosebumps to the listeners and with that voice, she can ace her desire for the matter. 
Rumor Alert! Stevie J Is Not Candice Boyd's Boyfriend!
Candice was romantically linked with rapper Stevie J in 2016. The pair were rumored to be dating after they had collaborated in music. 
Later, Candice's sister, Nisharese also hinted that her sister and Stevie were dating. When a follower commented on Candice's picture writing about Stevie and his former partner Joseline congratulating on their daughter, Candice's sister couldn't hold but revealed that Stevie was actually in a relationship with Candice and not Joseline.
Don't Miss: Maya Henry & Liam Payne Are Dating! Brit Singer's New Boo After Cheryl
The rumors of the two got fueled, even more, when Stevie Instagrammed pictured of Candice and praised her work. However, neither of the two spilled any beans on their relationship. 
They kept everything low key and let their fans make their theories. But, Candice cleared out the speculations of her fans through one of her Live stories. 
Candice's Mysterious Boyfriend, Wedding In The Offing?
Well, Candice had kept her love-life details into the dark, not opening up about her boyfriend and wedding plans. But in live streaming in March 2018, Candice introduced her boyfriend and made it clear that she is not dating Stevie J.
Meet My boyfriend: Candice Boyd reveals her relationship status by introducing boyfriend via live story (Published on 2 March 2018). (Photo: Youtube)
In the video, Candice opened up about her blindness and revealed that she was going to put on contacts. While talking to the messages of her fans, she disclosed that her boyfriend was with her. She also quoted that her boyfriend is so supportive of her.
And it became quite evident as he was there to support Candice for having contacts.  Moreover, he also assisted the camera as the doctor called Candice, and gave a brief look at the camera. 
Though Candice became vocal about her dating relationship, she kept the details of her boyfriend concealed: not mentioning his name. The picture of her boyfriend in the video was also not clear to identify clearly.
Until and unless Candice doesn't showcase the identity of her boyfriend, he is likely to remain mysterious.