Billy Magnussen Is Dating Girlfriend Meghann Fahy Amidst Gay Rumors
Billy Magnussen and Meghann Fahy first met on the set of 'The Lost Valentine' in 2011.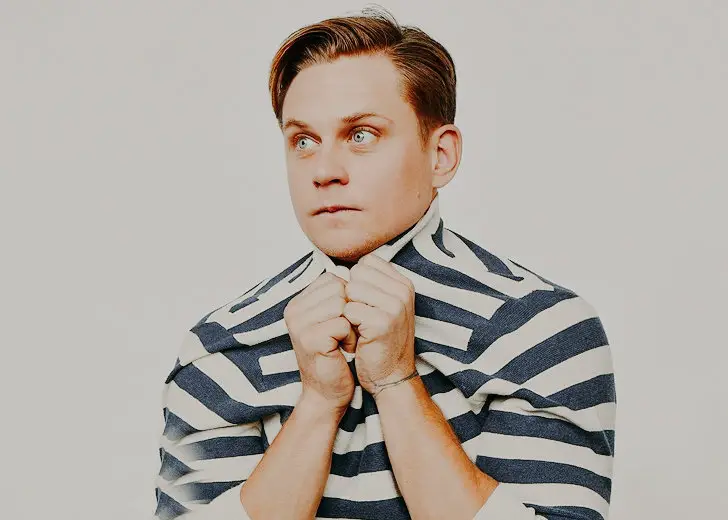 Made For Love actor Billy Magnussen is in love with his girlfriend Meghann Fahy, an actress known for her role in the series The Bold Type.
Despite his relationship with a gorgeous actress, the actor is rumored to be gay, and the buzz does not seem to get lesser anytime soon.
But why is he surrounded by gay rumors, and how did it start in the first place?
What Might Have Originated Magnussen's Gay Rumors?
While there can be several reasons for what fueled the gay speculation around actor Magnussen, a few actually makes sense.
One reason is that the Woodhaven, New York native, made his theatrical debut through Terrence McNally's Broadway show, The Ritz, in 2007. The plot of the drama was set in a gay bathhouse based in Manhattan.
Since the show was Magnussen's first theatre appearance, it raised questions if the gay theme had any connection with his personal life. Moreover, it gave a reason for fans to suspect if he was gay.
The show was not the only reason that gave birth to the gay rumors. The other reason is that Magnussen hardly shared his personal life in the media before 2017.
Therefore, netizens started to assume that he was hiding in the closet.
Besides, the Into the Woods star was also interviewed by Out magazine in March 2015. And since the magazine majorly features LGBTQ news and related celebrities, many found another reason to think that Magnussen was gay, too.
Magnussen and Fahy Have Known Each Other Since 2011
On July 25, 2017, Magnussen took to his Twitter to share a picture of him kissing his girlfriend Fahy's neck. It was the first time the actor has featured his girlfriend in his post. The tweet also confirmed that the two actors were in a relationship.
A year later, on August 26, 2018, Fahy also shared a love-filled picture of the couple on Instagram, writing, "We went to tha beach."
Slowly and gradually, the couple started making regular appearances in public events and social media posts together. In one instance, they attended the Golden Globes After Party in The Beverly Hilton Hotel in Beverly Hills, California, in January 2020.
Even as of now, the two are still dating and being a part of one another's support. And, while their relationship blooms, fans' speculations about Magnussen being gay might not be relevant, too.
Magnussen and Fahy had met each other for the first time on the set of the 2011 Hallmark movie The Lost Valentine. In the film, both of them had prominent roles, as the actor portrayed the character of Neil Thomas, whereas Fahy portrayed Young Caroline.