Arlene Dickinson Net Worth Story After Husband Put Barrier To Kids, Engaged, Wedding - Seen It All
Her determination To Win Kids' Custody Leads To Massive Net Worth. Her husband was a brother of one of her best friend and the couple married in 1975. She gave marriage another shot and got married at the age of 41. She started her career during her early 30s after her friend taught her about investing money in the market. She joined Venture Communications. Her journey has seen Arlene go from a relatively no-one to one of the richest businesswoman in the world boasting a huge net worth.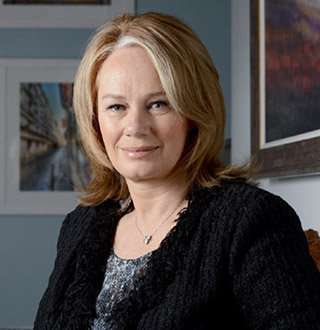 Quick Information
Date of Birth

Oct 08, 1956

Age

67 Years, 1 Months

Nationality Canadian, South-African
Birth Place

Germiston, South Africa

Profession

Author, TV Perosonlity

Relationship Status

Single

Divorce/Split

Yes (Twice)

Ex-Boyfriend

David Downer

Net Worth

$100 Million

Ethnicity/Race

N/A

Height/ How Tall?

N/A

Hair Color

Blonde

Eye Color

Blue
Arlene Dickinson had a decision to make after being deemed unfit to raise her kids by the court, which led to her losing the custody battle with her husband. However, her life completely turned upside down after she decided to act on to the court's order. 
Canadian businesswoman, investor, television personality and author Arlene Dickinson is a self-made multi-millionaire. She is best known for the television show Dragons Den as one of the five dragons. Furthermore, she is also an entrepreneur on the Canadian reality television, The Big Decision.
Visionary Tale: Arlene Dickinson opens up about the need for businesses to go online for long-term success (Published on 26 Jan 2018)
Currently, she is working as the head of Venture Communication, a marketing company based in Calgary which is represented by CBC Television. When she's not busy making a business move, she's on social media educating young girls on various topics including the need to go all natural when it comes to beauty product.
Arlene Dickinson's Bio: Harsh Childhood.
Born on 8 October 1956, in South Africa, her family moved to Canada when she was just three years old. Born into the family of immigrants, she was the youngest of three daughters born in her family and spent her childhood days in poverty. 
Her father was a teacher at a local college, and his meager salary made it hard to meet the ends for her family. However, the family's situation turned from bad to worse when her parents divorced, when she was just 13.
As a child, she was timid, which lead to her being voted the most likely to become a candlestick maker in her high school yearbook. 
Discover: Amanda Knox Bold Now - Flaunts Boyfriend While Scandalous Past Lingers
Arlene Dickinson's Husband: Failed Quest To Find Perfect One
Alrene got married when she was just 19. Her husband was a brother of one of her best friend and the couple married in 1975. She had four children with her husband, and the family of six struggled to raise up the kids. This led to constant troubles between the husband and wife leading to divorce when she was 31 years of age. 
She gave marriage another shot and got married at the age of 41. The union also ended after seven years.
Still hungry for love after the second marriage she dated David Downer, a sales entrepreneur. The couple was in a serious relationship, and Arlene bought a farmhouse with her fiance David in 2010. What's more,  in 2011, the duo got engaged after David surprised Arlene with a big diamond engagement ring. But they could take any further steps for the wedding as they decided to break up in 2011.
If nothing her failed attempt at finding the right one has made wiser, as evidenced by her 2018 tweet where she waxed poetic about being content with singlehood. For her, being with someone who makes you feel unimportant is worse than being single.
You May Like: Dawna Friesen Separated With Partner? Family Details - Wedding, Divorce, Parents, Bio
Arlene Dickinson's Career: Shabby Business Ventures
Despite having countless setbacks in her personal life, her professional life is the exact opposite of that. She started her career during her early 30s after her friend taught her about investing money in the market.
She joined Venture Communications in 1988 and took its sole ownership in 1998. She has helped the company become one of Canada's largest independent and communications firm.
She also gave her shot in television shows as the cast of Dragons Den which did very well. She joined the show on its second season in 2007 and was an indispensable part of the show before leaving in 2015.
She also tried her hands in writing and published her first book, Persuasion in the year 2011. A year later in October, she launched Arlene Dickinson Enterprises to fund and target Canada's entrepreneurs. She released her second book titled All In in 2013.
She has served as a board member in different organizations like Kids Help Phone, The Calgary Municipal Lands Corporation, and Ad Rodeo. Along with that, in October 2016, she was appointed in the board of directors for Aphria, Canada's largest licensed medical marijuana producers.
Read Also: Romain Dauriac Wiki: Scarlett Johansson's Ex | Age, Net Worth & Facts
Arlene Dickinson's Journey From Being Nobody To Acquiring Million In Net Worth.
Her journey has seen Arlene go from a relatively no-one to one of the wealthiest businesswoman in the world boasting a huge net worth. 
After losing custody battle with her husband, she started searching for jobs and landed one in marketing. After that, her life had a complete makeover, more like plastic surgery.
After joining Venture communications, she rose the ranks swiftly and in the end ended up owning it. Not just that, her corporation has a diverse portfolio and invests in a variety of ventures. 
As of current, she enjoys a net worth of $100 million, and with her business venture soaring t newer heights it is only going to grow.  
Along with a whopping net worth, she has also been awarded and honored with many titles such as Calgary Business Owner of the Year, PROFIT magazine's Top 100 Women Business Owners, Pinnacle Award for Entrepreneurial Excellence, and Canada's Most Powerful Women Top 100.
And to think that it all began with Arlene's desire to win back the custody of her kids; her story is one that will be revered for centuries to come.  
You Don't Want To Miss: Stephanie Gosk, Wife-Like Partner & Exuberant Family They Share! Getting Married Now?
Secret Behind Arlene's Success: Determination To Win Kids' Custody.
Arlene always felt that she had a happy life with her first husband and four kids. However, all that changed after her split with the first husband. Arlene was not allowed the custody of her four children and her family home was given to her husband.
Not just that, the court issued an order telling Arlene to only fight for the custody after she had a house.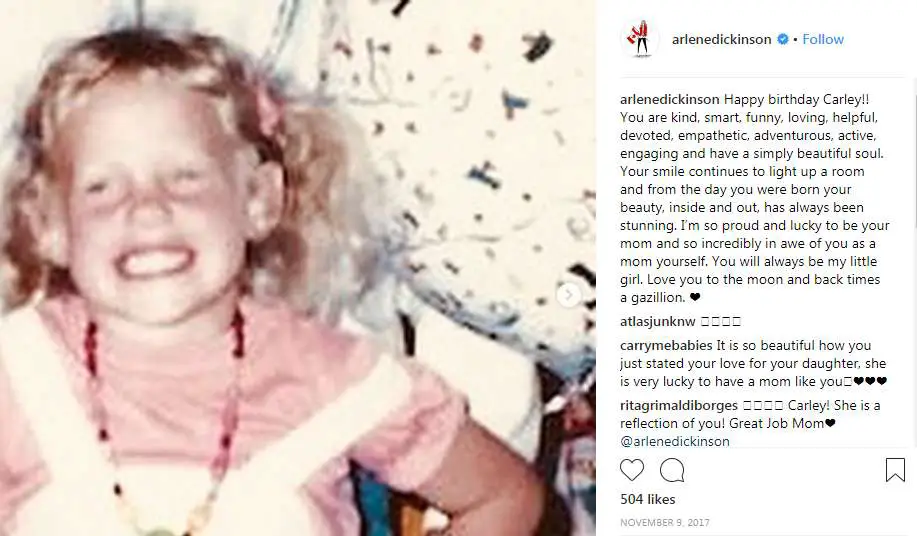 Mother's Love: Arlene Dickinson wishes her daughter Carley Happy Birthday Via Instagram on 9 November 2017 (Photo: Arlene's Instagram)
And the quest for the top that started with a single-minded determination to win back the custody of her children has led to the establishment of an empire. The empire, however, has done little to shift her focus from her children. 
She is still a loving mother to her daughters and a source of inspiration to her seven grandchildren. The mother inside her is still alive and kicking and shows her emotions in the social media. She never misses an occasion to shower her kids with love and affection whether that be their birthday or just a casual get together. 
With her professional and personal life going hand in hand, Arlene is living her best life for now.