Dawna Friesen Married Strategist Rick Anderson After Divorce With Tom Kennedy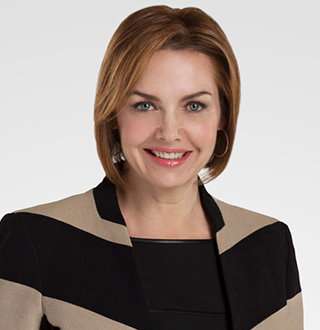 Quick Information
Date of Birth

1964-1008

Nationality Canadian
Profession

Journalist

Career

1985-present

Relationship Status

Married

Ex-Husband

Tom Kennedy

Divorce/Split

Yes (Once)

Awards

Global National, Emmy Award

Ethnicity/Race

White

Sister/s

Julie Friesen

College

Red River College

Hair Color

Blonde

Eye Color

Blue

Husband/Spouse

Rick Anderson

Wedding Date

July 28, 2018

Birth Place

Winnipeg, Canada

Father

Henry Friesen

Mother

Vivien Friesen

Siblings

1
Dawna Friesen, the anchor of Global National with Dawna Friesen, is a veteran journalist who has dedicated 30 years of his life to a career in journalism. Over the years, she has traveled around the world in pursuit of the next big story.
But, outside work, not much else is known about Friesen. Here, we'll be discussing her personal and professional experience!
Dawna Friesen Is Married to Rick Anderson
The former foreign correspondent for NBC News relishes her married life with her husband Rick Anderson, a Canadian political strategist. FYI, Anderson is Friesen's second husband.
As per The Hill Times, the two got married on July 28, 2018, in Vancouver, Canada, i.e., after Friesen got divorced from her first husband, Tom Kennedy.

Dawna Friesen and her husband Rick Anderson on their wedding day
Both Friesen and Anderson lead a very private life, despite being married. And that hinders people from knowing about their personal life. 
Dawna Friesen's Marriage with Tom Kennedy Ended in Divorce
Friesen, 56, was married to Canadian television journalist Tom Kennedy, who was 12 years older than her.
The marriage was a first for Friesen, whereas Kennedy was previously married to French-Canadian wife, Sylvie Goulet. Kennedy even had two children from his previous marriage.
Together, Friesen and Kennedy also gave birth to a son named Lucas. The anchor of Global National with Dawna Friesen was 40-year-old when she had her son Lucas.
Friesen and Kennedy have since separated, and the details about their wedding and divorce remain very least known in the media.
#vaccinated It is not lost on me how fortunate I am. In May of 2020, the first human clinical trials of mRNA Covid vaccines were starting, built on decades of research. An mRNA vaccine had never been approved before. Now, one year later, I am one of millions to get it. pic.twitter.com/6prYwU0ezL — Dawna Friesen (@DFriesenGlobal) May 8, 2021
Dawna Friesen Is Raising Her Son 
Even after separating from Kennedy, Friesen raised and provided a good upbringing to her son Lucas.
Despite keeping her personal life with her husband Anderson private, the anchor is quite open about her son. She often mentions her son on Twitter and posts pictures of him.
For instance, she posted a picture of her son Lucas on Twitter on October 26, 2015. In the picture, Lucas was snapped with a "giant pumpkin," as he sat on a car's trunk.
Likewise, on April 7, 2018, she mentioned her son, writing, "As I watch my teenage son play soccer today, my heart is on the prairies, with all the parents who will never watch their sons play a game again."
Going by those details, it is evident that Friesen is very close to her son, and she proves to be a good mother time and again with her love and care for him.
Dawna Friesen Bio
Canadian native Dawna Friesen, born on October 8, 1964, graduated from Red River College with a degree in Communications and Journalism.
Friesen's father was a farmer, and her mother was active in local politics. She also has a sister in her family, Julie Friesen, who serves as the Deputy Commissioner for New York City's Administration for Children's Services.
Prior to journalism, she worked as a potato peeler and was later promoted to dish-cleaner and then a waitress.
After that, she started her career in journalism in 1985 and has been working as a journalist ever since.   
In 1985, she started reading the news at Hybrid Television and radio station in Brandon, Manitoba. She also worked in Thunder Bay, Winnipeg, Saskatoon, Calgary, Vancouver, and Toronto.
Friesen's big break came in 1999 after being chosen as the Foreign Correspondent for NBC.
A little update about @GlobalNational We're adjusting how we work. I am no longer in the studio, but on a balcony in North Van with a crew of 2, keeping our distance from each other and the public. Also, much of the rest of our team is working from home. (Thanks you guys!) pic.twitter.com/Ru7avYf2yF — Dawna Friesen (@DFriesenGlobal) March 21, 2020
She covered a number of breaking news during her stay at NBC, including the wars in Iraq and Afghanistan, the kidnap and murder of journalist Daniel Pearl in Pakistan, the downfall of Serbia's Slobodan Milosevic, the Al Qaeda train bombing in Spain, the Presidential Campaign of Barack Obama and more.
Friesen was appointed as the anchor and executive editor of Global National with Dawna Friesen in late 2010. She is the first full-time female news anchor for any news network in Canada.
For her indispensable services, she reportedly earns a massive salary of about $300,000.
Aside from her contribution in the field of journalism, Friesen has been involved in raising awareness about dementia after both of her parents developed the disease. She was also featured in a 16×9 program about dementia.