How Adam Venit Accepted Misconduct with Support of Wife Trina Venit? Know In Detail
Venit's wife Trina Young supported him to walk through the right path.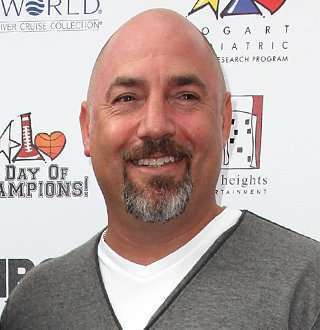 Adam Venit became a sought-after name when he merged his talent management company Endeavor with the William Morris agency to form William Morris Endeavor (WME). 
The company became one of the most successful talent agencies, managing stars like Adam Sandler and Ashton Kutcher. 
However, Venit's much-touted success wouldn't last as the Hollywood executive got embroiled in nasty allegations. The charges tainted his name and forced him to resign from his company. 
After a public apology that his wife helped him write, Venit lives a low-key life. His apology revealed how he was taking responsibility for his actions and turning a new leaf with the support of his wife, Trina Venit. 
The Formation of 
William Morris Endeavor
Adam started his company Endeavor in 1996, hoping to create and represent significant television and movie stars. For a decade, Endeavor represented rising stars such as Christian Bale, Ben Affleck, Matt Damon, Hugh Jackman, and Jude Law. 
After garnering success, Venit collaborated with William Morris Agency to form a joint company — William Morris Endeavor (WME). The newly formed firm became a leading talent agency in Hollywood. 
The company's and Venit's success seemed to go hand-in-hand as Venit became one of the most prominent talent agents in Hollywood.
During his time in the WME, he helped boost various high-profile celebrities like Emma Stone, Diane Keaton, Shawn Levy, Vince Vaughn, Kevin James, and Eddie Murphy. However, not all was fine in Tinsel town.
The success of WME was to be shattered by the very man who helped build it. 
Venit Accused Of Assault Amid Me Too Movement
In 2016, Venit was at the height of his career, and so was the 'Me Too' movement. Celebrities were vocal about their harrowing experiences of misconduct and assault. And in such instances, one personality accused Venit of assault. 
Famous star Terry Crews came forward, claiming Venit harassed him in public in February 2016. He detailed that he and Venit were at a Hollywood party when he offered a handshake, but the 57-year-old executive squeezed his private parts instead. 
Despite his hesitation, Crews alleged that Venit laughed it off and continued to harass him.
Initially, Venit denied all the accusations, but later, he clarified the situation.  
Post Allegation: Venit Resigned from WME
The allegation brought Adam an unpaid suspension for one month from September to November 2017. In 2018, Adam filed a response to Terry's lawsuit, stating that the accuser did not suffer any injury from his non-sexual conduct.
The report revealed that Venit had apologized to Adam the next day of the incident. The talent executive reportedly had a high alcohol level in his system when the alleged incident happened. 
In March 2018, the prosecutors rejected the sexual assault allegations against Venit, stating that Venit had made no skin contact with the victim for the charges to be valid.
the suspect did not make contact with the victim's skin when he grabbed the victim's genitals and there is no restraint involved....
After all the controversies that hung around, on 6 September 2018, Venit made a statement to leave WME with immediate effect. According to the settlement between Crews, Venit, and his talent agency, Venit had to pay a sum of $375,000 to Crews to cover his attorney fees. 
The settlement also specified that Venit had to resign from WME. 
According to Pedestrian:
The settlement between Crews, Venit, and W.M.E. stipulates that the talent agency must pay $375,000 to Crews to cover his attorney fees, and that Venit must resign—with a provision that W.M.E. cannot rehire him in any capacity in the future.
On September 10, Crews took to Twitter to notify that he had accepted Venit's apologies only because he left WME.
Venit's Wife Supported Him during Trial 
Although Venit joined the list of offenders like Harvey Weinstein and several others such as Fox reporter Bill O'Reilly, magician David Copperfield and actors James Franco and Ben Affleck, his wife Trina stayed by his side. 
She helped him write a public apology, which he sent to Crews in September 2018. In the letter, Venit mentioned that his wife encouraged him to understand and analyze his actions.  
Venit and Trina have indeed put away the past and moved on with their enduring marriage.
They Have Been Married for 20 Years 
Venit and Trina Young have been married for two decades. They started dating in 1997 and tied the knot on August 6, 1999. 
On August 2019, the couple celebrated their twentieth anniversary in style by traveling to Greece. Trina posted pictures from her voyage on Instagram and shared that Venit helped her grow as a person despite the hurdles in their marriage. 
Indeed, despite the trials, the duo has perpetuated a sound bond with all their five children — Michael, Sarah, Matthew, Olivia, and Madison. 
Trina is an artist, designer, philanthropist, and producer who co-produced Travel Channel's show, Curious Cures. Before coming to Los Angeles, the Arizona native used to be a special FX makeup artist.