See Emma Stone's Fierce Transformation as Disney's 'Cruella'
"Once you put this wild black-and-white hair and this incredible makeup and these completely unique costumes on, you feel like Cruella de Vil."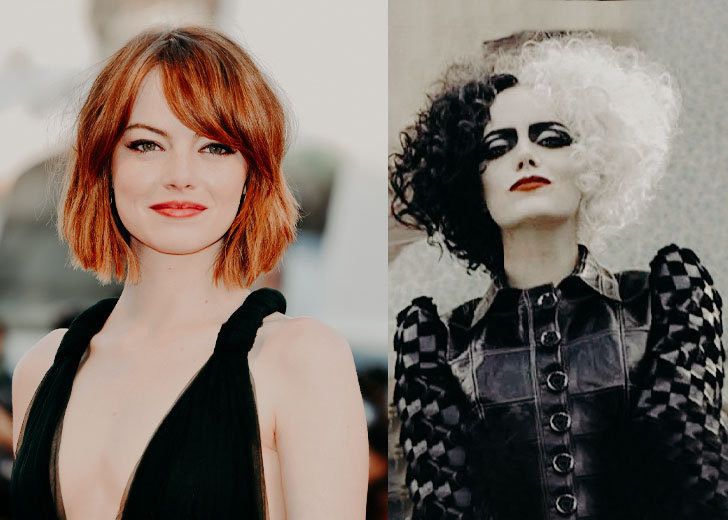 SPOILER WARNING: Plot and ending details for "Insert Movie/TV Show" follow
Disney gave excited fans a second look at Cruella after it dropped its second trailer. 
For those that haven't been following the occasional teaser campaigns and gradual announcements, Disney disclosed nearly two years ago about its upcoming slate of movies and television shows, including Emma Stone as Cruella de Vil in the film Cruella.
A few months ago, Disney unveiled posters for the movie with Stone in the signature two-tone, black and white hair with three full-grown Dalmatians on leashes. Stone was delineated by two henchmen, a hint at her diabolical side.
In a raspy accent voice over Stone says, "The thing is, I was born brilliant. Born bad — and a little bit mad." The trailer immediately lays out Cruella's ambitions and psychotics, and promises her story isn't so black and white.
Stone not only looks sinister in her two-toned tresses, smoky eye, and dark lip, she also enjoyed the transformation process. Emma Stone 
opened 
up to
 ET 
about starring as Cruella and admitted that the incarnation was pretty trippy. She then added that she always found the process exciting no matter how many times she had done it before. 
In an exclusive ET featurette that includes a behind-the-scenes look at the actress's transformation in the hair and makeup trailer, the actress confessed that playing the character was exhilarating, and she had a blast. 
Once you put this wild black-and-white hair and this incredible makeup and these completely unique costumes on, you feel like Cruella de Vil.
Stone iterated that it was a great experience to experiment with Cruella's backstory and discover what makes her the villainous dog-hating woman, as seen in the stories. The actress stated that she loved the cartoon for the longest time, and to be part of such an iconic project was unreal for her. 
Cruella's Own Origin Story
Everyone recognizes the evil dognapper from the titular 101 Dalmatians, but no one knows how she ended up becoming the menacing fashion maven. Set in the punk-rock era of 1970s London, Cruella follows the story of her humble beginnings when she was Estella.
Estella is a creative and budding fashion designer who gets a job with the house of Baroness Von Hellman, an established couturier. Exasperated by her day job and lack of opportunity to ascend the haute couture ladder, she grows contentious with the Baroness. 
To win the fashion face-off and make a name for herself as a designer, Estella teams up with a pair of young thieves and embraces her wickedness, and soon transforms into Cruella, who becomes obsessed with dogs' skins, especially Dalmatians. 
Cruella will make her grand debut in theaters on May 24 and on Disney+ Premier Access on May 28.