John Mulaney Is Becoming More like His Dad without Even Realizing
"We are doomed to always become them."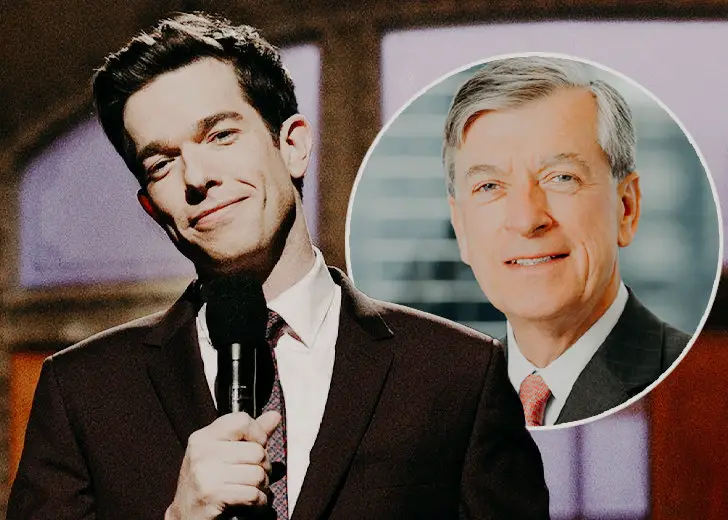 John Mulaney is held in the highest regard amongst comedians. David Letterman called him "the future of comedy," while his fellow SNL co-host Pete Davidson ranked him in his top five, alongside Eddie Murphy and Dave Chappelle. 
Over a decade into his career, he has had many achievements to be proud of. Kid Gorgeous won an Emmy — his second. His first came as a writer on Saturday Night Live, during which he created a Justin Timberlake Monologue. 
Years of SNL hosting, sold-out shows at Radio City Music Hall, triumphs with a multi-special deal with Netflix. And how did he achieve all this?
Simple, he talks about his personal life like all the best stand-up comedians. His reflections on his childhood and perspective on life and relationships, especially with his father, make him stand out. 
A Fascinating Character in His Specials
The comedian often portrays one of his favorite subjects: his bizarrely boring dad, Charles Mulaney. He is one of the most charming characters in all of his son's specials.
In 2015's The Comeback Kid, the younger Mulaney embodied the austere stickler for rules who was baffled by his son's bizarre habits as a youth. 
He dug more into his personal life with his father and ended with an anecdote about meeting Bill Clinton, with whom his father attended law school. His father had hated the young, uninhibited Bill Clinton. In Kid Gorgeous, Mulaney shared the time his father tried to give him the "sex talk."
He remembers his father beginning it with, "Hello, I'm Chip Mulaney, I'm your father," before barraging into a lengthy narrative about the 20th-century conductor Leonard Bernstein.
Mulaney's mocked his father and his cluelessness about human nature, and his essential weirdness of being boring.
In an interview with Sam Jones on The Off Camera Show, the comedian confessed that he had asked his father for permission to share their "sex talk" conversation. In the interview, Mulaney described just how much of a bore his father was.  
But beneath all that, Mulaney knows that he's becoming a skewed version of his exceptionally square father as he's maturing.
But I became him as well. There many things about him I am making fun of him in the specials that I am observing "oh yah that's me too." We are doomed to always become them. 
Mulaney's Parents
Mulaney's parents couldn't be prouder of all his achievements, but before he entered the show business, his parents were worried, given how hard it is to succeed.
For those who are not familiar, Mulaney was raised by lawyers. Charles is a corporate governance lawyer who focuses on "mergers and acquisitions (friendly and hostile), corporate governance and corporate financings."
Charles has been awarded several honors in his career for advancing his legal practice areas through innovative strategies, but most fans probably recognize him as the comedian's father. Equally remarkable is Mulaney's mother. 
His mother went to law school at Yale University, and since 2006, she's been working as a senior lecturer at the Northwestern Pritzker School of Law. However, to her son's fans, she is known for her faint obsession will the former president, Bill Clinton, with whom she attended Yale Law.