Zell Swag Age 30 Bio: Is He Gay & Has Boyfriend? Personal Facts Revealed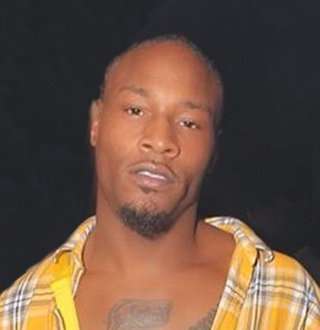 American culture stylist/street fashion guru Zell Swag can pull off a sexy pose with plenty of girls who make appearances in his Instagram posts. Disclaimer; the girls are not necessarily his girlfriends; sometimes they turn out to be his sister, sometimes his niece while other times, models clad in his styles.
Zell Swag is known for his own fashion streetwear brand Zell Swag Culture that has an eccentric style blended with high fashion casual wear and hip-hop. His styling came into highlight after he got featured on Love and Hip Hop on VH1.
Reunion Turned To Bloody Brawl: Zell Swag attacked castmate Misster Ray in the reunion of Love and Hip Hop (Published on 29 Oct 2017)
The fashionista turned reality star came in the spotlight through his social media posts featuring him in his creative outfits. He keeps up to date with his Instagram posts to be precise and has garnered more than 423k followers on this photo sharing site. With such a rocketing success, he supposedly counts multi-figured net worth.
Another From Love & Hip Hop: Brooke Valentine Marrying Baby Daddy? Single Parent To Son Talks On Boyfriend
Zell Swag Bio (Age): He's Not Gay, He's Not Straight; He's Zell Swag!
The Ohio native was born as Rodney Lazell Shaw for his real name in 1988 at Cincinnati; he celebrates his birthday every year on 29th of January. He was fascinated by the fashion industry from an early age, and he moved to Los Angeles to pursue his career in fashion.
The 30 years old fashionista had dated girls and even played football. But now that he has decided to be 'Zell Swag'- neither gay nor straight-which is his resentment on everlasting questions on his sexuality, his mother is having a hard time trying to resist her will of playing with grandchildren.
Apparently, his mother's wish came true through his 'goddaughter' and his Instagram upload speaks for the matter.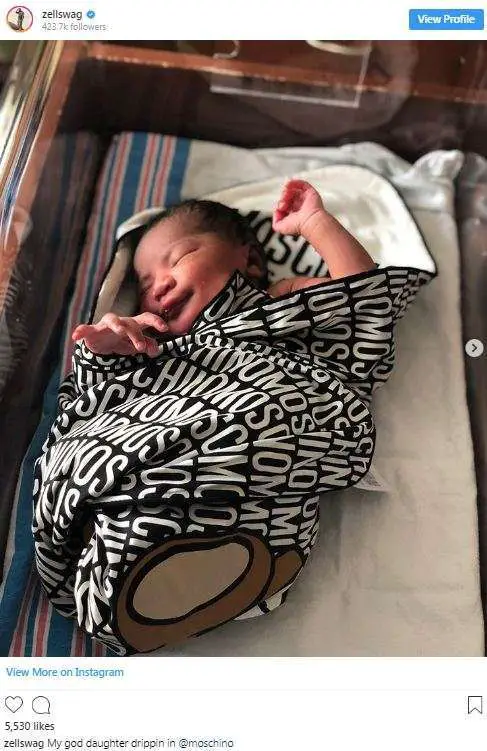 God Daughter: Zell Swag posted a picture of a baby caption reading 'goddaughter' (Photo: Zell Swag's Instagram-3 July 2018)
There is no hint to whose baby was she in reality. But as a godfather to her, he must be at the height of fatherhood bliss.
Zell Swag Fired From Love & Hip Hop! Brawl Led To Bloodied Face
Zell's feature in Love & Hip Hop brought him more popularity than ever which boosted up his clothing brand as well.
Don't Miss: Nikki Mudarris Lost Brother To Demons! Powerful Father | Explicit Bio Reveals
However, he shall no longer relish that fame as the news came out during March 2018 that he was getting fired from the reality series with possibilities of his return in the next season.
This was not an unexpected termination though. Everyone saw it coming when Zell had a brawl with co-star Misster Ray- the two were a foe to one another, on Love & Hip Hop reunion during early October 2017 that left the latter with the bloodied face.
Zell might think he's got a lit swag, but here the only thing displayed was his ill temper.
Zell's Dating A Transgender; Gay Relationship Alert!
The pretty ladies who make frequent appearances in his Instagram may call him anything but boyfriend cause guess what he's got a girl (who was not always a girl!) Makes sense?
Gay Fashionista: Openly Gay EJ Johnson Boyfriend Issue Roots From Dad - Surprise!
Mr. Love & Hip Hop (according to his Instagram bio) is dating a transgender woman named Savannah. There is no rock evidence as to how long they have been seeing one another, but lately, they have been spotted all over in the streets of LA.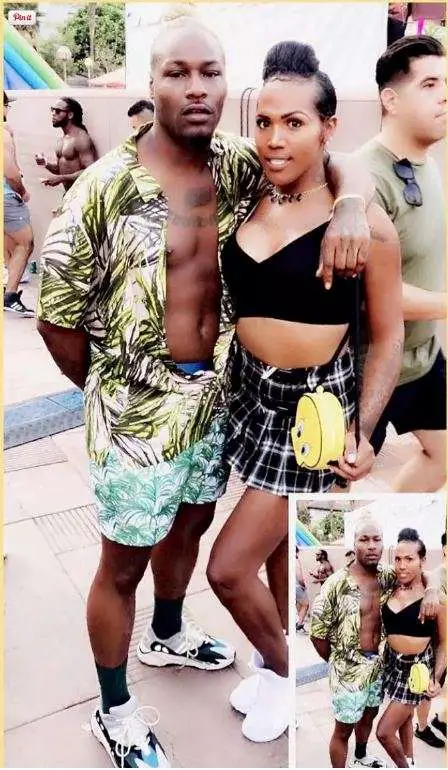 Gay Girlfriend: Zell Swag dating a transgender woman named Savannah (Photo: MTO News)
Seems like, Zell was willing to keep his current date a secret as he has barely posted any picture of her in his social site. But there are birds eyes on the air who keeps constant speculation on him; just in case he doesn't know already!
---