Will Kopelman Age 40 Wiki: In Touch With Drew Barrymore, Reviving Love?
Will lived his life behind the media until he got married to actress...The couple tied the knot on 2 July 2012, in Montecito California...Following their marriage, the couple shared two children...he got divorced with his wife after spending four years with her...revealed that she was nearly swooned by his profile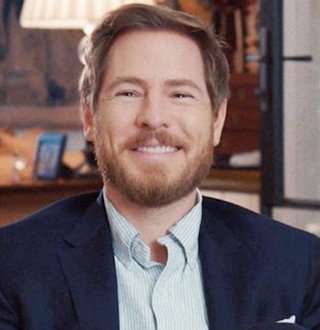 It's an inevitable fact that every relationship starts in the brightest way possible. But few in many, start dimming and even lose the way. Will Kopelman, American Art Consultant, shares a similar story as his married relationship of more than four years has collapsed out of nowhere. But is there a new twist in the tale?
The New York native became widely famous after getting married to actress Drew Barrymore. He is an American Art Consultant and has a clientele list that includes the biggest name in the showbiz. 
Here are some wiki facts of Will that discuss his bio, married life with Drew Barrymore, divorce and his net worth.
1. Will Kopelman's Wiki-Like-Bio
Born on 7 July 1978, to famous parents; father Arie Kopelman, former channel CEO, and mother, Coco Kopelman, he comes from an affluent family. He grew up alongside his sister, Jill Kargman in New York.
Read: Parker McKenna Posey Wiki: Snowfall Actress' Age & Who's The Boyfriend?
He belongs to white ethnicity and attended Boston University, Massachusetts. 
2. At Age 40,  Will Kopelman's Net Worth In Millions
Speaking of Will Kopelman's net worth, it is estimated at around $ 5 million.
He is a successful American Art Consultant who's worked with many high profile clients; Zooey Deschanel, Robert Pattinson, and actress Lake Bell. He has also tried his luck on acting and has featured on two movies, 'Intern' and 'Friendly Fire' both in 2000.
Despite being a successful consultant, Will lived his life behind the media until he got married to actress Drew Barrymore.
3. Will Kopelman's Married Life With Drew Barrymore
There are a lot of individuals who've attained the status of fame because of their association with a celebrity.
Will Kopelman is a similar example who rose to public consciousness only after he got married to 50 First Dates actress Drew Barrymore. 
The couple tied the knot on 2 July 2012, in Montecito California while she was pregnant with his child. According to wiki sources, the duo had started dating since 2011. After a year of dating the couple got engaged and married in 2012.
Following their marriage, the couple shared two children; Olive (2013) and Frankie (2014). To the onlooking eyes from outside everyone looked fine in their marriage and, having become the parents of two baby girls, nothing could go possibly wrong in their marriage.
Discover: Rory John Gates Age 19 Bio: Job Seeker Despite Father's Bulky Net Worth?
But those aspirations proved wrong as the couple's married relationship started going downhills two years after the birth of their second daughter.
4. Fall Of 4 Years Relationship; Divorced Out Of Nowhere
Sometimes good things fall apart to make way for better things to fall together. Similar happened with Will Kopelman's love life as he got divorced with his wife Drew Barrymore after spending four years with her. 
The couple first announced their split in April 2016 releasing a joint statement where they said,
"Sadly our family is separating legally, although we do not feel this takes away from us being a family. Divorce might make one feel like a failure, but eventually, you start to find grace in the idea that life goes on. Our children are our universe, and we look forward to living the rest of our lives with them as the first priority."
Less than a month after filing for the split, he and his wife Drew got divorced on August 3, 2016, without a battle over assets and an agreement to co-parent their children together.
After the separation, the couple has remained good on their agreement of raising up their children together. Moreover, Drew has time and again praised Will who has risen up to the promise of giving stability to the children by taking account of her busy schedule.
You may like: Scott Hanson Salary | Ginormous Net Worth, Just Like His Counterpart?
The love of their daughters brought the couple together to celebrate the Christmas of 2017. Along with their daughters who were on vacation, Will and his former wife Drew spent four days in a winter town and enjoyed skiing and ice skating. 
Moreover, after the split with Drew, Will hasn't been linked with anyone, which is similar to Drew. The Charlie's Angels star has not been linked with anyone else after the collapse of her marriage with Will--which was her third marriage.
5. Twist In The Tale; Getting Back Together Again?
Moving on from the heartbreak, Will Kopelman, age 40,  wanted someone to partner him. Despite sharing parenthood and sporadic get together with Drew from time to time, the actor was really in search of a partner for life. The need of a partner for Will came into limelight in 2018, when Drew disclosed that she'd found him in a dating app Raya.
And not just that, Drew revealed that she was nearly swooned by his profile, which left plenty of food for thought. If Drew is still drawn upon her husband, then could they possibly reunite?
However, Drew has neither spoken nor displayed her desire for a reunion. Will for his part has largely remained out of the limelight, post-divorce and not commented on anything like getting back with his ex-wife.
See Also: Alanna Rizzo Bio: Unravel Age, Parents, Height & More | Who's Her Husband?
Suffice it to say, if and when their relationship status actually changes, it won't just be gossip magazines breaking the news but the whole media.