What Really Is Going Inside The Relationship Of Model Tammy Hembrow?
A gym bunny found a personal trainer as a boyfriend. What a perfect combo...The Insta model was quick to turn her gym trainer...Their bonding deepened ever faster and after dating for a few months...The couple made it an early decision to get engaged...

When people are young, they are supposed to be dumb. They rush things and care less about the consequences. But as they grow up, the reality hits them, and they are left to mend the mess they've made. They can't undo what they've done, but there is a possibility that they can live further with no regrets or fewer regrets.
Instagram sensation Tammy Hembrow got the reality check after getting pregnant twice with not the right man that ended up in splits. Does she regret the union or has she embraced the verdict and learned to live with it?
The Australian fitness fanatic attained a gradual recognition through Instagram posts displaying her impressive body transformation post pregnancy. She has a huge fan following of over 8 million in her Instagram where she frequently posts pictures of her alluring body and often features her two adorable kids.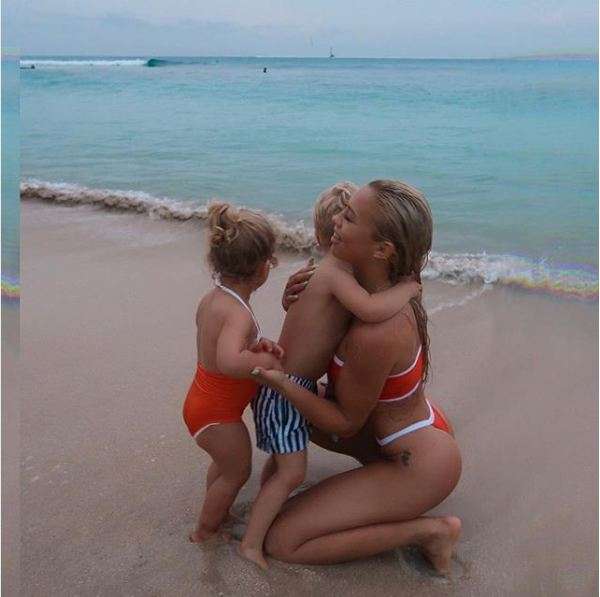 Hot Momma Spotted: Tammy Hembrow flaunts her bikini body in a picture with her son and daughter ( Photo: Tammy Hembrow's Instagram | 9 Oct 2018)
Don't Miss: Jack Brooksbank Wiki: Wedding To Princess; Who Is He? Family & Facts
Whether Tammy had wanted or not, popularity came to her at ease. And she has not failed to put it to good use. She sighed endorsement for brands such as Protein World and Team Blends and she also owns a YouTube channel of her own.
Tammy's Unimaginable Version At Teen Age
Tammy, who was born on 22 April 1994 in Gold Coast, Australia was a sports enthusiast as a child. But as she entered teenage, her enthusiasm doomed.
It might be hard to believe that the 22 years old fitness guru who at the moment flaunts a body of goals used to party, drink, smoke and do pretty much everything unhealthy as a teenager.
But once she learned about fitness and proper nutrition, things changed for her and good. She craved fitness, and now that she has achieved it, she inspires others to lead a healthy life.
The young mother of two has an average height of 5ft. 4 inches, but with the workout routines, she has she holds the potentiality to inspire the highest profile personalities.
Tammy Hembrow's Husband-To-Be No More In The Sight
A gym bunny found a personal trainer as a boyfriend. What a perfect combo! But no!
Read Also: Lil Pump Age 18 Wiki: Net Worth, Real Name, Height & Necessary Details!
The Insta model was quick to turn her gym trainer Reece Hawkins, into a boyfriend. Their bonding deepened ever faster, and after dating for a few months, only the duo decided to become parents to a son named Wolf and later to a daughter named Saskia.
The couple made it an early decision to get engaged only to figure out the flaws and break apart in 2018.
Break Up In The Air: Tammy Hembrow confirmed her break up with former fiance Reece Hawkins in her personal Youtube channel (Published: 8 June 2018)
The break was not out of cheating or anything as such. But it has something to do with a change in circumstances that changed the former engaged duo's choices.
Does Tammy Regret Her Pregnancy?
Now people might wonder if Tammy was never to turn her kids' father into a husband, then why she decided to take it fast in the first place? The answer doesn't indeed hold value as long as she doesn't regret her deed. And looks like she is living her life with the kids in bliss.
Interesting: Shay Mitchell Responds To Gay/Lesbian Rumors | Boyfriend Status At Age 31
She might feel remorse upon her failed engagement but not her pregnancy. After all, she is where she is because she got pregnant. Had she never got pregnant, she wouldn't have had the chance to document the transformation journey and show it to the world.
The single mother at age 22 rushed the hunt for a future husband, but she is walking steadily in her motherhood journey-trying to live every moment to the fullest.