Shay Mitchell Responds To Gay/Lesbian Rumors | Boyfriend Status At Age 31
Shay's personal life is as much an interest to the media as her show is, what with their expectation of her being gay...Shay was seen with Canadian journalist reportedly the best friend of Shay's ex-boyfriend...The step did raise curiosity among the media and fans alike...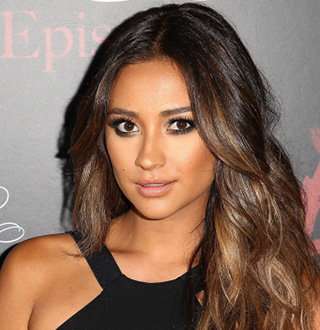 Imagine this: since Shay Mitchell played a lesbian character in a hit TV show, people (and media) so adamantly wanted her to be gay that they kept pestering her about her sexuality even when she was openly dating guys. Imagine how frustrated Shay must be.
Frustrated she was, but not because of the reasons you must be thinking. Recently, to the joy of fans and media Shay hinted that she might not be straight, but something about media still irked her.
Shay Mitchell is a Canadian actress and model who rose to fame with the role of Emily Fields (the said lesbian) in Freeform's hit series Pretty Little Liars.
You: Watch Shay in recent Netflix thriller You as she portrays Leach Salinger (Published on 9 May 2018)
Shay recently starred in Netflix's psychological series, You, as Peach Salinger and is also set to be seen in silver screen as Megan Reed in Diederik Van Rooijen's horror movie Cadaver.
More Canadian Celebrities: Jamie Orchard Bio: Secretly Married To Husband? Family Reflects
Shay Mitchell's Bio: Age, Ethnicity
The Canadian actress was born on 10 April 1987 in Mississauga, Ontario to Precious Garcia and Mark Mitchell, both of them working in finance.
Shay has mixed ethnicity of part Irish-Scottish and part-Filipino. Her mother is a Philippines native, born in the province of Pampanga, whereas her father is a Canadian with Irish and Scottish roots.
Shay Mitchell's Career: Rose To Fame Playing Lesbian Character
Shay started her career as a model appearing for various brands but soon turned to acting with Canadian teen drama Degrassi: The Next Generation.
However, it was her role as a jocular lesbian, Emily Fields, in Freeform's teen/drama/mystery/thriller, Pretty Little Liar that gave her the name, fame and huge net worth she now posses.
Pretty Little Liars follows a band of young girls trying to uncover the mystery of an unknown 'A' who threatens to reveal their darkest secrets.
The show amassed a massive fan following but little critical acclaim. Shay, however, with a beautiful face and graceful acting, won the hearts of millions of fans and quite a few critics.
Something Else: Why Freema Agyeman Isn't Married Now? Boyfriend & Dating Status, Age
Shay Reportedly Dating Ex-Boyfriend's Best Friend
Shay's personal life is as much interest to the media as her show is, what with their expectation of her being gay. Their enthusiasm, however, was peaked by another rather exciting fact.
Around the January of 2017 Shay was seen with Canadian journalist, Matt Bebel, reportedly the best friend of Shay's ex-boyfriend, Ryan Silverstein.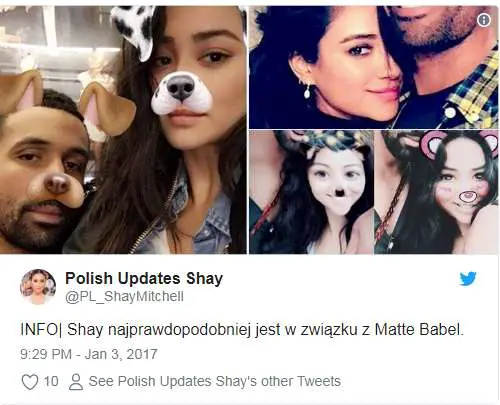 Mischievious with Possible Boyfriend: Shay Mitchell flaunts her cute photos with Matt Bebel on Snapchat (Photo: from teenvogue.com)
The fact that it was quite weird for most of the people didn't seem to affect the couple as they flaunted their rather cozy pictures in Snapchat.
The step did raise curiosity among the media and fans alike, leading people to serious speculation that they might be together.
Another Gay Actress: Gay Brianna Hildebrand Reveals Dating Requirements: Girlfriend Isn't Limit
Shay Mitchell Opens up About Her Sexuality: Is She Gay?
In spite of dating guys, recently Shay came out of her cocoon, to answer the pestering the questions about her sexuality.
She announced subtly that she might not be straight—or a gay for that matter—rather a bisexual, willing to embrace a relationship with anyone if she found that there is heat between them. In a recent interview with Maxim, when asked about her sexuality, she said,
You play a gay character? Are you gay? Are you straight? Are you this? Are you that?" Look, Emily doesn't label herself, and I don't label myself either. I fall in love with the spirit of somebody. Love is love, and that's something that I'll keep saying.
It won't be too much to say that Shay found a perfect, and probably simplest, answer to the questions posed to her. With her willingness to accept the happiness in whatever form it comes, we are certain that she won't be without it in her life.