Lindsie Chrisley Age 29 Wiki: Rekindled With Divorced Husband? Married Status
She has had an arduous relationship history, whether that be with her parents or her husband...Lindsie had a very luxurious childhood and was introduced to the camera from a very young age...Her biological mom is...She turned her boyfriend to husband after eloping...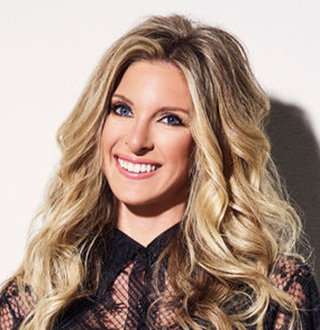 American reality star Lindsie Chrisley lives a luxurious life with fame and money aplenty. Born into a wealthy family, she has had all the luxuries but has not been so lucky when it comes to her relationships. She has an arduous relationship history, whether that be with her parents or her husband!
TV personality Lindsie Chrisley is best known for her appearance in the USA hit network reality show Chrisley Knows Best.
Chrisley Knows Best: Lindsie with her nanny Faye on Episode 7 of CKB (Published on Nov 22, 2016)
Besides the reality show, she runs a blog named Living Like Lindsie. She also co-hosts Coffee Convos with Lindsie Chrisley and Kailyn Lowry, a podcast with Teen Mom 2 star Kailyn Lowry.
Explore: Megan Phelps-Roper Married Life; Loving Husband & Wedding | Siblings Details
We have prepared a set of wikis on her life that has seen the best and worst of relationship at the tender age of 29.
1. Lindsie Chrisley Wiki-Like-Bio(Age): Born Into Family Of Star Todd Chrisley 
The South Carolina native was born on September 17, 1989. She was born in a big and wealthy family to parents Todd Chrisley and Julie Chrisley. 
Her biological mom is Teresa Terry. She is the eldest of the five children in the Chrisley family. She has a brother named Kyle Chrisley and three half-siblings Savannah, Grayson and Chase Chrisley.  
Being the daughter of millionaire real estate businessman and reality star Todd Chrisley, Lindsie had a very luxurious childhood and was introduced to the camera from a very young age. And, that early exposure has left her with a long-lasting career which has provided her not only with fame but also riches. She has a net worth of $1.5 million, earned mostly through her works on TV.
2. Who Is Lindsie Chrisley's Biological Mom?
Born into a wealthy family, Lindsie had a life full of luxury but never got to enjoy the company of her biological mom to the fullest. It was not that she had no mother, but it is just that she was caught in the middle of the tug of war between her mom and father's divorce agreement. 
Also Read: Joanna Stern, Age, 23, Wiki: Married And Has Son - Not With Husband
Her father and biological mother divorced in 1996. After the separation the couple reached into a custodial agreement that the kids would live with Todd and Teresa had the kids during vacations, three out of four weekends and public holidays. Lindsie wasn't able to see her mom often due to her father's restrictions which resulted in a strained relationship.
But she never felt the absence of a mother's love because she found a friend in her step-mom and eventually grew to view Julie as her mother.
3. Lindsie Chrisley Married In 2012 Against Her Father's Wishes
Growing up with 'not so great relationship' with her biological mother, Lindsie ended up the same way with her father. A popular character in her father's reality show Chrisley Knows Best her popularity rose even higher after her 'eloped and married' controversy.
She turned her boyfriend Will Campbell to husband after eloping with him in 2012 much to the disappointment of her father, Todd.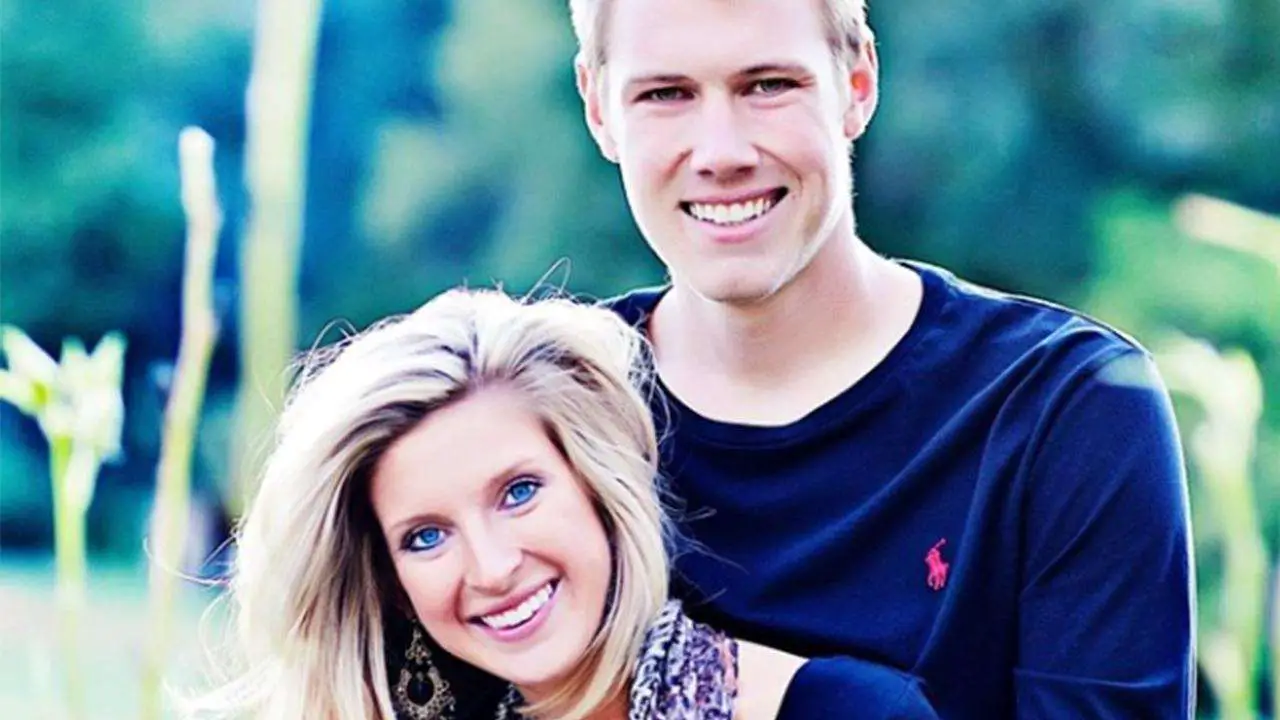 Husband: Lindsie poses with Will for a picture in 2013 (Photo: People) 
Lindsie, whose stardom had a lot to do with her father, left him very disappointed by her actions.
Interesting: Maria Shriver Split With husband, But Not Divorced! Children, Married Details
And even four years after she got married, her father had yet to get over the incident as evinced by his feelings expressed in an interview with E! News,  
"You know, a father has his dreams when he has a child or a daughter that a young man is going to come and knock on the door one day and say, 'Mr. Chrisley, I love your daughter so much and may I have her hand in marriage?' That never happened."
The particular incident had careworn her relationship with her father with him not forgiving her for the action. 
4. Parental Differences Leads To Divorce Between Lindsie Chrisley And Her Husband
Marriage is not just a tying of the knots of love together, it also comes with responsibility, disagreements, highs, and lows between the couple associated. And it's common for couples to struggle in their relationship.
Lindsie and Will too struggled in their relationship following the birth of their baby boy Jackson in the year 2013. The couple had plenty of parenting differences which was sowed seeds of chaos in their married life.
Lindsie was more or less the guilty party in creating differences as she was so invested in bringing up Jackson that she neglected her married life which infuriated her husband.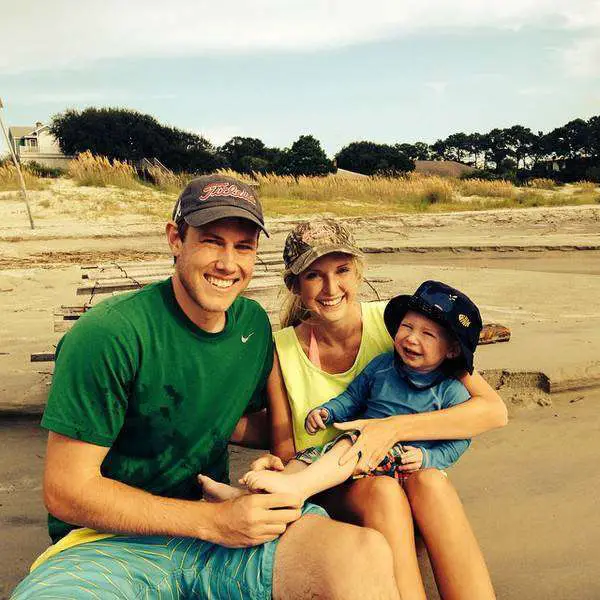 Family of Three: Lindsie poses with her husband and son (Photo: eonline)
The couple's relationship went from bad to worse with every passing day and reached a breaking point in 2016. It was just four years after her eloping against her father's wishes in 2016 when she filed for divorce from Campbell.
Glamorous TV Host: Inside Cheryl Hickey Family: Wedding, Husband, Divorce, House & More Personal Life Details
In an interview with People in 2016, Chrisley revealed that she had outgrown the relationship and their marriage was heading towards divorce:
"He was my first love. We got together when we were 19 years old, and over time we grew separately in different directions instead of together. I feel like I've become more independent, I've come more into myself, I'm more confident with myself and I just don't feel that relationship gives me what I need anymore. I've outgrown the relationship. "
Despite their differences, the two settled to be good friends amidst their separation. 
5. Lindsie Chrisley Rekindles Romance After Postponing Divorce; Dating Again
It turns out that Lindsie is still sticking to the 'forever and always' vow with her husband. Her statement of being friends with her husband on their separation may have been hard to believe but they really stuck upon it. 
And the friendship bore dividends as the couple reconciled in January 2018.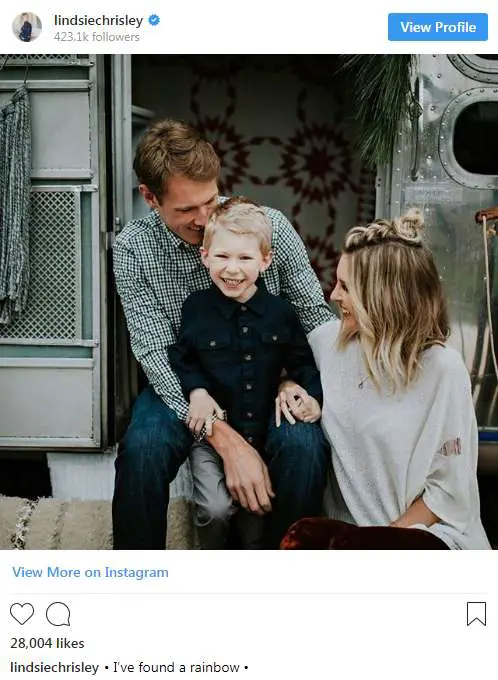 Rekindled Romance: Lindsie poses for a picture with her husband's son (Photo: Lindsie Chrisley's Instagram)
The couple finally realized the two were meant for each other and decided on rekindling their marriage. What's more, their divorce paper's that had been submitted in 2016 have now been withdrawn and Lindsie is giving her marriage another chance.
Another Troubled Reality Star: Gizelle Bryant Dating NBA Boyfriend After Divorce With "Cheater" Husband But Complicated 
Happy Married Life to Lindsie Once Again!