Gizelle Bryant Dating NBA Boyfriend After Divorce With "Cheater" Husband But Complicated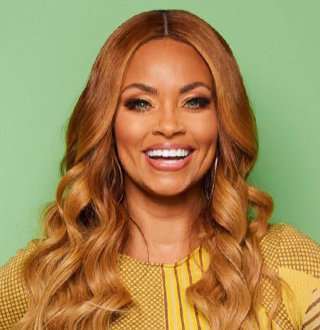 Star Gizelle Bryant had some bitter experiences when it comes to marriage and dating life. And in an interview, she opened up about one of her failed relationships and further delved into a budding romance.
Reality star Gizelle Bryant is an actress best known for her role in the series The Real Housewives of Potomac. Apart from her contribution to the silver screen, she is also a philanthropist who is actively working with the city council of Birmingham, Alabama. With that, she also is an entrepreneur who has a cosmetic line called EveryHue beauty.
Squad Up:- Gizelle and her co-stars touch on numerous topic at the season 3 reunion of the series The Real Housewives of Potomac (Published on 17 August 2018)
The latest installment of The Real Housewives of Potomac was concluded on 19 August 2018. To this day, Bravo has aired 56 RHOP episodes in total.
Gizelle Bryant's Bio: Race & Career Heights
Born on 16 September 1970, in Baltimore, Maryland, she attended her high school from Baltimore itself. Later, she graduated from Hamilton University and got her degree in marketing.
Talking about her family life, she was born to father Curtis Graves; he was the member of Texas House of Representatives. Besides this, information regarding her family remains confined.
Discover:- Secretly Married Simon Halls Gushing On, Husband & Kids, As They Take Gay Love To Next Level
After completion of Gizelle's career, she got a job at NAACP. She worked as an event planner and manager. She rose to fame after appearing in the series The Real Housewives of Potomac. The first ever episode of the show aired on 17 January 2016.
One of the most memorable moments of its debut season saw Gizelle act deliriously when her co-star wrongfully assumed her race to be mixed. And to which, the Baltimore native simply said:
I am not biracial.
1 April 2018 marked the beginning of season three of RHOP.
Gizelle Bryant's Failed Marriage With Husband, Jamal Bryant
Looking at her love life looks like she does not have good experiences. Her former husband Jamal Bryant was the pastor of the empowerment temple AME church. After marrying for eight years, they decided to call it quits due to their growing marital issues.
They together have three adorable kids naming; Grace, Angel, and adore. Despite all the feuds, the couple went through they are good friends now who ended on good terms.
Interesting:- "Stone House Revival" Jeff Devlin Married Love Growing With Age As Wife & Family Set 'Goals'
Gizelle Bryant's 1 & 1/2 Year Relationship With Boyfriend Ends Prematurely
After Jamal, she gave another chance to love and started dating NBA player Sherman Douglas at the beginning of 2017. But they parted ways after dating for about one and a half year on 3 June 2018.
Used To Be My Boyfriend:- Gizelle and her then-boyfriend attend a Hollywood event in July of 2017 (Photo: PEOPLE.com)
The couple started to lose the spark due to lack of communication between them. However, Gizelle tried to give their relationship one more chance, but Sherman seemed to be not interested.
Inside Gizelle Bryant's New Dating Life; Daughters Unhappy About Split
After the separation with Sherman, her daughters were sad because they had developed a close bond with him. They wanted to see Gizelle and Sherman rekindling their romance. Even Gizelle, famously known as the Breakup Queen, was ready to try a little harder for her daughters. But nothing could save their relationship.
In an interview with The Daily Dish on 3 June 2018, Gizelle opened up about her relationship with Sherman and said:
So knowing that my girls loved Sherman, I really wanted to work on it a little harder. But it's a good lesson for children to know that adults, sometimes it doesn't work out and you move on, and hopefully they'll like the next guy.
With the mentioning of a next guy at the end of her statement, she created quite a buzz. Everyone expected that she was hinting at her new possible boyfriend. Gizelle even stated that she had already started dating, but interestingly it was with a laugh and ended up saying nothing serious.
More Reality Stars:- Moniece Slaughter Wiki: Age, Father, Brother, Net Worth & Essential Facts
That was in June and then came her August interview with Page Six. The 47-year-old RHOP updated her fans about her dating life by saying:
I have started dating again. He and I are very committed to making it work.
Like always, she didn't drop any names. However, she did credit counseling behind her new found love for her mysterious boyfriend. Fans online have theorized that the man she was alluding to was none other than her ex-boyfriend, Sherman.
Maybe, she's trying to make it work for her daughter's sake.
---