Ageless Hotness: Who Is Hottest Among Jade Chynoweth Parents...Boyfriend?
She knew that dancing was what she wanted to do when she was a kid....This 20 years old beauty has Italian, Welsh, Danish, and Native American ancestry.....Her mother used to teach her jazz and today; Jade can perform all dance styles including jazz, hip hop, contemporary, ballet, and tap.....Jade's mother gave up her career to help her daughter reach her own....

Being a young media influencer, and working with so many huge brands at the same time, American celeb Jade Chynoweth isn't as reckless as many teenagers of her age are. She is a humble and down to earth person and shares elementary values of life. She is very close with her family and finds inspiration from her two athletic brothers. Many people want to date and hang out with Jade but let's find out who Jade wants to hang out with the most.
The Park City, Utah native, is a dancer, actress, and a social media personality who has a substantial social media following, over 361k followers on Twitter and over 2 million followers on Instagram. She choreographs her dance moves in most of the songs she performs. In 2018, she has choreographed in many of her favorite songs that we can get to see in her YouTube channel. 
What made her successful was her decision to pursue her childhood passion for dancing. Since an early age, she started working towards her dream slowly but reached a height of success gradually.
Get Those Moves RIght: Jade Chynoweth shows off her phenomenal dancing moves on heels for Big Sean's Good Moves (Published on May 29, 2018)
Discover: DWTS Star Cheryl Burke Turning Famous Wealthy Boyfriend Into Husband!
Not every one of us gets to decide what we want to do at a very young age, but I guess destiny had already decided that for her.
Know Jade Chynoweth Age/ Height / Religion
Jade, who has her own YouTube channel named "untilitsnotfun" with more than 44,000 subscribers, was born August 21, 1998, in Park City, Utah, United States.  
This 20-year-old beauty derives Italian, Welsh, Danish, and Native American ancestry from her parents. Meanwhile, the religion she follows is Christianity. She stands 5 feet and 4 inches tall with the body weight of 55kg. She grew up along with her brother. Her real name is Jade Jacqueline Chynoweth, and her Zodiac sign is a Leo.
Meet The Hottest Member Of Jade Chynoweth Family; It's Not Jade
Jade is not only successful in her dancing career but also her acting career (notable credits: 300: Rise of an Empire, Batman v Superman: Dawn of Justice, and The Last Ship). But taking those two careers hand-in-hand at such a young age wouldn't have been possible without the guidance of her parents and their support.
Her mother is a dance teacher who has had a big influence on her. According to Jade, her mother and father have sacrificed a lot for her.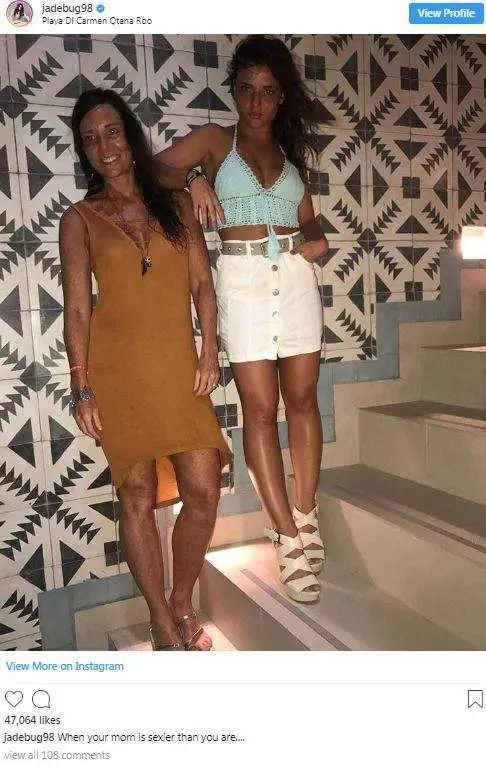 Ageless Sexiness: Jade Cheynworth's dancer mother inspires her every day (Photo: jade Cheynworth's Instagram)
Interesting: Maddie Ziegler Age 15 Wiki: Boyfriend Confusion, Dating Status Of Dancer
Jade grew up in Park City, Utah, where she began training in her aunt's small basement studio every day. Her mother was a dance teacher in the dance studio. She was hit with a dancing bug when she saw her mother dancing at the studio. Her mother back then used to teach her jazz and today; Jade can perform all dance styles including jazz, hip hop, contemporary, ballet, and tap.
While growing up, she focused on being a dancer and took classes in jazz, hip hop, pointe, and tap from  Dance Tech Studios. Taking classes at the studio every day and participating in dance competitions every weekend was something Jade did for many years. Along with her mother, she also used to travel to Los Angeles to audition for dance gigs whenever the chance came through her way.
Jade determination for her passion was immeasurable. But the passion was achieved with a cost. Her mother gave up her career to help Jade achieve her dream. Likewise, she got to learn she got to learn the actual values of life from her grandmother.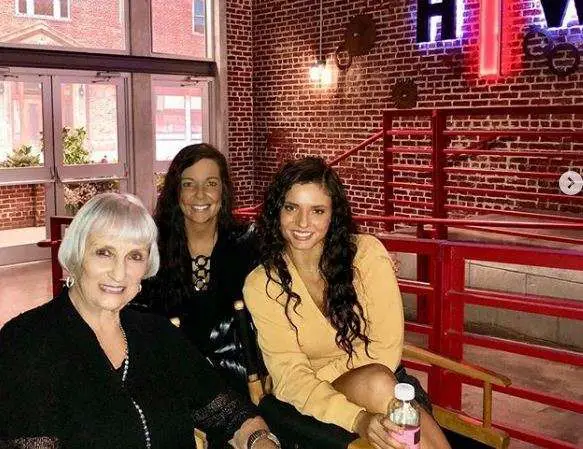 Girls Date Are Better: Jade out for dinner with her mother and her grandmother (Picture: Jade's Instagram)
Don't Miss: Lindsay Mills Age 33 Wiki: Wedding Plans With Edward? Dating Status Now
There was nobody more happy in the world than her parents when she got her big break as a dancer on the renowned THE PULSE 2010-11 Elite Protégés tour. It was the platform that would give their daughter a unique opportunity to train with top dancers and choreographers in the country.  
Who Is Jade Chynoweth Dating/Boyfriend in 2018?
The famous dancer likes to tease her fans now and then with the hope that she would one day date someone. From her recent Twitter posts, it can be said that she likes to keep her love life under wraps and away from the public eye. So, it has been difficult to ascertain anything about her past and present relationships.