'The Gary Null Show' Gary Null Married & Family | Cancer Book From Experience?
Gary Null accused the medical community of...adding to his promotion of alternative cancer treatments... began broadcasting his syndication radio talk show...the show led to protests from...his mother died of...Gary is more of a family-oriented person...often mentions his wife and his kids...more than happy in his married life with his wife...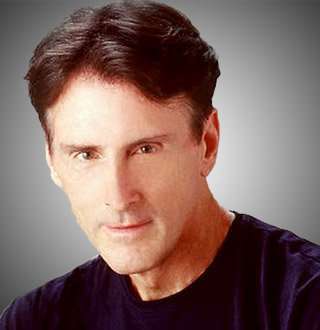 American talk radio host Gary Null has written an overwhelming number of books that are based mostly on guiding people to better health. One of those books carries the guide to preventing and overcoming cancer, which has many people wondering if he wrote the book out of personal experience.  
Gary Null is a talk radio host who hosts The Gary Null Show to inform people about the best news in health and environment as he advocates for alternative medicine and naturopathy. He is also known for producing a line of dietary supplements.
Everything Healthy: Gary Null gives some examples and tips on how eating with proper diet can elevate some of the daily pain people suffer from (Published on 24 May 2013)
You May Also Like: Wedding Expert David Tutera Show; Dresses, Shoes, Jewelry, Net Worth
In 2010, Gary reported that he and six more consumers had been sent to the hospital for vitamin D poisoning after ingesting what was supposed to a nutritional supplement manufactured for his line of supplements.
Gary Null Has Continued To Run His Show Despite Raging Criticisms
Alongside his two brothers, Gary Michael Null was raised in Parkersburg, West Virginia; he was born on 6 January 1945. Holding a Ph.D. in human nutrition and public health sciences, Gary graduated from Union Institute & University.
Gary, age 73, attacks several mainstream medicines, arguing that physicians have an economic interest in promoting rather than preventing sickness. In fact, he even co-authored a series of articles on cancer research for Penthouse, which was entitled The Politics of Cancer.
Advocating for alternative cancer treatments like hydrazine sulfate, Gary accused the medical community of 'suppressing alternative cancer treatments to protect the medical establishment's solid-gold cancer train.'
Apart from the research on cancer, he even wrote a lengthy series of reports entitled 'Medical Genocide' for Penthouse and was the keynote speaker at a rally that was opposing mandatory H1N1 influenza vaccination in the 2009 flu pandemic.
Adding to his promotion of alternative cancer treatments, Gary has also argued that HIV is harmless and does not cause AIDS. He has become the author of more than 80 books from his endless concepts of medical misconceptions that have added more to his net worth.
Read Also: Lamman Rucker Is Married; Wife Of Famous Movies & TV Shows Star Revealed
And in 1980, Gary began broadcasting his syndication radio talk show, Natural Living with Gary Null which was initially aired on WBAI. The show led to protests from ACT-UP New York and several AIDS activist groups that criticized his promotion of AIDS denialism.
He has now continued to host The Gary Null Show through the Progressive Radio Network that he established in 2005.
Gary Null's Married Life Under Wraps; Tweets Suggest Him Being Family-Man
There isn't much that is known when it comes to Gary's family. Well, there are comments speculating that his mother died of HTR but Gary hasn't addressed those rumors, so no one knows the exact figures of his mother or father.
And if we take a look at Gary's married life, the words can't measure up to the 80 books he has written till date. But there are some tweets, that suggest that Gary is more of a family-oriented person.
He hasn't revealed much about his married life with his wife, but he has shown time and again that he is more than just affectionate of his family. He often mentions his wife and his kids on his social media sites and it's quite cute.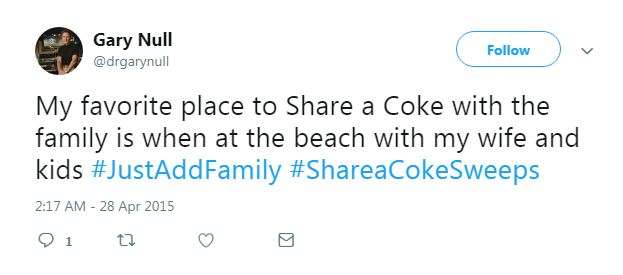 Happily Married: Gary Null mentions his wife on Twitter suggesting that his favorite place to share a drink was with his family (Photo: Gary Null's Twitter | 28 April 2015)
You Don't Want To Miss: Anthony Cumia Cheated On Ex-Wife; Radio Show Host Bad To Girlfriend Too
Gary is known to have a daughter named Shelly Null who is a cook who has published four recipe books. Since he mentioned his 'kids' on his Twitter status, it's safe to assume that Gary has successfully kept the identity of his other children safe and sound from the reach of media.
Anyway, one thing's for sure; Gary is more than happy in his married life with his wife and his children and considering his tweets, he seems to be appreciating the time he spends with his beautiful family.