'Mountain Vet' Dr. Jeff Young Wiki: A Cancer Victim Who Is Now Saving Lives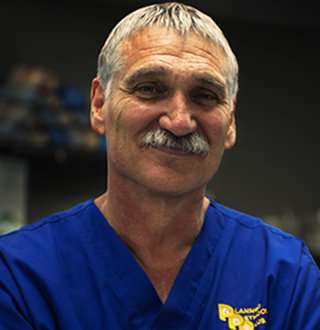 Treating animals from small sick cats to big camels in need of routine or urgent procedures or neutering, Dr. Jeff Young does it all. He is the lead host of one of the highest rated shows on animal planet Dr.Jeff: Rocky Mountain Vet which is in its 5th season. His love for animals and passion for veterinary evolved at the age of 8 when his pet dog died.


Veterinarian on TV: Dr. Jeff Young broadcasting his animal welfare works on Animal Planet's most rated show Dr. Jeff: Rocky Mountain Vet (Photo: Dr. Jeff's Facebook Page)
Dr. Jeff Young is an American veterinarian who works with ethics for animals' welfare.  He has been providing low-cost spays and neuters from 25 years and has performed more than 1,65,000 surgeries. He is the owner and lead veterinarian of Planned Pethood Plus, one of the busiest animal clinics in the US.
Best known for appearing in Animal Planet's Dr. Jeff: Rocky Mountain Vet, his signature show revolves around the clinic and the team of Dr. Jeff and 30 veterinary experts with more than 80k clients. 
Don't Miss: Gator Boys' Jimmy Riffle Age 32 & Girlfriend Getting Married Soon | A Bio
Short Wiki-Like-Bio About Jeff Young's Inspiring Life
Dr. Jeff Young was born as Jeffrey Young and he is a Frankfort Indiana native but his age has not been mentioned anywhere. He describes himself as a military brat which indicates that he belonged to a military family.
He started rescuing injured animals after his pet dog died and even adopted many of them as his own pet. His love for animals from an early age drove him to study Veterinary Science at Colorado State University and he graduated from there in 1989.
Shortly after completing his education, he got a job as an Animal Welfare Officer in Fort Collins, Colorado. Later, he learned that some veterinarians were only money driven and were not careful about animal's health.
So, he moved to Denver and founded his veterinary hospital Planned Pethood Plus. He worked very hard to establish his clinic and provide low-cost health service to pets.
He also organized mobile veterinary clinics and traveled all over the United States to provide low-cost animal care to those who could not afford it. Eventually, he became famous in the localities for his ethical works and from his YouTube video on animals welfare. And the production company Double Act offered him the show Mountain Vet and he could not reject the big offer.
This show is Animal Planet's most-watched series of 2017 among total viewers, averaging 1.3 million. With the increasing popularity that led to immense patient flow, Dr. Jeff moved his clinic, Planned Pethood Plus, from the Highlands to Wheat Ridge, Colorado after over 25 years.
Being the owner of the busiest animal clinic in the United States which is continuously expanding, Dr. Jeffrey definitely has a high net-worth. Also, his signature show premiering on America's reputed TV channel Animal Planet with more than 1.3 million views adds to his net worth.
Interesting: Elaine Chappelle Wiki As Wife Of Dave Chappelle; Family, Ethnicity & Personal Insight
Know How Dr. Jeff Won His Cancer Battle
Dr. Jeffrey was diagnosed with B-cell Lymphoma in 2016 and doctors found an 8 cm mass growing in his lungs.
As he shared the journey of his cancer battle with his fans during the final episode of season 4 in 2017, he found out that his supporters and fans, who showed their immense support and wished him speedy recovery through social media, were very sad and upset.
He had to cut his signature shoulder-length hair due to chemotherapy. The good works he did paid him off very well and he won his battle against cancer and was back with a new season of his show premiered from June 2018.
Know Everything About Dr. Jeff's Personal life, Wife & Kids
Talking about his personal life, Dr. Jeffrey was formerly married to his first wife and had 3 daughters with her. But there is no information available about his first wife. 
However, it is known that his second daughter Melody Obuobisa is the practice manager at his clinic and takes up the stressful job to keep her dad calm, control the money, manage the staff and organize a chaotic clinic schedule. She has delivered her best to the clinic from the past 15 years.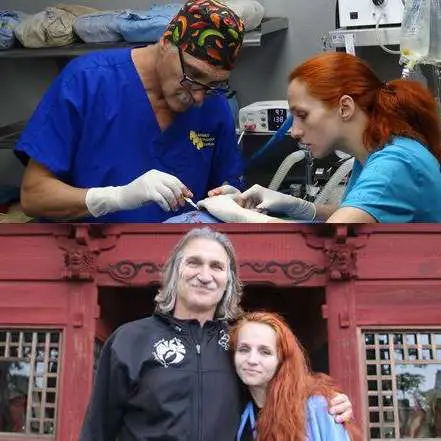 Wife: Dr. Jeff performing surgery with wife Dr. Petra in his clinic in 2017(Up) and posing happily with wife at their Japan Tour in 2018 (Down) (Photo: Dr. Jeff's Facebook)
You May Like: Katy Colloton Wiki Has Husband & Family? Personal Details At Age 33
As of now, Dr. Jeff is married to Petra Mickova who is a veterinarian doctor co-working with him in his clinic Planned Pethood Plus. She is also an awesome veterinarian with a passion for animal welfare just like her husband Young.
Both of them are married since 9th December 2014 and reside in Colorado just above their clinic. The couple bears no children but we hope to see them havibng a family of their own.