An Enduring Fairytale Wedding Of Joshua Faulkner And Chudney Ross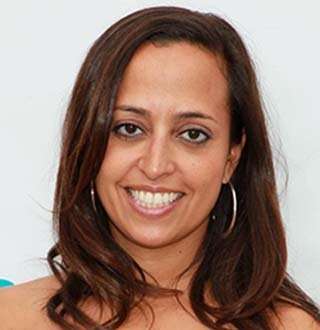 The fairytale love story of American celebrity Chudney Ross and Joshua Faulkner, her longtime partner, culminated in a fairytale wedding, one that could render even the royal wedding to shame.
Chudney Ross is the famous daughter of American pop diva and a music sensation, Diana Ross.
Diana was famous not only as a singer but also as an actor; she was even nominated for an Oscar for Best Actress in Leading Role for her heartfelt portrayal of Billie Holiday in Lady Sings The Blues.
Diana Ross' Blues: Chudney's mother Diana Ross plays Billie Holiday in her biopic Lady Sings The Blues (published on 26 March 2018)
Here we present to you interesting wikis about Diana Ross's daughter, Chudney Ross, including her age, height, net worth, wedding, and information about her father and husband.
1. Chudney Ross's Wiki-Like Bio: Age & Height
On 4 November 1975, Chudney Ross was born to popular music diva mother Diana Ross and music manager father Robert Ellis Silberstein.
She grew up with her elder sisters, Trace Ellis Ross and Rhonda Ross. As of 2022, Chundey Ross is 47 years of age. 
You Might Also Like: Seargeoh Stallone Wiki: Son Of Actor Sylvester Stallone Dating Or Has Wife?
When she was only two years of age, their parents divorced, but they remained friends and loyal parents to their children.
Chudney stands at quite an average height for an American woman.
2. Chudney Ross Works As Bookstore Owner After Successful Production Ventures
After she graduated from Georgetown University with a degree in English and Fine Arts, Chudney ventured into the showbiz and went on to achieve great success as a producer and production manager.
Some of her most popular works include Mesmerized, a Television series based on hypnosis, Livin' Large, Fame, etc. 
However, after those successful ventures in production and earning significant net worth, Chudney seems to have adopted a low-key life away from showbiz.
According to the wiki sources, she owns a bookstore in Santa Monica, California, called Books and Cookies. 
And for those asking, "what does Joshua Faulkner do for a living?" the sources on the internet say he is a businessman with a net worth of $2 million. 
3. Chudney's Future-Husband Fell For Her After Seeing Her Photo In Facebook
Chudney found the heartthrob of her dreams, Joshua Faulkner, for a cocktail in LA. Prior to the meeting, Joshua Faulkner was entranced by Chudney after he saw her photo on Facebook and asked a mutual friend to set them up.
Read More: Siri Pinter With Gigantic Net Worth & Family With Husband At Age 37; What More To Ask For
The bond formed that first day between the drinks and casual but heartfelt conversation traversed through six years of blissful relationship and a child out of wedlock to finally culminate in a proposal and subsequent wedding. And boy, what a wedding it was!
4. Diana Ross Planned Most Elegant Wedding For Her Daughter
The beautiful Hawaii setting, four days long events with activities at nights and the days, extravagant food and music, a party on the yacht, and the daughter of marrying couple, Callaway, as a flower girl made the wedding akin to something taken out of a fairy tale.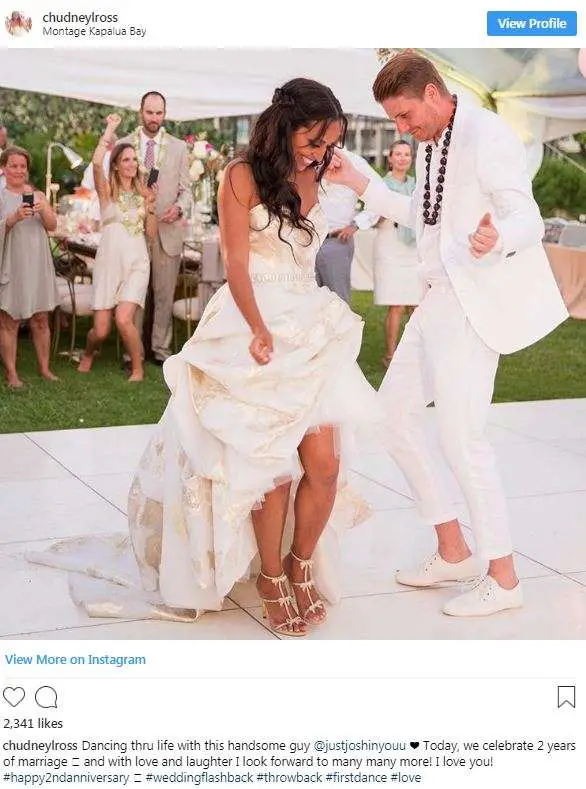 Wedding Remembrance: On June 21, every year, Chudney Ross and Joshua Faulker celebrate their wedding anniversary (Photo: Chudney's Instagram)
The magnificent wedding was planned by the mother of the bride Diana Ross, who graced the wedding herself in an elegant white gown and almost took her daughter's thunder.
Keep Reading: Ali Astall Wiki At Age 40! From Exuberant Wedding To Sporting Baby Bump
It might look like a frivolous extravagance to some, but the wedding was a perfect conclusion to Chudney Ross and Joshua Faulkner's magnificent love story—or rather a perfect beginning, as it has only just started.
Update: Chudney Ross and Husband Joshua Faulkner Now Have Two Daughters
Chudney Ross and Joshua Faulkner share two beautiful daughters together.
The eldest daughter, Calloway Lane, was born in September 2012 before their lavish wedding. The couple welcomed their second daughter, Everlee Ernestine, in October 2019.
Chudney frequently posts pictures of her kids and her husband on her Instagram.