Rhonda Ross Kendrick Siblings, How Many Are There? Father Info Also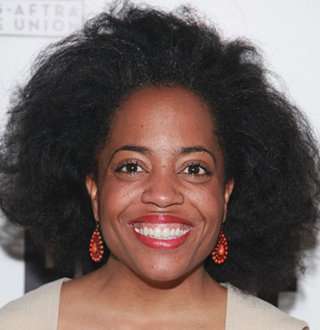 Rhonda Ross Kendrick is a singer-songwriter, actress, and a public speaker, who is best known as the daughter of singer/actress Diana Ross.
She pursued her career in the entertainment industry working on the NBC soap opera, Another World which gave her an Emmy nomination. Likewise, in1998, she was nominated for a Daytime Emmy Award for Outstanding Younger Actress.
You May Know: Grace VanderWaal From AGT Sister & Family Details Amid Raging Popularity
Rhonda Ross Kendrick Age
Rhonda Ross Kendrick was born on August 14, 1971, in California to Diana Ross, a singer and Berry Gordy, who is the founder of Motown Records.
Her mother and her biological father were dating each other when Rhonda was conceived. Later on, after their parents separated, she was raised by her mother and her step-father as her mother married music executive Robert Ellis Silberstein.
As her mother Diana didn't introduce Rhonda's birth father to her as a kid, she used to call her father, Berry as Uncle BB who actually was her father.
Talking about her education, Rhonda graduated from Brown University in Providence, Rhode Island.
Rhonda Ross, Altogether Has Seven Siblings
It is reported that Rhonda has seven half-siblings altogether. Although all siblings are not disclosed, we have revealed some of her famous siblings;
1. Tracee Ellis Ross and Chudney Ross
Tracee and Chudney are the daughters of Diana Ross and Robert Ellis Silberstein, a music manager. Tracee (actress & producer) was born in 1972, meanwhile, Chudney (producer, production manager) was born in 1975.
2. Ross Naess and Evan Ross
Ross and Evan are the children of Diana Ross and Arne Naess Jr., who was the Norwegian shipping millionaire. Ross (producer) was born in 1987, meanwhile, Evan (actor) was born in 1988.
3. Rockwell
Rockwell (singer) is the half-brother of Rhonda Ross, who was born on March 15, 1964.
4. Stefan Gordy and Kerry Gordy
Stefan and Kerry are the half-brothers of Rhonda Ross who are the children of Berry Gordy( founder of the record label) and Nancy Leiviska (director/writer). Stefan (actor and composer) was born on September 3, 1975, meanwhile, Kerry (producer and writer) was born on June 25, 1959.
Rhonda Ross Kendrick's Husband Inspired Her To Be A Songwriter
It was the year 1994 when Rhonda met the love of her life, Rodney Kendrick, a jazz pianist, and composer.
Music was the thing that brought the couple together, and soon they fell in love and decided to get married the same year they met.
Interesting: 'The Four' Winner Evvie McKinney Age 20, Gushes About Father, Reason To Sing!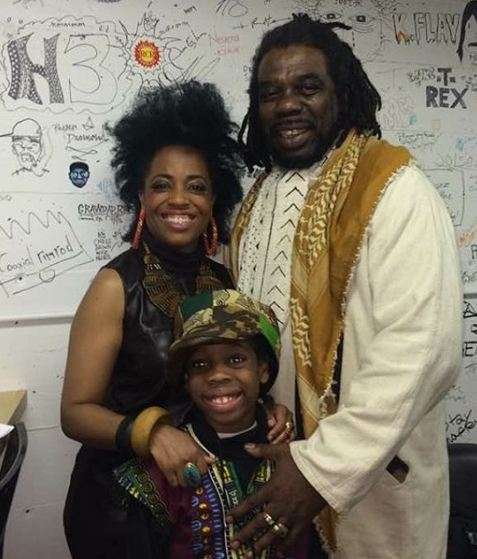 With Husband And Son: Rhonda Ross Kendrick posing along with her husband, Rodney Kendrick and her son, Raif-Henok Emmanuel Kendrick in a family function. (Picture: Rhonda's Instagram)
Later on, in the year 2009, the couple welcomed a son named Raif-Henok Emmanuel Kendrick in their life, and as in now, all three of them live together.
The couple collaborated for 20 years and created their taste of jazz which inspired Rhonda to become a songwriter, and that's how her career as a song-writer sky-rocketed. As in 2018, they celebrated their twenty-one years of marriage together, posting a picture of themselves kissing.
However, Rodney is not her first husband. Before him, Rhonda was married to a guy named Robert Ellis Silberstein. But due to some differences, she got divorced with him.
Find Out The Net Worth Of Rhonda Ross Kendrick
When it comes to the music career of Rhonda, she has been addressing social issues, spirituality, racism, sexism, and self-love through her music which is the key factor why she connects with the audience.
Her song, Nobody's Business, and Summer Day were two of the most popular songs in the jazz community.
Also Read: Is Sandra Bookman Married Or Single? Life Now, Husband, Family, Parents, Salary, Height
Not just music, she had tried her hands on the big screen as well. Some of the films she has appeared in are The Last Dragon, Franchesca Page, and Personals. As a songwriter, actress and a public speaker, Rhonda has been able to make the net worth of $20 million.
---