Know About Rhonda Ross Kendrick's Father, Siblings, Net Worth & Personal Life
Know about Rhonda Ross Kendrick's bio-related details including her siblings, father, age, and net worth. Also, get along with details of her married life with a husband and their more than two decades of wedding life.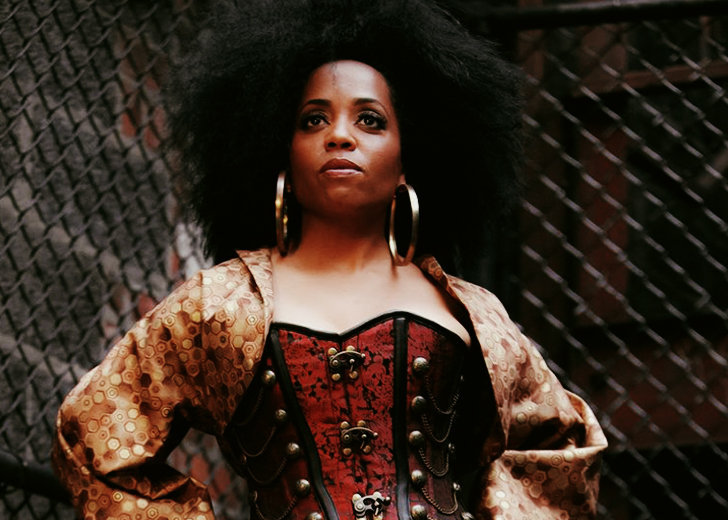 Rhonda Ross Kendrick, who is best known as the daughter of singer/actress Diana Ross, is a singer-songwriter, actress, and public speaker. 
She pursued her career in the entertainment industry working on the NBC soap opera, Another World, which gave her an Emmy nomination. Likewise, in 1998, she was also nominated for a Daytime Emmy Award for Outstanding Younger Actress.
In this article, learn everything we know about Rhonda Ross Kendrick, including the details of her siblings, mother, biological father, net worth, and personal life with her husband.
Rhonda Ross Kendrick Found Out Her Biological Father At The Age Of 13
Rhonda Ross Kendrick was born on August 14, 1971, in Los Angeles, California. Her biological parents are Diana Ross, a singer, and Berry Gordy, the founder of the Motown record label and its subsidiaries.
Kendrick's biological parents were dating each other when she was conceived. However, their parents separated and she was raised by her mother and her step-father, as her mother married music executive Robert Ellis Silberstein in 1971.
Interestingly, the Daytime Emmy Award-nominated actress was not made to know about her biological father in her early years of life. Thus, she believed that her stepfather Robert was her biological father. But when she was 13, her mother Diana told her the truth—Diana told Kendrick that Robert Ellis wasn't her biological father; instead, her biological father was Berry Gordy, whom Rhonda referred to as Uncle BB.
Rhonda Has A $20 Million Net Worth
Rhonda Ross Kendrick, the Brown University graduate, has accumulated a net worth of $20 million, according to Celebrity Net Worth. The major source of her income is pretty transparent, as she is a well-established musician and an actress.
When it comes to the music career of Kendrick, she released her debut album 'Rhonda Ross Live Featuring Rodney Kendrick' in 2004. Since then, she has been addressing social issues, spirituality, racism, sexism, and self-love through her music which is the key factor why she connects with the audience. Her last popular known musical work was in 2016 when she released her debut solo album 'In Case You Didn't Know.'
As an actress, the LA-born has appeared in several acclaimed films, such as The Last Dragon (1985), Franchesca Page (1988), and Personals (1999).
Lately, Kendrick has also been actively inspiring "audiences around the world to think outside the box" with her motivational speaking sessions, workshops, and live tours. These activities also add to her total net worth. 
She Has Half-Siblings From Both Father And Mother Side
Although Rhonda Ross Kendrick is the only child of Diana Ross and Berry Gordy together, they do have several children from their other marriages and relationships. To be precise, Diana Ross has 5 children in total from her three relationships; and Berry Gordy has 8 children altogether from his 6 relationships.
Well, that makes Kendrick half-sister of 11 siblings altogether—4 siblings from her mother's side and 7 from her father's side. Below are the names of Kendrick's siblings and their birth dates from her biological parents!
Her half-siblings from her mother's side are:
1. Tracee Ellis Ross (sister) and Chudney Ross (sister)
Tracee and Chudney are the daughters of Diana Ross and Robert Ellis Silberstein, a music manager. Tracee (actress & producer) was born on October 29, 1972, meanwhile, Chudney (producer, production manager) was born on November 4, 1975.
2. Ross Naess (brother) and Evan Ross (brother)
Ross and Evan are the children of Diana Ross and Arne Naess Jr., who was the Norwegian shipping millionaire. Ross (producer) was born October 7, 1987, meanwhile, Evan (actor) was born on born August 26, 1988.
Her half-siblings from her father's side are:
1. Hazel Joy Gordy (sister), Berry Gordy IV (brother), and Terry James Gordy (brother)
Hazel, Berry, and Terry are the children of Berry Gordy with his first wife Thelma Coleman. They had married in 1953 and divorced in 1959. Hazel was born on August 24, 1954; Berry was born in October 1955; and Terry was born in August 1956.
2. Kerry Ashby Gordy (brother)
Kerry was born to Berry Gordy and his wife Raynoma Mayberry Liles on June 25, 1959. Berry and Raynoma were married from 1960 to 1964.
3. Sherry Gordy (sister)
Sherry is Berry's daughter with Jeana Jackson. She was born on May 23, 1960.
4. Kennedy William Gordy (brother)
Kennedy, also known by the stage name Rockwell, was born on March 15, 1964. He is the son of Berry and his then-mistress Margaret Norton.
5. Stefan Kendal Gordy (brother)
Stefan who is also known as Redfoo was born on September 3, 1975. He was born to Berry and Nancy Leiviska.
Rhonda Ross Kendrick Has Been Married For Over 23 Years
It was the year 1994 when Rhonda met the love of her life, Rodney Kendrick, a jazz pianist, and composer. Music was the thing that brought the couple together, and soon they fell in love and bloomed their relationship. Three years later, on September 14, 1997, the two tied the knots and since then, they have been living together.
The couple is also parents to an 11-years-old son named Raif-Henok Emmanuel Kendrick. He was born in August 2009.
Adding value to their wedding relationship, Rhonda and her husband musically collaborated on many occasions and created their taste of jazz. That also inspired Rhonda to become a songwriter, and that's how her career as a song-writer sky-rocketed.
As in 2020, the two celebrated their 23rd marriage anniversary. On the occasion, Rhonda posted a picture of herself and Rodney and expressed that she feels thankful for the "partnership, for the lessons, the laughter and the love." 
Presently, Rhonda propels a happy and luxurious life with her husband and son.