Bridget Lancaster Bio: Meet Husband & Their Family; Net Worth, Salary, More
Bridget Lancaster is an American television personality...she is best known as the cooking show host for...she was inspired towards cooking from her...she started her professional career as a...she only reached the peak of her career when she....she earns an average salary and boasts a hefty net worth of...she is married to her chef husband...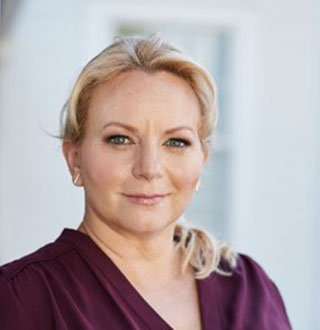 A famous television icon with a warm personality -- Bridget Lancaster is an American producer and television personality who is mostly known for the show America's Test Kitchen (2000). She is the host for the show and along with it also serves as the executive editor for the show's media section. The show is running on its 19th season as of 2019.
Besides that, she is an on-screen test cook for Cook's Country from America's Test Kitchen which is on its 11th season. She also serves as the main instructor for the America's Test Kitchen Online Cooking School and helps develop, produce courses for the school.
She also incorporated her cooking expertise by co-writing the book Cooking at Home With Bridget & Julia (2017) with her co-host Julia Davison.
Bridget Lancaster Bio: Engaged In Cooking From Young Age
The celebrated cooking show host was born on 1968 at Charleston, North Carolina and celebrates her birthday every year on 30 November. She grew up in Cross Lanes, West Virginia and when it comes to her education attended Ohio University.
Discover: Mark McEwan, Family Man With Wife! Facts: Net Worth, Restaurants, Bio And More
She got hooked into the art of cooking from a very young age by watching her mom cook and dad engage in the garden.
Bridget Lancaster Has Been Staple Member Of America's Test Kitchen Family Since 1998
This passion for hers led her to embark on a professional career as a cook specialized in pastry making in different restaurant kitchens in the South and Northeast. She also worked as a kitchen supplies saleswoman.
But she only reached the peak on her career after joining America's Test Kitchen (ATK) as a test cook in 1998. Since then till now, she has been working for ATK. Over the course of her time at ATK, she has prepared a myriad of recipes through the years and established herself as a staple member.
She works as an executive editor and co-host for America's Test Kitchen, test cook for Cook's Country from America's Test Kitchen and is also a lead instructor of ATK's online school which she regards as one of the biggest expansion of her job.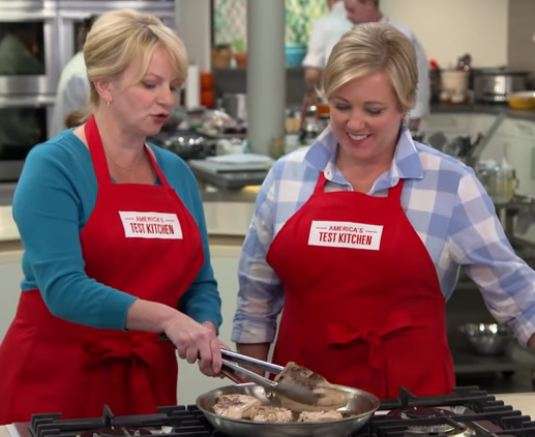 ATK Cooking Host: Bridget Lancaster on the right with her co-host shows the viewers how to cook bone-in chicken breasts and the best-baked potato (Photo: YouTube| 3 March 2018)
You May Also Like: Anne Burrell, Lesbian Restaurant Owner Chef Weight Loss Secret Ousted
In fact, the humble celebrity cooking host credits her early years in the Mountain State for fostering her interest in food that led her to a high-profile career that she is a part of now.
She stands tall at the height of 5'5 inches and has maintained a weight of 54 kg despite her long hours of work preparing tempting foods.
Discover Bridget Lancaster's Net Worth & Salary
As an executive editor, she is estimated to earn an average salary of $85,556. Also, a television cooking show host she earns an average salary of $59,650 a year. With such good paying job, according to some sources she is said to boast a hefty net worth of $2 million.
Cooking Show Host Bridget Lancaster Is Married To Chef Husband
When it comes to this cooking star's love life, she not only sparks an air of romance with food but also with someone who is as passionate about cooking as she is. She is married to her husband Stephen Lancaster who is a chef at Hawthorne-by-the-Sea in Swampscott.
The raised-in-West-Virginia cooking host moved to Boston with her husband and calls Marblehead, Massachusetts her home.
See more: Amanda Freitag Married & Husband | Age 46 Chef Family & Status
Cooking their way through life together since marriage, the couple together has also welcomed two bundles of joys into their lives; sons, Tom (born 2002) and James (born 2008).
With a family of two chefs, they mostly remain busy. But despite the hectic schedule Bridget still manages to cook a good meal for her family at home. On weeknights, she does simple food while for a Sunday night meal she loves preparing something special.