Inside Bridget Lancaster's Bio, Married Life with Husband and Net Worth Details
Bridget Lancaster and her family reside in Marblehead, Massachusetts!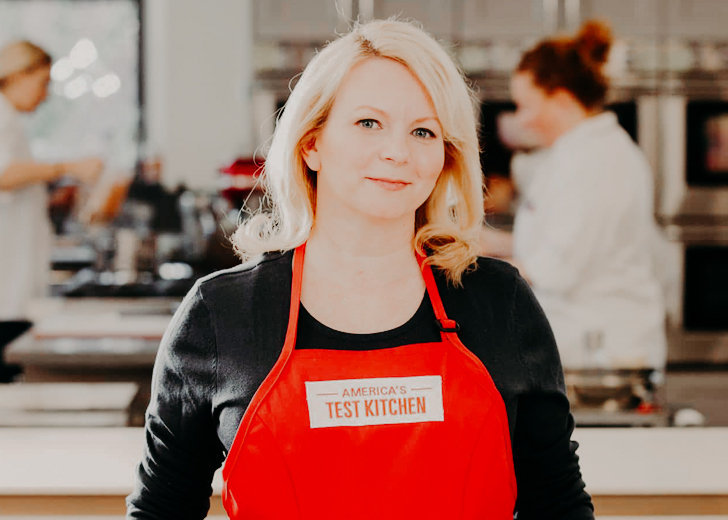 Bridget Lancaster is an American chef, television personality, and producer known for hosting the cooking show America's Test Kitchen since its inaugural season in 2001.
Besides that, Lancaster serves as the main instructor for the America's Test Kitchen Online Cooking School and helps develop and produce courses for the school. She also incorporated her cooking expertise by co-writing the book 'Cooking at Home With Bridget & Julia' in 2017 with her friend Julia Davison.
Lancaster Is Married to a Chef Husband
The celebrity chef is a happily married woman. Her husband is Stephen Lancaster, a Scottish, who is chef at Hawthorne-by-the-Sea in Swampscott.
The couple has been living together in Marblehead, Massachusetts, since 1999.
Together, the chef pair has also welcomed two bundles of joys into their lives: two sons, Tom, born in 2002, and James, born in 2008.
Amongst the two, Tom is an adventurous eater, whereas the younger one, James, mostly prefers grape jelly sandwiches.
Her Bio: Engaged in Cooking from Young Age
The celebrated cooking show host was born on November 30, 1968, in Cross Lanes, West Virginia, United States. She attended the Ohio University.
She got hooked on the art of cooking from a very young age by watching her mom cook and her dad engage in the garden.
As a child, Lancaster was a picky eater, too. Speaking with KLCS magazine in June 2019, she explained that she used to trouble her mother, removing the green stuff from her food and tomato sauce aside.
"I was an extreme picky eater as a child, I would try to find every spec of green in a recipe, like tomato sauce and I would move it out of the tomato sauce," she said. "So it's a joke in our house, how I eat now, which is everything."
Staple Member of America's Test Kitchen Family
Her passion for food and cooking led her to embark on a professional career as a cook. She specialized in pastry making in different restaurant kitchens in the South and Northeast.
She also worked as a kitchen supplies saleswoman in her initial days of the career. 
Lancaster's career-changing moment came in 1998 when she joined America's Test Kitchen (ATK), a company aimed to teach cooking with the help of favorite food experts, as a test cook. Since then, she has been working for the food experts family.
Over the course of her time at ATK, she has prepared many recipes and established herself as a staple member.
She works as an executive editor and co-host for cooking show America's Test Kitchen and test cook for Cook's Country from America's Test Kitchen. She is also a lead instructor of ATK's online school, which she regards as one of the biggest expansions of her job.
Lancaster reportedly stands tall at the height of 5 feet 5 inches and has maintained a weight of 54 kg despite her long hours of work preparing tempting foods.
Discover Lancaster's Net Worth & Salary
The television presenter manages a very luxurious life, all thanks to her years of hard work, which has helped her earn such a lifestyle.
Lancaster's primary source of earning is the salary that she receives from America's Test Kitchen for hosting its show and serving in other vital positions. The Cross Lanes native has also been an executive producer of her show which adds to her net worth.
In addition to that, the sales of her cookbook is another source of revenue for Lancaster.
But all that being said, her salary and net worth figures remain under wraps.