Do '60 Days In' Participants Get Paid? What's Their Salary?
'60 Days In' sees volunteers go undercover in jails to search for proof of illegal activities.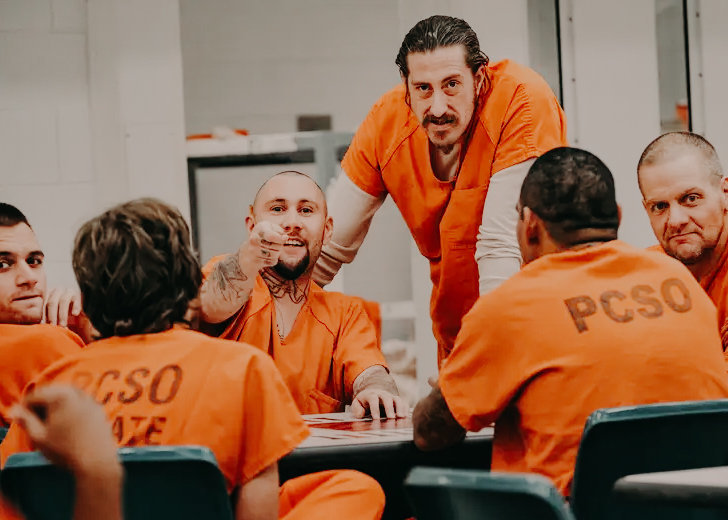 Many people might believe they know what it's like to be in jail, but the 60 Days In volunteering participants are actually thrown into the heart of a volatile socio-political environment that only those who have been in prison can truly comprehend.
So, it's no wonder that viewers of the reality show are eager to see how much these competitors earn for essentially giving up their freedom for two months.
If you are a newbie to the A&E docuseries 60 Days In, the show is internationally known as The Jail: 60 Days In, which literally represents the show's plot. 
But signing up as the show's contestant isn't as easy as it sounds. First, the participants must decide to remain in an actual jail as undercover inmates for 60 days each season. And that's only the start.
And avid fans already must know how much the contestants are paid for, such as restricted life. Still,  if you are among such viewers who have been wondering how much the contestants are paid to be undercover, this article will thoroughly shed light on it.
How much do '60 Days In' participants get paid?
Apparently, these contestants are not earning as much as you may imagine for participating in the show.
Per a former employee (reality TV producer) of the series who posted some behind-the-scenes information on Reddit, A&E budgets are estimated at $375,000 per episode for a one-hour show.
The user explained that the budget covered, among other things, the expenditures of the production offices, personnel, post-production, and location.
"They are paid about $3,000 per episode at the most," the user added.
The show's last season (Season 6) comprised 18 episodes, and the program might have gotten a payout of roughly $54,000, according to the Reddit post.
The two initial seasons of 60 Days In were shot in the Clark County Jail in Jeffersonville, Indiana, while Seasons 3 and 4 were shot in Atlanta's Fulton County Jail.
Similarly, Season 5 took place at the Pinal County Jail in Florence, Arizona, while the sixth season was filmed in Etowah County Detention Center in Alabama. Finally, season 7 was set in Henry County jail in Georgia. The finale was aired on October 27, 2022.  
And it's not the contestant who makes the most money in the show. It's the facility used for filming. What's more, the show also pays out the base salary of county representatives and their overtime costs.
In one of the interviews, Clark County Sheriff Jamey Noel explained that he planned to spend the total sum of $60,000 on the Clark County jail, paid out by A&E on a per-day basis proportionately. The amount came to be around $500 per day, which he said he would spend in 120 days, mostly for the enhancement of the facility. 
 "[The money] will go to training and equipment actually for the jail, so anything that we do that can improve the jail operations," Sheriff Noel conveyed. 
Payout comparisons to other reality whows
Although A&E has not verified it yet, the pay appears to align with how much reality program competitors make. 
For instance, their team requires American Idol contestants to join the AFTRA (American Federation of Television and Radio Artists) union.
As of October 2018, they were paid a minimum of $1,571 with meals for two-hour Idol shows, $1,303 for one-hour presentations, and $910 for half-hour results programs.
According to US Weekly, newcomer contestants on MTV's The Challenge get paid $1,000 weekly. According to a contract gained by Reality Blur, RuPaul's Drag Race competitors get $400 per episode. Meanwhile, The Bachelor does not pay any of its candidates, although Bachelor in Paradise does.
While some may assume that the $3,000 per episode for 60 Days In participants is not enough given the risk and circumstances, if the Reddit data is true, they are paid much better than many other reality TV show participants.
Do you even get paid in '60 Days In' if you leave early?
Not all the contestants would complete the two monthly cycles of the show filming. Especially the rookie participants with no background in jail or the justice system tend not to finish the full cycle.
Soap Dirt clarifies that the show would pay for early, leaving candidates a small stipend for their participation. However, they wouldn't get as much as mount as those who complete the full season. 
What is the plot of '60 Days In'?
A&E's television document series 60 Days In debuted on March 10, 2016, and is best recognized worldwide as The Jail: 60 Days In.
The concept of 60 Days In seems straightforward: go undercover in a select prison to uncover faults in the facility's management.
The experience is far from easy for the chosen contestants, as the makers individually assign them a specific job to perform. 
The participants are tasked with uncovering illegal and contentious acts that occur within prisons, which may go unnoticed by correctional officials, officers, and monitoring systems. 
They may create a made-up identity and fabricate a cover story that includes the specifics of the bogus criminal charges. And finally, participants are 'arrested' and taken to a particular prison based on their respective offenses.
While the show highlights the daily challenges that US prisoners face, some may argue that it also jeopardizes innocent individuals for entertainment.