Whoopi Goldberg With Grown Daughter Despises Having Husband, Lesbian?
In spite of three marriages, she had a constant in her life, her daughter, that kept her faith in family intact...she got married to cinematographer husband on 1 September 1986...The 62 years old has been professed a gay or lesbian in several quarters...Whoopi has openly insisted that she would never get married again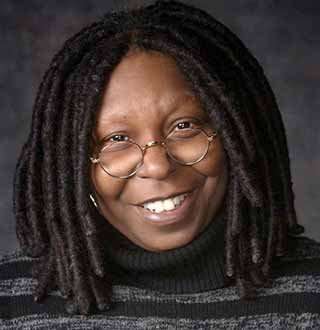 American actress Whoopi Goldberg had to endure the trauma of failed marriage not only once, not even twice but three times. In spite of three marriages, she had a constant in her life, her daughter, that kept her faith in family intact.
The native of Chelsea, Manhattan rose to prominence for her role as Celie, a mistreated woman in the Deep South, in the 1985 period drama, The Color Purple. Still active as an actor despite her advancing age, she is set to portray a cameo role in the upcoming Disney's reboot of 1992 musical comedy movie, Sister Act.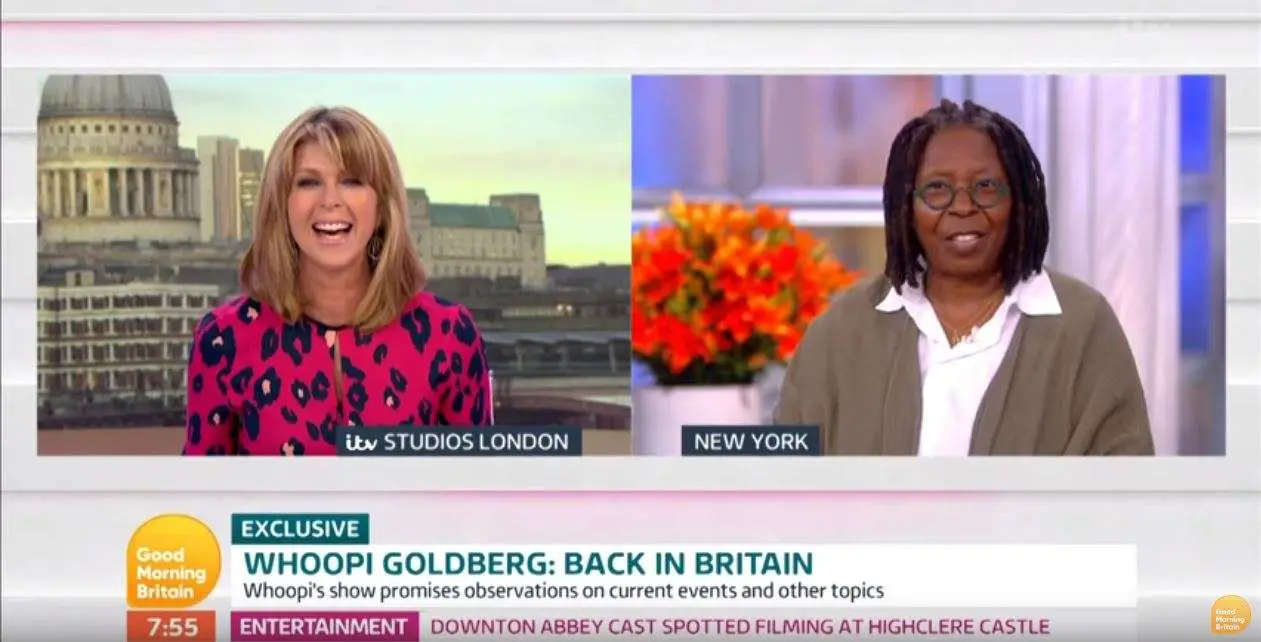 Remarkable return on the silver screen: Whoopi Goldberg reveals her return as the cameo to Disney's reboot of the hit 1992 comedy musical, Sister Act in an interview with Good Morning Britain in September 2018. (Photo: Youtube)
Whoopi is the first African-American woman to win the Academy Award for the best-supporting-actress and second to win an Academy Award for acting. Apart from her bio of an acclaimed actress, she also is a regular in TV doubling up as a moderator and co-host of a talk show, The View, on ABC.
Whoopi Goldberg's Bio: Took Her Name From Farting Bag
The award-winning actress was born as Caryn Elaine Johnson on 13th November 1955 in New York City's Manhattan borough. Her father Robert James Johnson Jr. was a Baptist clergyman and her mother Emma Johnson was a nurse and a teacher.
She grew up in the Chelsea-Elliot Houses with her brother Clyde, who died of a brain aneurysm in 2015. She attended a local Catholic school, St Columba's and completed her primary education.
Do Not Miss: Brenda Blackmon Biography: Married, Silent To Husband! Daughter, Weight loss, Salary
Whoopi is her professional name, which was taken from a whoopee cushion, a farting bag, as she used to fart a lot while performing on stage shows.
Acting Career Landed Her Multiple Awards Including 'The Oscars' 
Whoopi's work on her debut movie, The Color Purple garnered her a lot of appraisals along with loads of awards. She won her first Golden Globe Award and was nominated for the Academy Award for Best Actress for her alluring performance in the movie.
In 1990, she appeared as an eccentric psychic, Oda Mae Brown, in the romantic fantasy film Ghost, for which she won the Academy Award for Best Supporting Actress and a second Golden Globe for Best Supporting Actress.
Also Read: Karen Davila Bio: From Family Life With Husband To Awards And Height
Some of her notable on-screen works are The Magic Schoolbus, Cinderella, A Knight in Camelot and Call Me Claus. Her awards in the showcase include the total of two Daytime Emmy Awards, one Academy Award, two Golden Globe Awards, one Grammy Award, three People's Choice Award, five American Comedy Awards, and a Tony Award.
Her Show Filled With Anticipation & Contention
Whoopi now appears on a talk show, The View alongside co-hosts Joy Behar, Sunny Hostin, Meghan McCain, and Abby Huntsman, which airs on ABC. The show is comprised of the conversations on hot topics on different issues.
The show has been popular among the viewers, and all credit goes to its co-hosts. However, the conversations sometimes turn into discussions and argument. 
On one of the episodes of the show in December 2018, Whoopi and Meghan quarreled after a discussion about politics that turned into a mini-debacle on using the word "guns" on national television.
The co-hosts were discussing Special Counsel Robert Mueller's memos about Michael Flynn, Paul Manafort, Michael Cohen, and new details about the Russia investigation. Whoopi gave her viewpoint stating that she believed Americans wanted to see "the smoking as she did not want to say the word, but the smoking flute" – indicating that she meant to say "smoking gun."
But a moments later, Meghan asked: "are we not allowed to say that anymore?" She later added that she didn't like "living in hypotheticals" and that the panelists should stick to what has been revealed so far.
Whoopi apologized and stated that the reason she did not say 'gun' was because House of Representatives Steve Scalise was coming on, and she did not want anyone to misunderstand the joke. She went on to say that she was trying to be "respectful and thoughtful."
In response, Meghan said that guns were mentioned a few days ago and there was a problem then too. But before things got even more unpleasant, Whoopi cut to commercial, but the look she shot Meghan says it all.
Married Thrice; All Ended In Divorce
Despite a successful career as an actress, her personal life was a total contrast to her successes--as she had to cope with failed relationships and dejections. She has been married three times in her life, but all of them ended in divorce.
Whoopi was first married to actor Alvin Martin in 1973 when she was in her teens. However, their marriage ended in divorce after six years in 1979.
Interesting: Megalyn Echikunwoke Won't Get Married To Chris Rock | Split En Route?
After Alvin, she got married to cinematographer husband, David Claessen on 1 September 1986. Their marriage also could not sustain for a long time. She and her husband divorced after two years of marriage in 1988.
Whoopi got married for the third time to a union organizer Lyle Trachtenberg on 1 October 1994. However, sticking to the storyline in her life, the marriage was also a short one, ending in the same year.  
Apart from the marital relationship, Whoopi has also been linked romantically with some prominent names in the entertainment industry such as Timothy Dalton, Ted Danson, Michael Visbal and Frank Langella. Despite having a colorful dating history boasting biggest names in the showbiz her current dating status is under the veils. 
Whoopi Had Husbands Because She Wanted To Feel Normal
Following her unsuccessful marriages, Whoopi has openly insisted that she would never get married again. Talking to Dailydish in 2010, she urged the people to stick the leg out and trip her if anybody sees her walking down anybody's aisle again.
In 2011, she revealed her failure of all three married life during a discussion on CNN's Piers Morgan Tonite. She admitted to never loving any of her three husbands and stated that she married her former hubbies because she "wanted to feel normal."
Further, she added that she lacks the commitment to the person with whom she tied the knot.
Disregarding Husband Makes Her Gay Or Lesbian?
The 62 years old has been professed a gay or lesbian in several quarters because of her flunked marital life. Moreover, the rumors have been supplemented by her various interviews where she has claimed that she would never be seen again with a man. 
The rumors got supplemented by the fact that she is an active lesbian and gay rights activist. She often appears in the event supporting the gay and lesbian community.
Whoopi, who played lesbian characters in the movies, Boys on the Side and The Color Purple, has even addressed such rumors. In an interview with PrideSource's Chris Azzopardi in May 2014, she asked about the meaning of being gay, lesbian or straight.
Discover: Is Donna Brazile Married? Personal Life & Family Amid Drooling Gay/Lesbian Rumors
She said that people kept trying to divide us up into 'you're gay, you're black, you're white,' but we're all one people. Her reply cleared that she saw herself as more of a human being (Homo Sapien) rather than the divides we have created in accordance with sex, color, and races. 
Being a gay and lesbian right supporter does not make her a gay, and neither does her wavering faith in marriage after three failed marriages supplement the fact. Despite the claims that she would never get married again, she has had one of the best gifts to her through her marriage. 
Whoopi's Role Has Now Changed From Mother To Grandma 
Whoopi and her first husband Alvin are parents of a 45 years old daughter Alex Martin. Alex is an actress and producer, who is known for her role in 1993 movie, Sister Act 2: Back in the Habit.
And Alex has been a constant source of her happiness, despite the turbulence of three failed marriages and multiple failed relationships.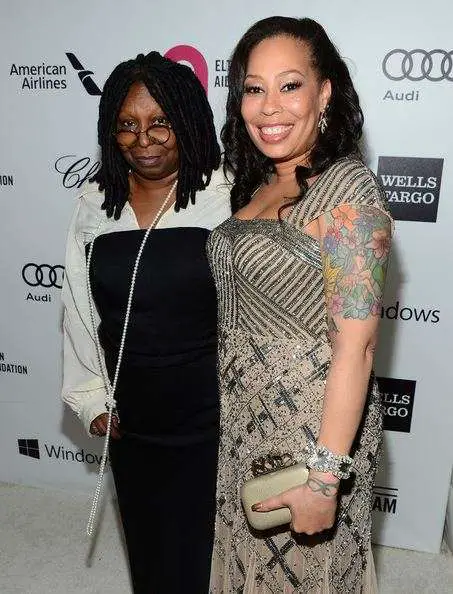 Like-mother-like-daughter: Whoopi Goldberg and her daughter Alex Martin attends the 22nd Annual Elton John AIDS Foundation's Oscar Viewing Party in March 2014 in Los Angeles, California. (Photo: Zimbio)
Whoopi credits her daughter for keeping her sane when she was going from one relationship to other and seeing no viable conclusion to her quest in finding love. Moreover, her daughter Alex was the shining light that made her keep going.
At the age of 34, her happiness doubled when she became a grandmother after her daughter, Alex gave birth to a daughter, Amarah Skye. Moreover, she has also seen her family expand after the arrival of another granddaughter Jerzey and grandson Mason.
You May Like: 60 minutes' Lesley Stahl Is Married And Has Daughter! Biography In Detail
In April 2014, she became a great-grandmother of a great-grandchild Charli Rose born from her granddaughter, who she called her the best gift she had ever had in her life.
It seems like the lady is finally enjoying what family relationships are like flanked by her children and grandchildren and even greater ones!