Brenda Blackmon Stands Strong After Troubled Personal and Professional Life! Details
Brenda Blackmon is one of the most recognized and talented journalists of the New York television. Most notably known as an anchor for the WWOR-TV in New York, she is also the co-anchor of the PIX11 News. However, despite having a forever progressive career, Brenda has had her share of challenges along the way. She had to face racial barriers during her early career, and her greatest personal challenge was to support her only daughter Kelly through her battle with lupus.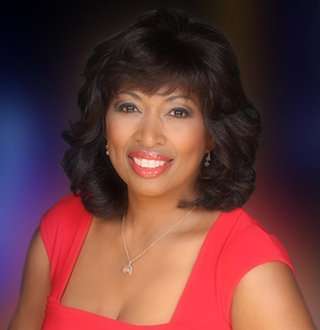 Despite having a forever progressive career, Brenda has had her fair share of challenges along the way. After parting ways with her ex-husband and having to raise her daughter all by herself, her most significant personal challenge was when her only daughter had to battle through a life-threatening disease.
Brenda Blackmon is one of the most recognized and talented journalists of the New York television. Most notably known as an anchor for the WWOR-TV in New York where she worked from 1990 to 2013. She is also the co-anchor of the PIX11 News.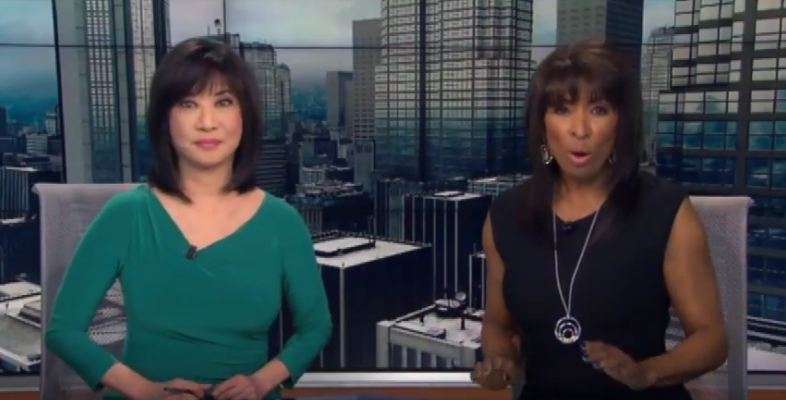 Breaking News: Brenda Blackmon anchors PIX11 News alongside co-host Kaity Tong. (Photo: Youtube.com) 
Along with having an illustrious career on camera, Brenda has also made headlines through her various social works off camera. She is the founder of Brenda Blackmon Communications, a comprehensive communications strategy firm. She is also active in the African-American community and regularly volunteers at SHARE for special events and the Bergen Volunteers.
Brenda Blackmon's Biography, Struggles To Get Job
Brenda Blackmon was born in Columbus, Georgia, the USA  on 20th August 1952.
She graduated from Fairleigh Dickinson University and received two honorary doctorates, eventually completing Master's Degree (MPA) in Public Administration and had won three honorary doctorates.
When it comes to her family life, she chooses not to disclose the information to the media. She has had her lips sealed which leaves all of us in secrecy when it comes to her early days. However, she never fails to demonstrate love towards her parents.
On the occasion of the Father's Day weekend, she shared the picture of her late father, wishing him on his 99th birthday in June 2018. Similarly, she shared a throwback picture thanking her mother, who used to serve as a nurse, supporting the event organized by Lupus Research Alliance in October 2018.
Being an African-American in the early '60s and '70s in the US was not an easy thing to bear. Racism was very much prominent and the African-American society had to undergo violence, discriminations, and unhinged racism.  Brenda being an African-American had to go through similar issues. It wasn't easy for her to ignite a career in the realm of journalism in her hometown. When she was seeking a job in her hometown, she faced several hindrances as most of the broadcasting companies refused to talk to her for she belonged to black ethnicity.
However, after many rejections, she later got a job in 1967. She became the first African-American news anchor in her hometown of Columbia in 1973 after serving as a reporter for six years.
Then after, Blackmon took a job in the broader market of Nashville, Tennessee, but still dealt with discrimination as her manager bullied by saying that her lips were too glossy and she was in a significant need of weight loss. Despite passing through several atrocities, Brenda stood tall against all the hatred and as of now, she is one of the most renowned and respected talents of her field. She is currently the co-anchor of the PIX11 News.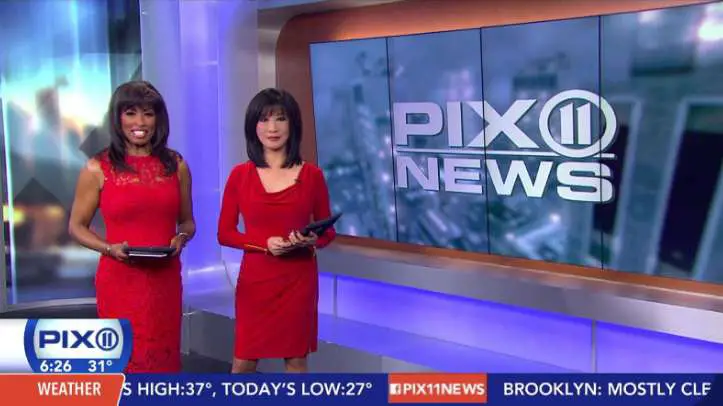 Standing Tall: Anchor Brenda Blackmon doing a segment alongside her co-anchor Kaity Tong. (Photo: Google)
She has been honored with four Emmy Awards and has been nominated for 15 Emmys.  In 2006 she was listed as one of the 25 Most Influential Black Women In Business by Network Journal.
Later in the year 2010, she was awarded the Shirley Chisolm Award and was named Woman of the Year by the Queens Courier News the same year.
As for her salary, while working at WWOR-TV, Brenda made a salary ranging from $146k to $159k. No doubt as of now, she earns an adequate amount of net worth to live her life lavishly. However, she hasn't made any official comment on her recent salary.
With a profession so very public, her love life is very opposite. She had previously been married to her ex-husband with whom she shares a daughter; Kelly. 
Brenda Blackmon's Secluded Married Life & Daughter's Life-Threatening Disease
Brenda has stayed single after parting her ways from her ex-husband. She has not disclosed the name and details of her ex-husband on her social media platforms. From the looks of it, she has not involved herself in relationships after her spilt. Brenda has a daughter named Kelly Dawn.
Kelly, age 33, was diagnosed with the chronic autoimmune disease named Lupus back in 2003 when she was in her college days. A disease that would be a near death experience.
In 2007, she got married to her college sweetheart, Alfonso Ray. Before her marriage, Kelly's disease was not life-threatening. However, after marriage, she found herself on the brink of death. Due to the disease, there was a gradual change in her body. She started losing her weight and showed the butterfly-shaped rash on her body.
Fortunately, after Brenda's daughter got the right diagnosis and intensive care for 52 days, Kelly's health got improved and she made a full recovery. When Kelly got hospitalized, Brenda's husband, who is also Kelly's father, was reportedly there in the hospital to look after his daughter.
In 2008, Brenda created "The Kelly Fund for Lupus, Inc." in the name of her daughter. This nonprofit organization supports lupus affected people, educates the public and helps to find a cure. She also shared the story of her daughter's battle against lupus for "Our story" at Radio 103.9 on the occasion of the Mother's day in 2018.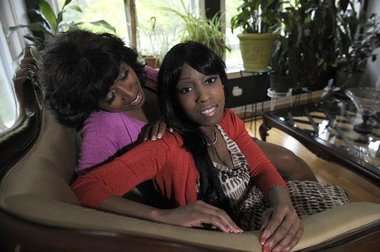 Mother-daughter intimacy: Brenda Blackmon with her daughter Kelly Dawn after she suffers from a dangerous disease Lupus (Photo: nj.com) 
In December 2012, Brenda shared the heartbreaking news of the death of her daughter's father. She wished that her daughter could understand how wide God's arms can reach. 
As of now, Brenda lives alone in New York City without any reported relationship controversies. Looks like she is purely focused on her work and chooses to build her career in the first place.