Who Is Zach Wilson's Girlfriend? Everything about His Personal Life
Get to know all about New York Jet's quarterback Zach Wilson's family and relationship.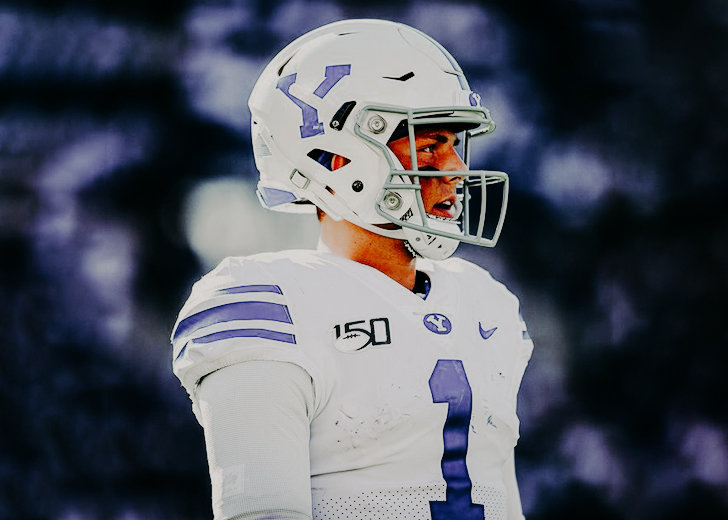 Zach Wilson is an American football player. He is the quarterback for the New York Jets (NYJ).
He was selected in the 2021 National Football League (NFL) Drafts' second overall by the Jets. Before that, Wilson was signed to play college football for Brigham Young University (BYU). 
Wilson is a very accomplished football player. He played football professionally since high school and has not stopped to date. 
The quarterback has a strong support system. His family has been there for him throughout his journey. Similarly, he has a girlfriend who has been with him through thick and thin. 
Here is everything you need to know about Wilson's love life and family. 
Is Zach Wilson Married?
No, Wilson is not married. However, he is in a long-term relationship with his girlfriend, Abbey Gile. 
The duo met when they were in high school. Wilson studied at Corner Canyon High School in Utah, whereas Gile attended Brighton High School.
Even though they did not attend the same school, they knew each other. Their relationship began in 2017. 
The first public picture Gile made of the duo was on Instagram. She posted a picture of the two on August 19, 2017.
Gile is a dancer. Back in February 2019, she and her team won first place at a Utah dance contest. 
The couple is highly supportive of each other. In 2017, Wilson missed his last homecoming dance to see his girlfriend perform. 
Similarly, as evident by Wilson's Instagram, Gile is always present during his games and football events. 
Zach Wilson's Family
Zach comes from a successful and hardworking family. His grandparents from his mother's side of the family, Gary and Rose Neeleman have seven children. Those seven children have 36 children of their own and 28 grandchildren. 
All of Zach's seven uncles and aunts, including his mother Lisa Wilson, are very accomplished. From lawyers and doctors to international bureau chiefs and entrepreneurs. The Neeleman family has it all. 
Lisa is a personal trainer and has a business of sweatshirts and Tee-shirts. She has six children, out of which Zach is one of them. 
When he was young, the quarterback was diagnosed with Attention Deficit Hyperactivity Disorder (ADHD). ADHD is a trait that runs in the Neeleman family.  Zach is under medication for it. 
While ADHD hampered Zach's studies, it aided him in playing football. Mike Wilson, the athlete's father, is the one who inspired Zach to play the sport. 
Mike was a football player himself. He was a defensive lineman in school. He later signed with the Utah Utes and played from 1992 to 1995. 
Mike's career in football ended after he had a severe knee injury. He underwent seven knee surgeries, which ended his dreams of being a football player. 
However, his legacy is now being carried by his son. Mike coached Zach's little league football when Zach was young. 
In the upcoming years, he helped the quarterback with workouts, passes, and drills. In addition, the father-son duo watched and studied football films to help get Zach better. 
Mike was also his son's private quarterback coach. He knew nothing about playing quarterback since he was a defensive lineman. 
Regardless, for his son, Mike watched and studied from other coaches and YouTube videos. He taught himself to coach quarterbacks from the footwork to throwing motions. 
To date, Mike reviews his son's performances. Even though they live states apart, the father-son duo talk on the phone daily. 
Zach also sends his practice videos to his dad. Mike gives the quarterback pointers and advice to help his son be one of the best players the NFL has seen.