Jon Jones' Brothers Are Both NFL Players — Get to Know the MMA Legend's Siblings
Jon Jones' and his brothers; Arthur and Chandler are all athletes who have notable accolades under their belt.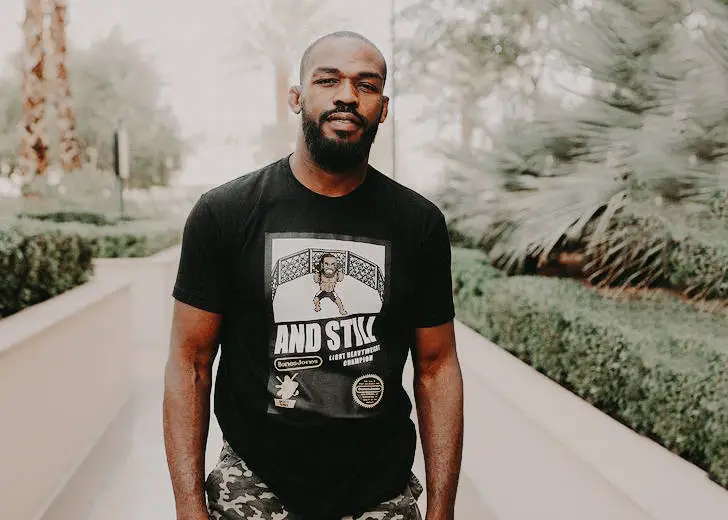 One of the greatest UFC fighters in history, Jon Jones has equally impressive siblings in Arthur and Chandler Jones. The brothers have big career achievements — including Super Bowl wins.
The Competitive Jones Family
Jon Jones is one of the greatest fighters UFC has seen, with an almost-unbreakable record inside the octagon. Making his professional fighting debut in April 2008, he has built up an impressive record of 26-1-0 in his MMA career. 
The light heavyweight champion of the UFC won his debut MMA match with a first-round knockout. And four months and six fights later, he made his UFC debut with a default win. His first and only loss came in his fourth UFC fight through a disqualification.
And since then, he has been on a winning streak being the youngest UFC champ in history.
Athletic prowess seems to run in the family as both his siblings — elder brother Arthur and younger brother Chandler — too, have made a name for themselves in athletics, albeit not in the same sport as Jon.
The Eldest Jones — Arthur 
Arthur, the eldest of the three, has played as a Defensive End in the NFL after the Baltimore Ravens drafted him in the fifth round of the 2010 NFL Draft. He won the Super Bowl XLVII with the Ravens and played for teams like Indianapolis Colts and Washington Football Club. He has since retired from the sport.
Jon Jones once said in an interview that he would wrestle his brother Arthur, who was one of the best heavyweights in the New York state wrestling scene before he joined the NFL. After losing against his brother countless times and training with many great heavyweights like Travis Browne and Andre Arlovski for years, he has become comfortable fighting guys bigger and stronger than him.
Jon has been wrestling with his brothers since they were kids, which was his first taste of combat. 
The Youngest Jones — Chandler 
Chandler Jones is the youngest siblings out of three Jones. Like his elder brother, he, too, is an NFL player. The New England Patriots drafted him with the No. 21 overall picks in the 2012 NFL Draft after spending three seasons at Syracuse University. 
In 2015 he proved to be a dominant defending force racking up 12.5 sacks for the Patriots on the road to winning the Super Bowl.
He has since continued to be a force to be reckoned with in defense with 17 sacks and 20 tackles for loss, earning All-Pro honor and second Pro Bowl in 2017. He earned another All-Pro honor and Pro-bowl nomination in 2019 after recording 19 sacks and eight forced fumbles that season.