NFL's Michael Oher Is a Married Man but He Likes to Keep His Wife's Identity Private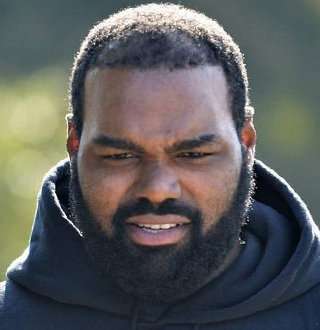 Quick Information
High School

Briarcrest Christian School

College

University of Mississippi

Height/ How Tall?

6 ft 4 in

Date of Birth

May 28, 1986

Age

36 Years, 9 Months

Nationality American
Profession

Football Player

Relationship Status

Married

Gay

No

Net Worth

$16 million

Ethnicity/Race

African-American

Father

Michael Jerome Williams Sr.

Mother

Denise Oher

Sister/s

Collins Tuohy, Tara Oher, Denise Oher

Brother/s

Andre Oher, Rico Oher, Carlos Oher, Sean Tuohy Jr., Marcus Oher, Deljuan Oher, John Oher

Birth Place

Nashville, TN, USA

Birth Name

Michael Jerome Oher

Salary

$5 Million
With the help of his adoptive parents, Sean Tuohy and Leigh Anne Tuohy, Michael Oher overcame childhood hardships to become a recognized professional NFL player.
He first played professionally for the Baltimore Ravens in the 2009 NFL Draft.
After winning the 2013 Superbowl with the Ravens, he played for the Tennessee Titans for four years and then for the Carolina Panthers in a two-year contract.
Oher is now leading a secluded life away from the spotlight. Other than the infamous 2017 Uber incident in which he was involved, there is little to no information about his private life, including his wife and kids. 
Recently though, there was a confusion of sorts regarding Oher's spouse, which happened to be completely misconstrued.
Is Michael Oher Married to Tabitha Soren?
There has been much confusion regarding Oher's spouse. If one were to search for Oher's wife in Google, one of the search results yields the name, Tabitha Soren.
And while Soren is related to him indirectly, she is, however, not his spouse. So who is Tabitha Soren, then?
Soren is an American fine art photographer and a former reporter for NBC and ABC. She is, in fact, the spouse of American financial journalist Michael Lewis.

Tabitha Soren with her husband Michael Lewis, author of 'The Blind Side.' (Source: Twitter)
Lewis is also the author of the 2006 book The Blind Side based on Oher's tainted childhood, his adoption into the Tuohy family, and his rise as a football player.
The book then became the basis for the 2009 film of the same name. 
Information about Michael Oher's Real Wife and Kids
Oher's actual wife remains rather anonymous, to say the least. There is very little information about his spouse and his kids in public.
That being said, she manages a private Instagram account that goes by the username @7tiff4tiff. Besides that, many sources claim that Oher's wife is Tiffany Michelle Roy.
On August 10, 2015, Sean Tuohy Jr., Director of football operations for UCF Football, posted a picture on Instagram that revealed Oher's wife's face.
The picture also featured Oher, Leigh Anne Tuohy, Collins Tuohy Smith, Sean Tuohy, and Tuohy Jr. 

Michael Oher and his wife, Tiffany Michelle Roy (at the left wearing a black t-shirt) with the Tuohy family. (Source: Sean Tuohy's Instagram)
Oher was adopted by the Tuohy family, to be precise, by Tuohy and his spouse, Anne. Therefore, the former NFL player and Tiffany still manage a good bond with the Tuohy family.
In another instance, Oher's spouse broke into the news when Oher was involved in an infamous Uber incident.
In July 2017, Oher allegedly attacked an Uber driver while drunk. According to the driver named Girma Berkessa, he had asked him to follow the car in which his "wife" was seated.
Oher then later attacked him when he told Oher that the car they were following was missing its direction.
The former American football player reportedly believed that the driver was scamming him to charge more money and confronted him.
Oher appeared for a court hearing later that year in October. However, neither the accuser nor the defendant made their statements publicly available.
Michael Oher Brought a Grand Mansion in 2014
While Oher may have been extremely careful in keeping his private affairs a secret, some information tended to become public now and then. Case in point: Oher's grand mansion.
In 2014, Oher purchased a grand mansion in Brentwood for a whopping $1.3 million.
The mansion did not seem like something a bachelor like Oher would purchase if he were a bachelor.
On the other hand, the mansion could also be one of his investments from his NFL money. So, it is hard to make a guess.