Diana Taurasi Wedding With Lesbian Wife Sets LGBT Example; Here's How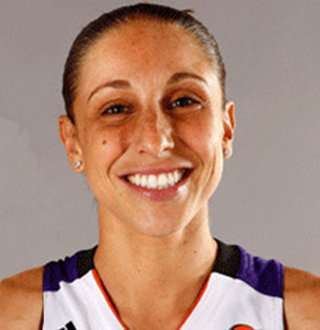 American professional basketball player Diana Taurasi had to keep her persona clean for the majority of straight audiences but in the recent year she broke her built persona and surprised the world by coming out as a lesbian.
The California native is an American professional basketball player for the Phoenix Mercury of the Women's National Basketball Association (WNBA) and UMMC Ekaterinburg of Russia. She is known as White Mamba, coined by famous basketball player Kobe Bryant.
WNBA: Diana Taurasi in the basketball court — All-Star 2017 Season Highlights (Published on 11 July 2017)
Recognized as a splendid player in the women basketball world she has won three WNBA (2007, 2009, 2014)  championship and received several awards such as WNBA Most Valuable Player Award (2009), four Olympic Gold Medals, WNBA Finals MVP Awards and WNBA Rookie of the Year Award (2004).
Related: Jordan Clarkson's New Alleged Super Model Girlfriend! Parents, House, Salary & More
She is one of the 10 women to win an Olympic Gold Medal, an NCAA Championship and a WNBA Championship.
Diana Taurasi Was An Excellent Basketball Player From Young Age
Born in the state of California Diana, Lorena Taurasi graced into the world on 11 June 1982 as the daughter of pro soccer goalie Mario Taurasi and mother Liliana Taurasi. She was born in a family of four and grew up with an older sister named Jessika Taurasi. Her father, who was a professional soccer player, was born in Italy and raised in Argentina where he met Diana's mom Liliana, an Argentinian.
The athletic beauty with a height of 6 inches and a weight of 163 lbs was an excellent basketball player from a young age with a keen interest in it. When she attended Don Antonio Lugo High school she received Cherry Miller Award (2000) presented by L.A. Times to the best player in Southern California. She was also the recipient of Parade Magazine's National High School Player of the year and Miss Basketball State Player of the Year (1999 & 2000).
She majored in Sociology at the University of Connecticut holding such highly crafted career in basketball from a young age. Even in her college, she received many accolades for her proficiency in Basketball.
Diana Signs Extension Contract With Phoenix Mercury & Makes Hefty Salary, Net Worth 
Continuing her excellence in basketball, in 2004, she was selected by WNBA (Phoenix Mercury) and since then has been slaying in her basketball career like a pro. She was selected to 5 WNBA All-Star teams between 2005 and 2011. She embarked her career in an international platform by playing for Dynamo Moscow in the Russian League and Turkish Championships.
Know More About: NBA Reporter & TNT Analyst David Aldridge Did The Unusual; Talks On Wife & Family
She is currently playing for Phoenix Mercury in the guard position, although there were times when she had to play forward as well. She has signed a multi-year extension contract with the club in 2017 intending to carry her through the remainder of her WNBA career. On the other hand, she left her Russia team UMMC Ekaterinburg in December 2017 and now plays solely for the Mercury.
As an established basketball player both in the national and international platform, she is estimated to earn a yearly salary of $500 thousand and boasts a net worth of $1.5 million.
Diana Taurasi Comes Out As Lesbian 
There are tons of coming-out story which gives us hope for a better world of acceptance and one of them is of Diana herself.
Being one of the greatest woman basketball players, her coming out as a lesbian has been an inspiration to many women in sports hiding behind their identities. In an interview with Arizona Public 2017, she revealed a hidden reality in the world of women basketball stating that:
I grew up playing basketball, from kindergarten to college, and I almost cannot believe how many college and professional coaches and players have come out in recent years. It tried A League Of Their Own-levels of hard to paint itself as a fine upstanding group of beautiful, feminine, straight young women playing ball for crowds of straight couples and their straight kids.
It must have been such an empowering moment for Taurice to finally open up and live as well as play as her true self. 
Meet Diana Taurasi's Wife -- Married To Her Former Team Mate (Wedding Details) 
But her coming-out story is not just about herself, she came out to the world as gay along with her wife Penny Taylor by getting married to each other. Penny Taylor is the former player for Phoenix Mercury and current director of player development for the team.
She gave her statement on coming out as gay with her wife to Arizona Public saying that they never kept it a secret; moreover, they just didn't want them being lesbian to be an issue ever.
Taurasi, who wore a white suit, tied the knots in 2017 with Taylor, who wore a beautiful sweetheart neckline gown on their wedding ceremony in Phoenix, Arizona.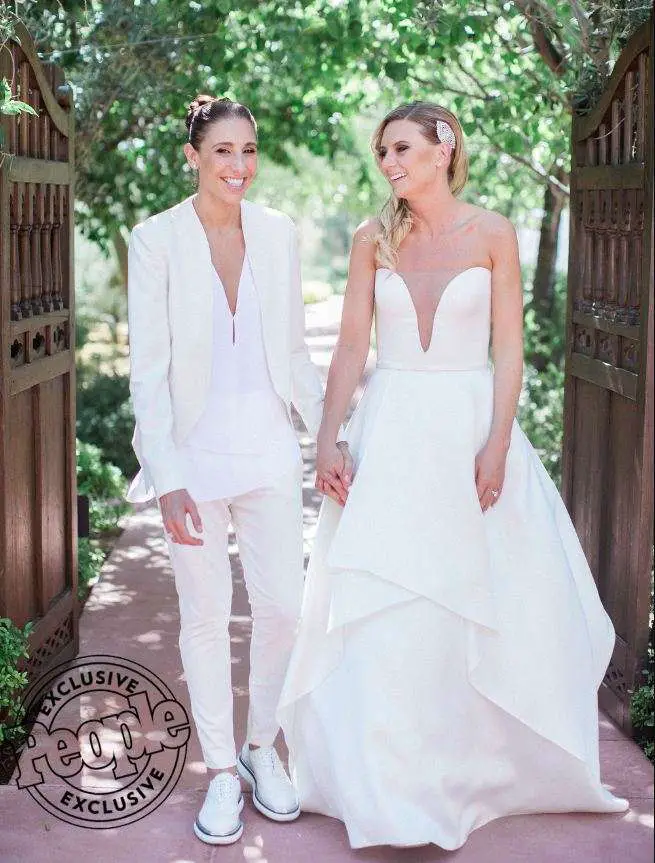 Lesbian Couple: Diana Taurasi poses with her wife Penny Taylor for a picture (Photo: PEOPLE)
Diana gushing about her lovely wedding ceremony told PEOPLE in an interview that:
It was the most amazing and beautiful day of our lives, to be able to share our love with family and close friends meant the world to us.
It must have been a heartwarming moment for the couple to get to embrace each other openly!
Diana Taurasi's Wife Gives Birth To Baby Boy
And their happiness doesn't end here as Taurice and Taylor also became parents of a baby boy Leo Michael Taurasi-Taylor in March of 2018.  Diana stated in an interview with USA Today that having a baby has changed her perspective on life and she's learning and enjoying being a parent.
Interesting: Jasmine Mickael Jordan Wiki: Wedding Calls, Engaged To Rakeem Christmas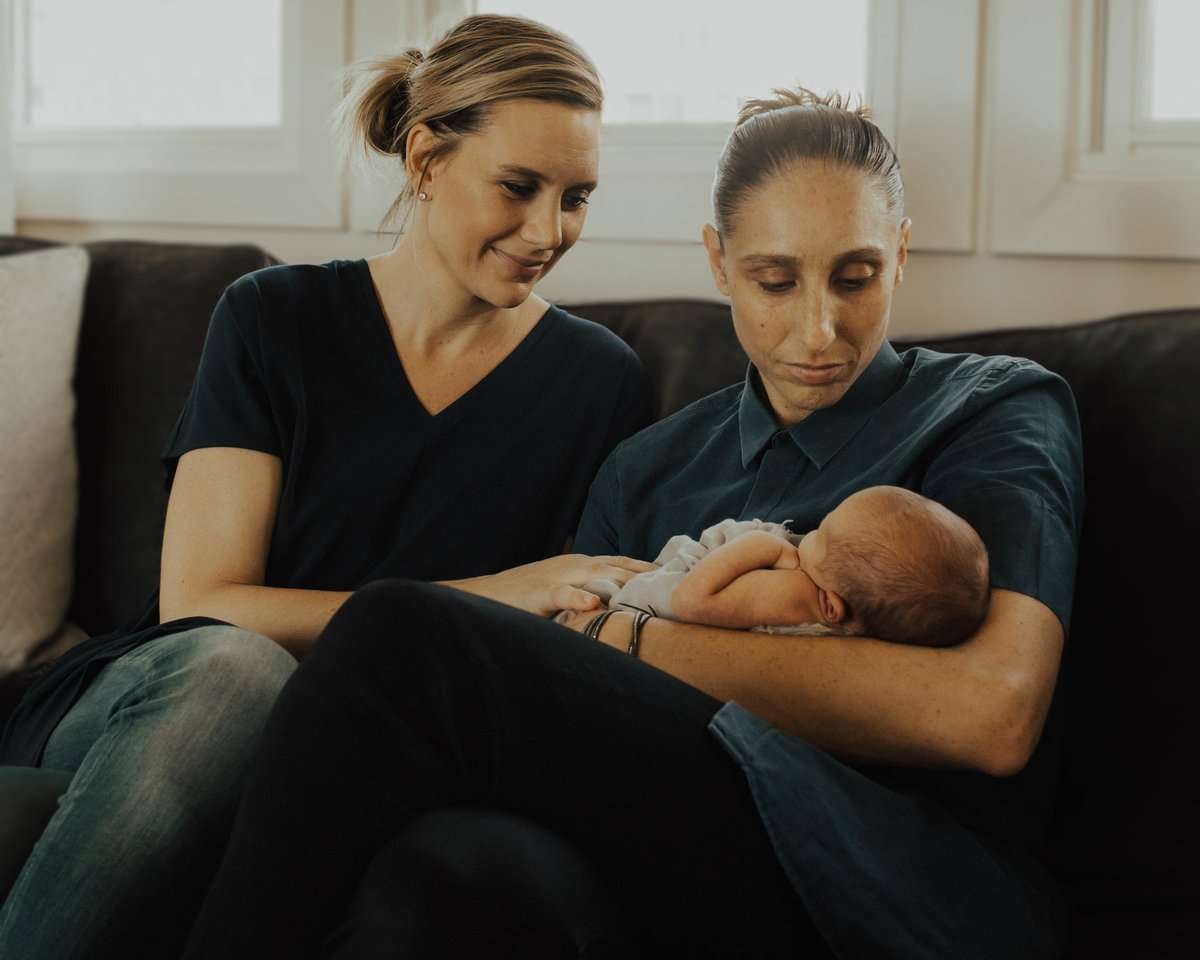 It's A Boy: Diana Taurasi holds her baby alongside her wife Penny Taylor (Photo: basketdergisi)
It's so great to see Taurasi's love life and married life blooming freely without any restrictions after all love is love!