Dell Demps Family Tremble With Wife Cancer; What Is Status Now?
Demp had been strong his whole life, and it was the reason for his successful professional life as well as his married life. He had been enjoying a happy married life with Anita Demps. Their marriage gave them three beautiful kids..Dell Demps was born on 12 February...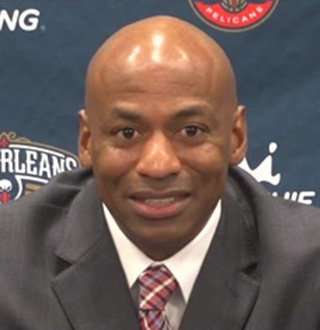 A former American basketball professional player, Dell Demps is an acting vice president and general manager of the New Orleans Pelicans. Demps was a star player for the Golden State Warriors, San Antonio Spurs, and Orlando Magic. He is most known for making his debut in the NBA despite being an undrafted player.
He has always shown consistency in his profession and his performances. He is a trend-maker who has proved through his eight years of his basketball career that nothing is impossible to achieve.
 Parents, Bio, Age
Dell has always been the underdog. The odds have always been stacked against him, and that odds made him a better person. He has gone through the worst days life has to offer, but he never gave up and overcame every hurdle with patience and hard work. His consistent effort led him to the success he rightly deserved.
He was born on 12th of February 1970 in Long Beach, California. He stands at a height of 6 ft and 3 inches and has a master's degree in business.
You May Also Like: Jordan Clarkson's New Alleged Super Model Girlfriend! Parents, House, Salary & More
His childhood saw him grow alongside his sister, in an environment where hard work and sacrifice both needed to go side by side. His father worked two jobs, and his mother used to work for 8 to 10 hours a day just so that they could have a house to live in and it is the same where Dell currently lives today.
Family: Wife, Mother
Demp has been a strongwilled person his whole life, and this was the reason for his successful professional life as well as his married life. He has been enjoying a happy married life with wife Anita Demps. Their marriage gave them three beautiful kids: Jourdan Johnson, Tre, and Riley Demps. One of whom, Tre Demps is an established Basketball player and is associated with Northwestern Wildcats men's basketball Team.
On 2008, happiness turned into fear when he got the news regarding his wife and mother in law. Two of his support systems in life, Anita suffered from a rare form of ovarian cancer while his mother in law, Claudia Thomas suffered from lung cancer.
Smile: Anita Demps wife of Dell Demps with her dog(Photo: theadvocate.com | May 7th, 2016)
It was later revealed that Anita's ovarian cancer had spread to her brain.
However, on the 9th of January 2018, Anita had her brain tumor removed and was on her way to making a full recovery. But unlike Anita, Dell's mother-in-law was not lucky enough and sadly lost the battle to cancer. The death of his mother-in-law put him and Anita in misery. But he alongside his wife shared their grief hand in hand and were able to overcome such a tragic loss.
Net Worth
Dell has been living a successful life after his career in basketball. Currently, he is acting as the vice president and general manager of the New Orleans Pelicans. He also has a clothing store in California which he continues to operate. Alongside that, he has previously also worked for the San Antonio Spurs organization.
As a former basketball player, Dell has collected a fair amount from his career. His achievements such as First Team All-Big West in 1992, The Continental Basketball Association (CBA) Championship in 1995 and Croatian Cup Winner in 1999 will always be part of his glory days and in no doubt is sure to have earned him fame as well as fortune.
Also Check: Olivia Pierson Age 29 Bio; Husband Talks, Was She Even Dating?
However, his net worth is still a big mystery. But we can speculate that his past and present endeavors are sure to have helped him collect a hefty chunk of paper.  
Career 
Dell started his journey by trying to get recruited in his high school to become a basketball player but was unable to succeed. After constant hard work and dedication, he finally came under the radar of the San Francisco Bay Area High School but was left with no scholarship offers to play major-college basketball. To gain more exposure, he played in AAU basketball, and for that, he worked as a dishwasher to raise enough money. After which he was able to attract a few Division I programs and was finally elected to go to the University of the Pacific.
Despite being undrafted by an NBA in 1992, Dell managed to scratch and claw his way into the league. He debuted in the NBA with Golden State during the 1993-94 regular season. Demps appeared in a total of 20 regular- season games, spread over three NBA seasons from 1993-96, with Golden State, San Antonio, and Orlando.
Conference: Dell Demps giving a speech in the retirement of his jersey No. 5 (Photo: nola.com| December 19, 2018)
Know About:Jasmine Mickael Jordan Wiki: Wedding Calls, Engaged To Rakeem Christmas
In 2018, for his outstanding career and his contributions, he had his jersey No. 5 retired by the University of the Pacific.
As of now, Dell Demps is acting as a general manager for the New Orleans Pelicans.