Adam Rippon Adoring Parents & Family! Openly Gay Athlete Romantic Dating Life
In spite of coming out as gay few years ago, American figure skater and self-proclaimed 'America's sweetheart' Adam Rippon had not been able to find a man...In 2018, however, Adam finally shared his Finesse boyfriend...Adam met his boyfriend in late 2017 via dating app Tinder...Adam has a very cordial relationship with both of his parents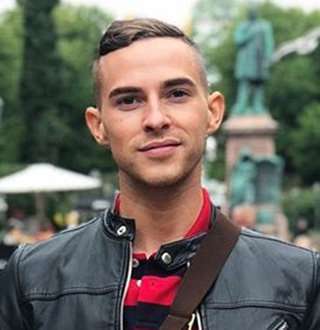 In spite of coming out as gay few years ago, American figure skater and self-proclaimed 'America's sweetheart' Adam Rippon had not been able to find the man he would be compatible with—until recently.
The Pennsylvania native won the America's and world's heart when he won the bronze medal in 2018 Winter Olympics and also appeared in and won the 26th season of Dancing With The Stars (DWTS) 2018.
Dancing With The Stars: Adam Rippon and his partner Jenna Johnson win the DWTS season 26 (published 21 March 2018)
Adam is the first openly gay medalist for the US in Winter Olympics and also the first openly gay winner of DWTS.
Adam Rippon's Parents Coaxed Him Into Skating
Born on 11 November 1989 in Scranton, Pennsylvania as the eldest of six children of Rick and Kelly Rippon, Adam had a hearing disability from his birth. But since his parents were observant and caring, he underwent surgery before he turned one and thus regained his hearing ability.
Read More: Stephanie Birkitt Married Or Dating? Details On Husband, Boyfriend, Family, Parents And More
Although they separated in 2004, Adam has a very cordial relationship with both of his parents. They provided a loving and understanding environment for the Rippon children. It was one of his parents who prompted Adam to pursue skating. His mother, Kelly, used to skate and take him with her to the rink and encourage him to participate.
Adam Rippon's Flying Career: Olympics Gold To 2018's DWTS Win
Naturally talented with the slippery boots, Rippon's march towards greatness started with a silver medal in Novice level of the 2005 U.S. Championships, and then the final title in 2007 junior Grand Prix. His back to back world junior title wins put him into the eyes of selectors for the 2010 Winter Olympics.
Although he was denied the position in US national team in 2010, he got the opportunity in 2018—and won the bronze medal. Thus becoming the first openly gay American athlete to win a medal in Winter Olympics.
Another Athlete: Jeremy Bloom & Adventurous Girlfriend Might Just Get Married; Here's Why
Already accustomed to twirling, Adam and his choreographer partner Jenna Johnson twirled their way to victory in DWTS 2018, thus becoming the first openly gay winner of the show.
Finally Found Perfect Boyfriend, Can't Wait To Take Things To Next Level
Even after he came out as gay in 2015, there was no news of his boyfriend. His dating life was almost non-existent. In 2018, however, Adam finally shared his Finesse boyfriend, Jussi-Pekka Kajaala, to the world on Instagram.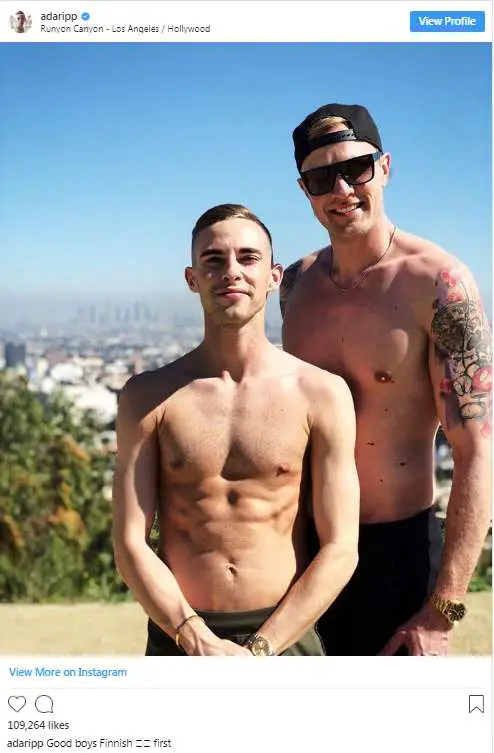 Shirtless Boyfriends: Adam Rippon announces dating a Finesse boyfriend, Jussi-Pekka Kajaala (Photo: Adam Rippon's Instagram)
Apparently, Adam met his boyfriend in late 2017 via dating app Tinder but waited for seven months to tell everyone. Maybe, he needed to be sure about the dating first. But once he was sure, he didn't seem to be any qualms about taking things to the next level. After dating for only around nine months, the couple decided to move in together.
You Might Also Be Interested In: Afua Hirsch Age 37 Married To Partner? Husband, Parents Detail Unveil
It might look like rushing to some, but Adam had been patient for years. Now, that he has found someone he thinks is the right one, there isn't anything wrong with taking things a little faster than usual.