Wells Adam & Girlfriend Romance Just Upped! Closely Dating, Moves In Together
Wells is currently in a relationship with the 27 years old actress Sarah Hyland...The boyfriend-girlfriend duo first met through social media in 2016...Wells romance with his actress girlfriend, Sarah is on the peak...On the occasion of  Sarah's 27th birthday, Wells surprised his girlfriend...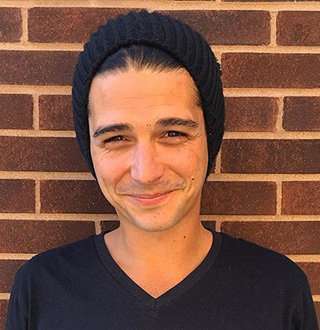 American reality star Wells Adams's relationship with Sarah Hyland was confirmed through an Instagram post. He revealed the news of setting up home with his girlfriend after nine months of their relationship.
The Nashville resident is a prominent face among the viewers of ABC's reality series, The Bachelorette, who was the contestant on the 12th season of the series. He has recently appeared as a bartender on the fourth season of another series, Bachelor in Paradise.
I Love Her: Adam Wells talks about meeting Sarah Hyland and getting along her (Published on: 7 December 2007)
Wells is also a radio jockey, who has been involved in hosting programs in various radio stations for more than a decade. He hosted his first radio show at KSPB (91.9 FM) radio station in California when he was in high school.
Adam Well's Bio: Birthday, Siblings
Wells was born in 1984 in Monterey, California and his birthday falls on 19 May every year. He was raised in a big family along with four siblings. 
Read: Carli Bybel Age 28: Dating Who After Long Time Boyfriend Break Up?
He got graduated at the age of 23 from the University of Mississippi in 2007 with a degree in broadcast journalism. Moreover, he earned minors in English and PR with an emphasis on blues anthropology.
Adam's Rise From RJ To Reality Star 
He started his career as a radio jockey in the US.
At the age of 31, he joined a mass media company, iHeart Media Company in 2015.
Wells handles the morning show, at iHeart's ALT 98.3, which starts from 6 a.m. to 10 a.m and an afternoon show from 3 p.m. to 5 p.m. He also works in another station of the company, THE ROCK 105.9.
Wells also hosts a weekly podcast with Miley's older sister, Brandi Cyrus about their favorite things of the week called Your Favorite Thing. 
With a quirky accent and witty oneliners, Adam has a large fan following in radio and is considered as one of the best RJs in Nashville.
Wells was the first cast on the 12th season of The Bachelorette series, alongside eventual finalist Luke Pell, where he was eliminated at the sixth week of the series. He is a close friend with Bachelorette alum Shawn Booth, who was one of the finalists in the 11th season of the show.
You Do Not Want To Miss: Tinsley Mortimer & Boyfriend Scott Kluth Split, Won't Be Parents Together!
He later appeared on the third season of Bachelor in Paradise taking over the BiP bartending duties from the beloved Jorge. After his elimination after six weeks, he returned for the 4th season of the series, replacing Jorge Moreno as the hotel bartender.
Dating With Girlfriend, Sarah Hyland Confirmed Through Instagram
Wells is currently in a relationship with the 27 years old actress Sarah Hyland. Sarah is an American actress, who gained popularity from a role as Haley Dunphy on the ABC sitcom Modern Family.
The couple confirmed their relationship via an Instagram post on 5 November 2017. Sarah shared a black and white picture cuddling up Wells and captioned it 'he puts up with me.'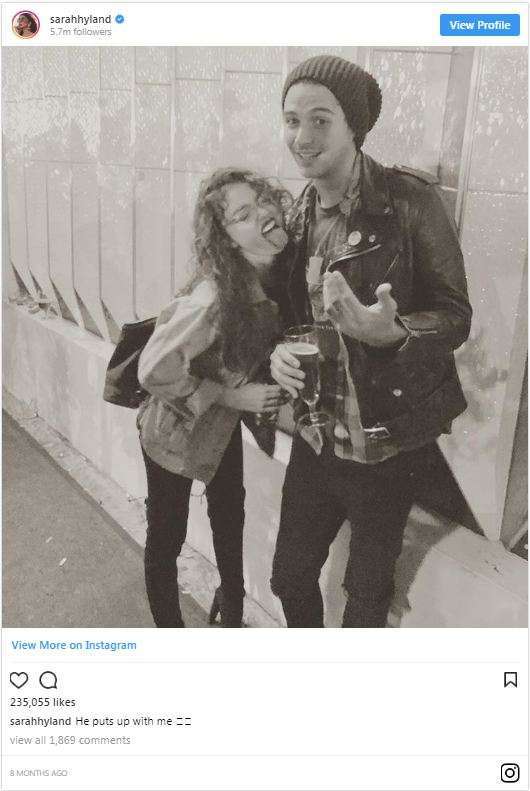 Wells's girlfriend, Sarah confirms their relationship vis Instagram in November 2017. (Photo: Sarah Hyland's Instagram)
The romance rumors had however sparked before a month of their confirmation as they were pictured together in Halloween costumes in October that year.
You May Also Like: Holly Allen Age, 33, Splits With On & Off Boyfriend Luke Pell; Rekindled Romance Ends
The boyfriend-girlfriend duo first met through social media in 2016 where they had series of conversation on Twitter about his work in Bachelors in Paradise series.
Know About His Beau; Sarah Hyland
Born on 24 November 1990, to parents; father, Edward James Hyland, a theater and film actor, and mother, Melissa Canaday, a stage acting coach Sarah grew up alongside her younger brother, Ian Hyland in Manhattan, New York.  
When she was studying in 6th grade, she got accepted into Professional Performing Arts School, from where she graduated in 2008.
And at just the tender age of 18, Sarah Hyland, to pursue her career, moved to Los Angeles, California.
Since then, winning the Screen Actors Guild award for 'Outstanding Performance by an Ensemble in a Comedy Series' for four consecutive years since 2011 to 2014, fair enough to say, she has become one of the prominent figures in the TV industry.
Raging Romance With Actress Girlfriend 
Wells romance with his actress girlfriend, Sarah Hyland is on the peak and the couple has been hitting up new landmarks in their relationship. 
On the occasion of  Sarah's 27th birthday, Wells surprised his girlfriend with a sweet helicopter ride to Catalina Island on 24 November 2017. He even joined the Thanksgiving celebrations with Sarah's family post-birthday celebration.
The couple celebrated their first valentine day and marking the special event Wells Instagrammed a picture of them kissing together during horse riding on Taco Bell. He further stated her love for his girlfriend saying he wanted to ride off into the sunset with her adding he loved her to Pluto and back.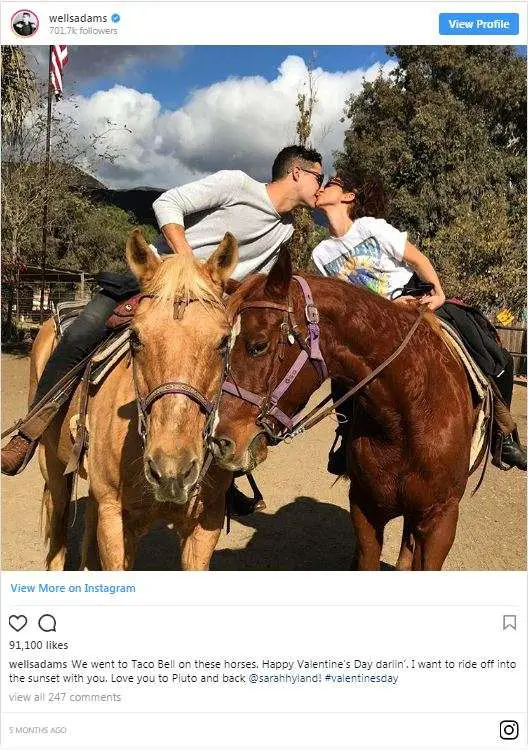 Wells enjoys the intimate moment with his girlfriend, Sarah on Valentines day 2018 (Photo: Wells Adams's Instagram)
The duo is yet to get engaged and Wells is aware of the engagement ring she wants. 
Wells has recently made a big decision of his life moving to Los Angeles to set up home with the girlfriend after nine months of their relationship. He revealed the big news in a Friday's episode of the weekly podcast with Brandi Cyrus in July 2018.
Get Along: Peyton Elizabeth Lee Age 14 Parents To Ethnicity, Net Worth & Family | Revealed
Moreover, the loved-up pair were pictured soaking up the sun during a romantic vacation in a posh resort in Mexico on 25 July 2018. The pair were pictured cozying up on a beach with Sarah Hyland rocking a skimpy bikini.