Vicky Pattison Real Reason Why Wedding Moved, Engaged But No Dates
It was in November 2016 that Vicky publicly confirmed her relationship with Geordie Shore star boyfriend...And Vicky had more big news to hit her when John got down on one knee and presented the ring in July 2017...many fans had already speculated her split with fiance...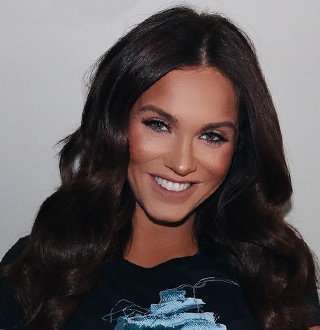 English television personality Vicky Pattison was overwhelmed with excitement planning her wedding with fiance, but a sudden turn of wind made her postpone the day of happiness, and she didn't step back to share the reason to the world.
Vicky Pattison is mainly known for her appearance in the MTV shows Geordie Shore from 2011 to 2014 and Ex on the Beach in 2014.
Winning Age: Vicky and her best moments from 'I'm A Celebrity… Get Me Out Of Here' in the Jungle before she was crowned the Queen of the Jungle (Published on 9 December 2015)
Vicky has had her name on a weekly column in the magazine, New! since mid-2015.
Vicky Pattison's Bio: Age & Rising Television Career From Geordie Shore
Born on 16 November 1987, Victoria Pattison was raised in Essex, England and enjoyed drama since school. It was in 2011 when Vicky got the chance to appear in the popular MTV show, Geordie Shore and gained massive attention.
You May Also Like: CBS' Margaret Brennan: Glancing At Romance & Wedding Day With Marine Husband
After rising to fame from the show, the 30-year-old media personality was featured on the cover of the magazine Loaded in October 2011 with Jess Wright and Binky Felstead. Vicky has featured in the magazine Nuts alongside Geordie Shore star Holly Hagan.
In 2014, Vicky starred in the MTV reality TV show, Ex on the Beach and started making guest appearances on Big Brother's Bit on the Side, Safeword, This Morning, Celebrity Juice, and Through the Keyhole.
It was from June 2015 that Vicky started her own MTV show, Judge Geordie where she sorts out feuds between families, relationships, and friends. She released her autobiography Nothing But The Truth in 2014, updating it in 2016.
Vicky took part in the fifteenth series of I'm a Celebrity… Get Me Out Of Here! in November 2015 and she won the title. She returned to the Australian version of the show in February 2018 and finished in 4th place.
Vicky Shares Huge Weight Loss Transformation
Vicky made a massive transformation with her body as she went from size 16 to size 6 initially using a fitness DVD.
She shared her body insecurities as she posted a photo of her at her largest to lightest alongside her current figure on Instagram with the story behind her weight loss.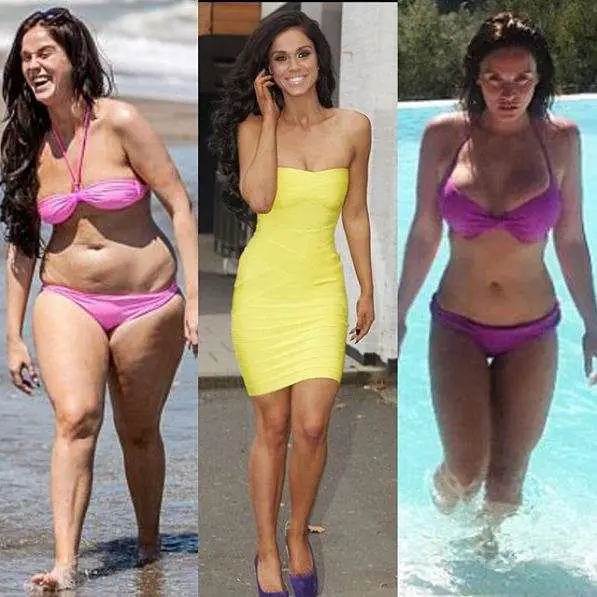 Amazing Weight Loss: Vicky posts a collage of three pictures from her unhealthiest to healthiest on Instagram on 19 January 2018 (Photo: Vicky Pattison's Instagram)
After training hard on her fitness DVD in 2013, Vicky did drop down to a size six, but she wasn't satisfied as she had become too obsessed and focused on slimming down, which wasn't a good thing for her health.
Read Also: Tyra Banks Split Before Getting Married; Photographer Boyfriend Out Of Picture
Her calorie control didn't let her enjoy her tastes, and she was constantly conscious of the content and quantity of her intake. So she changed it, as Vicky moved to listen to her body at times that asked for a cake once in a while.
She also mentioned that her life didn't revolve around the scales and had kept her diet balanced without starving herself, opting to work out more often. Today, she's happy with her body and calls herself a strong, healthy and realistic woman with a good balance of work and home life.
Following her weight loss, Vicky even starred in the MTV reality show, Beach Body SOS, where 16 contestants are helped by seven personal trainers to showcase a dramatic body transformation by the end of the show.
Vicky is Engaged to Fiance, John Noble
It was in November 2016 that Vicky publicly confirmed her relationship with Geordie Shore star boyfriend, John Noble after their affair rumor had been swiveling for weeks.
And Vicky had more big news to hit her when John got down on one knee and presented the ring in July 2017. She shared the happy news to OK! Magazine as she said how her boyfriend took the excuse of taking his dog out for a walk and proposed her out of nowhere.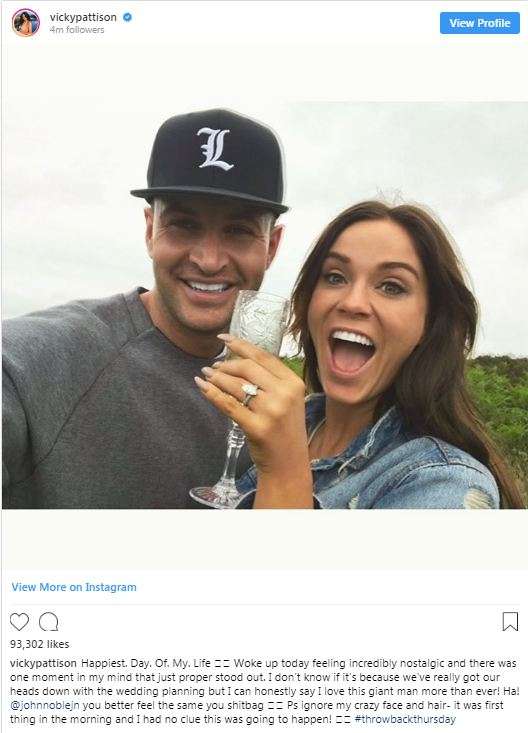 Engaged & Happy: Vicky posts a picture with her fiance on Instagram as she holds out her glass showing off her engagement finger on 20 September 2018 (Photo: Vicky Pattison's Instagram)
Vicky confessed that she was convinced about John breaking up with her following the difficult weeks they had been through being busy with work. Her fiance even refused to see her one weekend, and the proposal was quite unexpected.
And Vicky was extremely excited to share her wedding plans and how she wanted her wedding dress to be inspired by the gowns of the Duchess of Cambridge and Pippa Matthews.
You Don't Want To Miss: Hannah Storm And Super Supportive Boyfriend -Turned-Husband! Inside Her Family Bliss
But the engaged actress' wedding had to be postponed following a devastating reason that Vicky wasn't hesitant to share.
Vicky's Wedding Delay Follows Sorrowful Reason
As much as she was gushing with excitement to get married to her fiance, Vicky had to confront a terrible news that made her delay her cart of happiness.
It was in July 2018 that Vicky had to face the sudden loss of her best friend, Paul Burns amidst her plans of the wedding.
When Vicky revealed the postponing of her marriage, many fans had already speculated her split with fiance, but she instantly corrected the rumors as she explained that she needed time to put herself back together.
During the talk about her best friend's loss and her giddiness of getting engaged on Loose Women, Vicky said,
It didn't feel right to be planning something that is meant to be so happy when you don't feel happy and even worse, when you do feel happy, you feel guilt about being happy.
Vicky also shared how it wasn't right to keep struggling with grief alone and even though she didn't want to accept the loss of her best friend, she managed to step out and made her feelings clear.
So, it's possibly going to take some time before Vicky finally feels okay to be organizing her wedding after having lost one of her loved ones.