Is Sunny Anderson Married? Insight into Her Net Worth and Personal Life
Sunny Anderson is a celebrity chef famous for her hosting gigs on Food Network.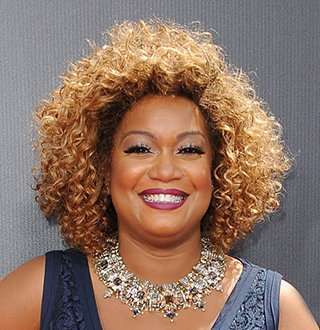 Quick Information
Date of Birth

Apr 09, 1975

Age

47 Years, 11 Months

Nationality American
Birth Place

Lawton, Oklahoma, United States

Profession

Television Personality

Relationship Status

Single

Net Worth

$5 million

Ethnicity/Race

African-American

Father

Thomas Anderson

Mother

Linda Anderson

High School

Madison High School

College

Loyola University

Height/ How Tall?

5' 5"

Hair

Long

Hair Color

Blond

Eye Color

Dark Brown

Official Site

http://sunnyanderson.com/
American chef Sunny Anderson is the face of Food Network. She hosts multiple shows on the channel, cooking classic dishes and sharing secrets of her unique recipes. 
Here's what you should know about the celebrity chef.  
Her Hardships at an Early Age
Being a woman of color, Anderson experienced racism from an early age. She used to be treated inhumanely by white kids in her neighborhood, who hurled nasty words and bullied her. 
Thanks to her educated mother and army father, growing up with her brother in such circumstances was a little easier. Her mother taught her self-esteem and unhesitantly clapped back at haters who dis-served them.
Slowly and steadily, Anderson became like her strong-willed mother, forging a career in full-throttle.
She didn't hesitate to join U.S. Air Force as a radio broadcaster, although the career wasn't close to her culinary passion. She started her service in 1993 with stride and worked in Seoul, South Korea, and San Antonio, Texas. 
"I knew that there were radio stations, television stations, newspapers, and magazines, for the military, by the military, and I wanted to be a part of that." she told ABC News in 2013. 
Moving to different places helped Anderson learn about various cuisines and polish her culinary skills.
However, she thought of turning her passion into a career only after joining New York's Hot 97 radio station in 2001. She had got the job after her tenure in the military. 
Anderson's Culinary Career
As a child, Anderson played with cooking instruments instead of toys. And when she grew up — even if embroiled in journalistic activities — she shared her skills with her friends, cooking them lunches and dinners. 
Impressed by her skills, her friends encouraged her to forge a career in culinary arts. Serendipitously, Food Network noticed her skills in talking and cooking and approached her for a show. 
Anderson debuted in the Food Network as a special guest in the Emeril Live show in 2005. Following that, she hosted Gotta Get It in 2007. 
Her hosting gig in the How'd That Get On My Plate?, starting from July 2008, catapulted her to success. She soon became the chef host of The Kitchen alongside Jeff Mauro, Katie Lee, among others. 
In 2021, she started hosting Easter Basket Challenge and My Fave vs. Your Fave.
How Much Is Her Net Worth?
Anderson has hosted over twenty programs in Food Network, which undoubtedly has enriched her burgeoning net worth. She still shares her skills in shows like Cooking For Real, Home Made In America, and The Kitchen. 
As per Celebrity Net Worth, the Loyola graduate has a fortune worth $5 million.
A part of her net worth should be credited to her best-selling cookbook 'Sunny's Kitchen: Easy Food for Real Life' published on September 17, 2013. To top it off, she also has merchandise that sells customized T-shirts. 
Anderson's Relationship Status
If her social media is anything to go by, Anderson's is neither married nor dating. She has also shared nothing of her relationship status in her interviews and shows, which hints at her singlehood. 
That being said, the 46-year-old was vocal about her past relationship some years ago, albeit not revealing her partner's identity. 
In an interview with Delish in 2009, she revealed she had a boyfriend who was just as foodie as her. Anderson also shared that she prepared three square meals a day for him. 
Then in 2016, she tweeted, saying she had only two serious ex-boyfriends till that time. The Kitchen host also stated that both of them had met her parents.
no, not at all...my parents know I'm enjoying the single and dating life with no goals. They've only met 2 serious boyfriends — SunnyAnderson (@SunnyAnderson) December 29, 2016
A year after that, Anderson apparently went through a heartbreak. 
In January 2017, she took to Twitter to announce she was dating a man named Columbo. Just months later, she updated her fans that she was on a date with her book. When a follower commented that a look at the book would make her sad, Anderson quipped it was better to be alone than with a liar and a cheater. 
The turbulent updates on her social media hints that her relationships didn't sail smoothly.