Simone Biles and Boyfriend Push Each Other In a Healthy and Competitive Spirit
Simone Biles and her boyfriend Jonathan Owens have been dating since the summer of 2020.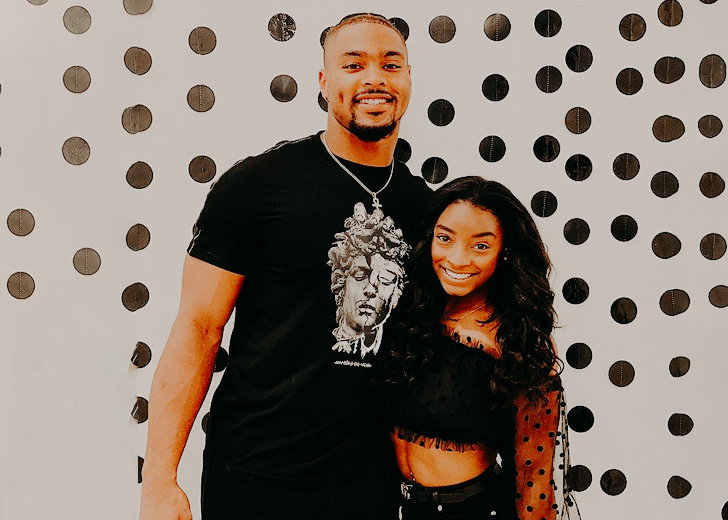 Simone Biles is one of the finest gymnasts of all time and perhaps one of the greatest athletes to compete in any sport. It's remarkable that she has practically achieved everything a gymnast could ever hope for in her stellar career. 
And now, she can add a victory against a seasoned NFL player in a strength test to her already excellent record. 
That NFL player is none other than her boyfriend.
Who Is Simone Biles Dating? 
The gymnastics champion is currently dating Houston Texans safety, Jonathan Owens. Biles recently competed in a rope-climbing race with her beau and won by a significant margin.
Although Owens is over a foot taller and weighs more than twice his gymnast girlfriend, he came up short in the couple's impromptu competition. 
"I had you about three-fourths of the way," Owens confessed to Biles after he lost. "I just - I burned out."
The cordial rivalry was featured in Biles' new Facebook Watch original docuseries Simone Vs Herself. It just shows how the lovebirds encourage each other to improve in a healthy and competitive spirit.
The Couple Made It Instagram Official in the Summer of 2020
The professional athletes made their relationship official as Biles posted two selfies of them in August 2020 on her Instagram. 
The first picture featured Biles with a big bright smile and Owens snuggled up behind her. The following shot shows the NFL player giving her a lovely kiss on the neck.
Fans speculated the couple was in a relationship after the Houston Texans star appeared in Biles' Instagram story on his birthday in July 2020.
Since then, the two have often featured in each other's Instagram posts and it's clear that they're head over heels for one another. 
The Couple Spent Quarantine Together
The quarantine period also helped the young couple bond and get to know each other on a deeper level. 
In an interview with Essence on June 4, 2021, she explained that if they could make it through quarantine, seeing each other every day, and being locked in the house together, they could definitely make it through anything. And that's the reason their bond was so strong.
"He's always been so supportive and I support him," Biles continued. "We have such a great relationship and I love him."
However, the quarantine days are now over. Biles now has championship meets scheduled before the Tokyo Olympics. The gold medalist will tour with all-star gymnasts in 35 cities this autumn for the Gold Over America Tour.
The Olympic all-around champion is anticipated to rule the summer Olympics in Tokyo. But before that, she'll have to race in the US Olympic Trials at the end of this month. 
Biles' qualification for the United States' four-person Olympic team is all but guaranteed. However, we'll have to wait and see which other gymnasts will compete alongside her in Tokyo. 
During her incredible journey, the gymnast has earned four Olympic gold medals, seven US Gymnastics Championships all-around record, and more World Championships medals than any other participant in the sport's history.