Inside Nina Agdal's 'Comfortable' Relationship with Boyfriend Jack Brinkley-Cook
Nina Agdal and Jack Brinkley-Cook are dating since 2017.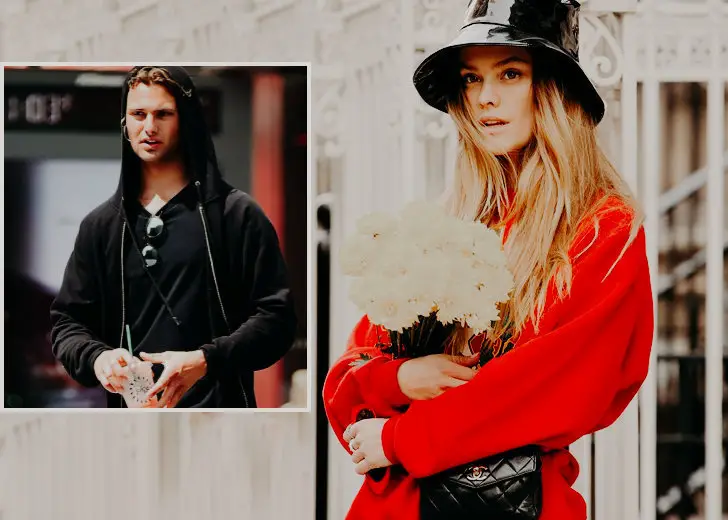 Danish model Nina Agdal enjoys a loving relationship with her boyfriend, Jack Brinkley-Cook.
The lovebirds have been together since Agdal ended her year-long fling with Leonardo DiCaprio in May 2017. 
Check out the progression of their relationship below.
The Initial Days
Agdal and Jack Brinkley-Cook, the son of American model Christie Brinkley and Peter Cook, first sparked their romance in July 2017. 
The pair were spotted together at multiple venues in Montauk, New York City, including Gurney's and Surf Lodge. An insider to Page Six reported, "It's serious. They are really cute together."
On October 17, 2017, they were shopping and strolling the streets of the West Village in NYC.
PDAs on Peak
The lovebirds displayed their affection during a beach date on February 22, 2018, in Tulum, Mexico. By then, they were vocal about their budding romance. 
But little did they know paparazzi would encroach on their personal space. While the couple was having fun on their favorite Montauk's hot spot Gurney's, on June 16, 2018, a photographer took their picture without permission.
The behavior soon caused trouble as the blame game started. The photographer alleged they were making out while the couple insisted they were only dancing.
Agdal asked the club guest to delete the pictures, pointing out that she didn't go to a wedding to be there and didn't want anyone to know about it.
However, the cameraman declined to do so and asked her boyfriend to apologize. Cook allegedly threatened the man and used expletives, which he and the couple's friends vehemently denied. 
At last, the security guided the photographer out of the club and ended the altercation without violence. 
Family Visits
The 29-year-old has apparently impressed her beau's mother, Christie Brinkley.
During an interview on Watch What Happens Live with Andy Cohen, the Sports Illustrated star raved about her relationship with Brinkley and disclosed they were super cool. 
She praised Brinkley as one of the smartest and most beautiful women while stating she was sweet and incredible.
I like get surprised, I walk out of the door in the Hamptons at 10 a.m. and she looks 10 times better than I do at all times
The stunning model even spent quality time with her boyfriend's family, including mother and sister Sailor Brinkley-Cook, at The Surf Lodge in July 2018. 
Comfortable Relationship
Agdal and Brinkley-Cook are having the time of their life dating one another, and it is evident through their respective Instagram handles. 
On January 12, 2019, the Denmark native gushed about her romantic life, posting a picture after a date night with Cook.
She had gone to the date with a makeover and had removed her make-up after returning home. Agdal dished how good it felt to be in a comfortable relationship, where she could embrace herself and still get love uncompromisingly. 
With affection and respect for one another, the duo enjoys each other's company. On April 2021, they traveled to Parrot Cay, an islet in the Turks and Caicos Islands.