A Look at Adrien Brody's Dating History and Life with Current Girlfriend
Oscar winning actor Adrien Brody is dating fashion designer Georgina Chapman.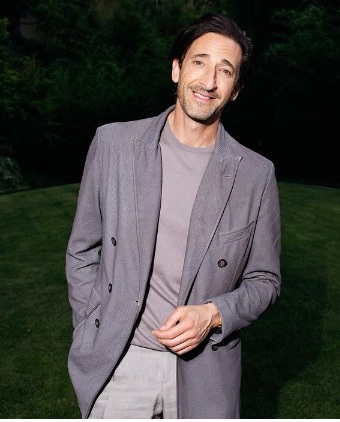 The Pianist star Adrien Brody has been dating actress and fashion designer Georgina Chapman for about two years. The two were first linked in 2019, two years after she filed for divorce from her producer ex-husband Harvey Weinstein.
A People film industry source confirmed in February 2020 that the two had been dating for a while. The source also added that on top of sharing similar interests and a deep passion for their work, moving on with Brody helped divert Chapman's attention from the pain of her difficult situation with Weinstein and their split.
Brody and Chapman made their red carpet debut as a couple in June 2021 at the Tribeca Film Festival premiere of the crime thriller Clean in New York City. The couple was also recently spotted together with Chapman's daughters, India Pearl and Dashiell at Los Angeles International Airport.
Before he started dating Chapman, Brody had been in a relationship with many known faces including Chris Hemsworth's wife Elsa Pataky, and actress January Jones.
Here's a look at The Pianist star's dating history.
Monet Mazur & Sky Nellor
Brody's earliest known romantic partner is the All American actress Monet Mazur. The two started dating in 2001 and appeared together in multiple public and red carpet events. Their relationship, however, was short-lived, and they went their separate ways the same year.
Brody then dated Australian model, Sky Nellor, but like his previous relationship, this one didn't last long either.
However, shortly after his split with his then-girlfriend, he found the greatest success of his career by winning the Oscar for Best Actor in a Leading Role category for his performance in the critically acclaimed 2002 movie, The Pianist.
Dated His Personal Assistant
Following his iconic win at the Oscars, Brody started dating his personal assistant Michelle Dupont in 2003. During their time as a couple, they often appeared together, and she even accompanied him to the Oscars as his date in 2004.
The actor was serious about Dupont and was planning to settle down with her. Unfortunately, their relationship ended after three years in 2006.
Bought A Castle For Pataky
Brody moved on with Spanish model and actress Elsa Pataky. And for her 31st birthday in 2007, he purchased a 19th century estate named Stone Barn Castle in New York for her.
He reportedly spent $650,000 for the four-storey chateau and the duo even did an exclusive 35-page spread of Hello. However, the relationship only lasted for two years and Pataky broke up with him in 2009.
She started dating Chris Hemsworth in 2010 and tied the knot with the Thor star the same year.
January Jones & Lara Leito
While Pataky moved on with Hemsworth, Brody started dating X-Men: First Class actress January Jones. The two tried to keep their relationship under wraps and denied having a romantic relationship despite rumors frequenting the tabloids in 2010.
A friend of the two confirmed they were dating a few months later, but they ended their relationship the same year.
Brody then dated Russian Model Lara Leito starting in May 2010. To date, it is the actor's longest relationship, lasting for eight years until their split in 2018.