Kourtney Kardashian & Travis Barker Wrapped In Love — New Instagram Pic Says It All
Kourtney Kardashian and Travis Barker do not hesitate to display their love and passion on social media.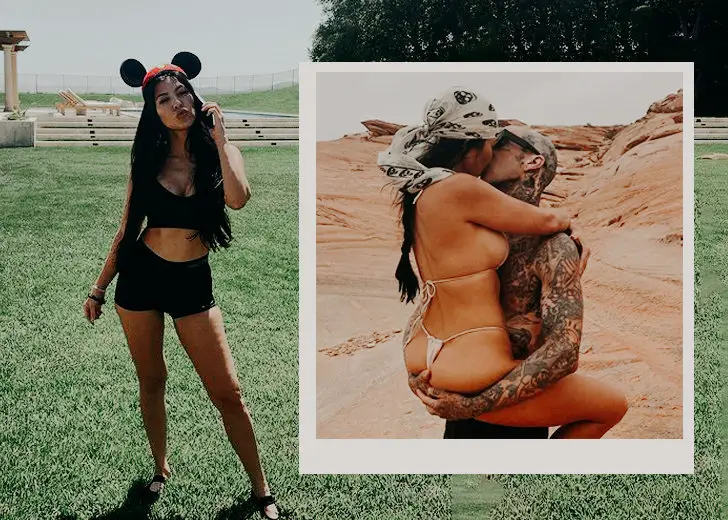 Kourtney Kardashian and Travis Barker are very much in love, and the couple do not hesitate to flaunt their adoration for one another on social media.
The reality TV actress recently posted a picture where she can be seen kissing boyfriend Barker, with the caption, "Just like heaven", to which Barker replied in the comment section, "EVERYTHING". 
The Keeping Up with the Kardashians star, 42, posted the photo on Monday of herself passionately and publicly showing her affection to the Barker, 45, when they were on a romantic trip to Utah's Amangari resort.
In the uninhibited picture, we can see Barker lifting Kardashian, who wears a bikini, in his arms as they shared a kiss in the middle of the desert.
Just last week, Barker celebrated his lover's birthday with an extravagant floral arrangement before taking her on a romantic getaway to Laguna Beach. 
And as a sweet tribute, he posted a suggestive slide of pictures on Instagram featuring multiple photos of them kissing and embracing.
The socialite and the Blink-182 drummer have been friends for a long time before dating. Now that their romance is through the roof, they can't wait any longer to tie the knot and spend the rest of their lives together.
However, the media personality has a very convoluted and complicated relationship with Scott Disick, the father to her three children, who is making the engagement very difficult for the couple. 
Likewise, the Kardashian is 'so in love' with Barker that she is not even 'considering' getting married because of how it could possibly impact her relationship with her ex.
It is evident that the musician also understands her side of things and does not pester her to marry him. 
"Kourtney's more in love than ever, and everyone sees it. She and Travis just vibe. He adores Kourt and waits on her hand and foot," an insider shared to HollywoodLife whilst also adding that he is a very caring person who tends to go out of his way, along with being an excellent father.
They are both with each other's kids because they had known one another before they started dating. The model shares a very close bond with Barker's daughter.
Due to these reasons, he would love to get married to her. But that is not something that the couple is considering right now since they have yet to resolve the whole Scott situation.
This is the primary reason that Kourtney K. is not considering getting married at the moment, but Barker is very respectful and understanding of the whole ordeal with Disick.
As for Disick, it is believed that he is worried about losing his standing within the Kardashian and Jenner family because of Travis Baker and his involvement with the mother of his children.