NFL Kim Jones Superficial On Married Life | Family, Salary & Facts
Marriage is a lifetime commitment that demands time, passion, loyalty, and devout love...Kim is happily married to...the person prefers to stay in the shadows or perhaps the person ceases to exist in her life...fans may be wishing her genuine happiness...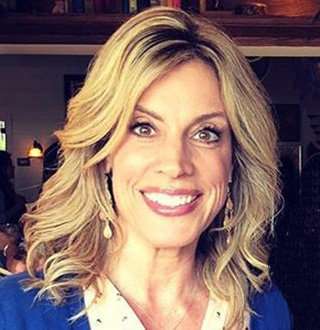 With her Twitter fans flooding and teasing her to get a husband, how much effort has Sports reporter Kim Jones really put into finding her destined one?
The Pennsylvania-native is well known as the on-air contributor on the NFL Network and WFAN radio based in New York. She's also the former clubhouse reporter on the YES Network (2005-2012), who used to cover New York Yankees games.
Epic Career Height: Kimberly Jones talks about her overall career success on Project X with Brandon Steiner (Published on 23 July 2018)
You May Also Like: Is Sandra Bookman Married Or Single? Life Now, Husband, Family, Parents, Salary, Height
Throughout her career, Kimberly has partnered with Sid Rosenberg, Chris Carlin, and Marc Malusis.
Kimberly Jones' Career: From YES To NFL
Kim made regular appearances on the Penn State radio program, Let's Talk Penn State from 2005 to 2007. Aside from that, she also wrote the blog, Keeping Up With the Jones for YESNetwork.com providing insights about the Yankees alongside interviews with players.
The 49-year-old journalist was a National Football League (NFL) columnist for The Star-Ledger newspaper and the New York Giants beat reporter before she joined YES Network. She has also co-hosted the football talk show, Monday Night Live with Ed Coleman on WFAN.
In 2005, the YES Network hired Kim as a replacement for Suzyn Waldman.
In January 2012, Kim didn't wait around when the time to renew her contract with YES came as she wanted to chase other opportunities. It didn't take long before she was signed as a full-time New York-based on-air contributor at NFL Network in April 2012.
According to sources, the average salary of a radio personality starts from $34,385, while the highest salary increases from $91k and there's no doubt that Kim gets paid from as one of the top earners given her experience.
Glancing At Kimberly Jones' Bio: Family, Height
Born on 7 September 1969, Kimberly Alicia Jones was raised in Dallastown, Pennsylvania. Her family seems to have backed her up a lot through her career heightening as she never hesitates to thank them on special occasions on social media sites, even though she has refused to delve in any details on them.
She graduated in the early 1990s from Penn State University embracing an association with their Center for Sports Journalism.
Read Also: Karen Davila Bio: From Family Life With Husband To Awards And Height
How Kim Jones' Reacted To Fans Wanting Her To Get Married
Marriage is a lifetime commitment that demands time, passion, loyalty, and devout love. Kim feels the same way about the term as a person who is married and happy. 'Married to whom?' you may ask!
Well, Kim is happily married to her career, and she is more than committed to it, dousing it with all of her time and passion.
Okay, getting back to the topic of her being married to a person, Kim is quite hesitant to talk about her non-existent married life and husband. Maybe it's because the person prefers to stay in the shadows or perhaps the person ceases to exist in her life.
Because looking at her tweets, she is definitely not in the mood to be starting a family any time soon. In a tweet concerning a fan wishing her to get married and start a family, Kim unhesitantly pointed out that how Twitter was troubling her.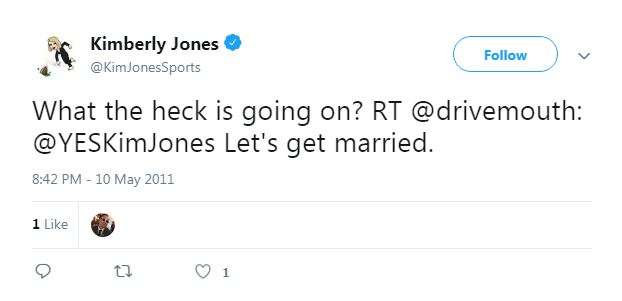 Wild Followers: Kim replies to her fan tweets asking her to get married to her on 10 May 2011 (Photo: Kim Jones' Twitter)
While fans may be wishing her genuine happiness with her possible husband, Kim doesn't want to feel pressured about her personal life.
You Don't Want To Miss: BBC's Eilidh Barbour Bio: Settled With Husband Or Still Dating Boyfriend? Details
So if you want to see Kim in a white gown while her husband waits for her to walk down the aisle, it might take a bit more time than you're expecting. But in the end, it is her choice if she wants to create a family or just enjoy her work as she does.