Does BBC Broadcaster Eilidh Barbour Have A Husband? — A Look Into Her Personal Life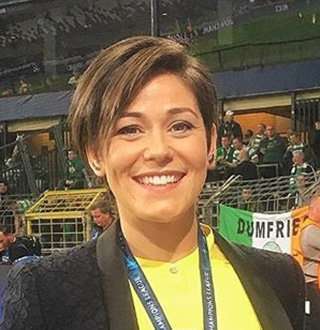 Quick Information
Date of Birth

Dec 14, 1982

Age

40 Years, 11 Months

Nationality Scottish
Birth Place

Dunkeld, Perthshire, Scotland

Birth Name

Eilidh Margaret Barbour

Profession

Journalist

Relationship Status

Single

Ethnicity/Race

Mixed

College

University of Stirling

Hair

Short

Hair Color

Blonde

Eye Color

Brown

Ex-Boyfriend

Chris McLaughlin(Rumored)

Father

Wattie Barbour

Siblings

1

Brother/s

1
BBC Sports broadcaster Eilidh Barbour has been on people's screens for a long time. The Scottish TV presenter's knowledge of sports is apparent to everyone who watches her on TV. However, something which has never been quite apparent is her personal life, specifically, her dating life.
There are very few mentions on the internet about her romantic relationships. And Barbour has never made comments about her relationships, either. She keeps it very non-personal on social media.
However, there have been some occasions where she has let slip of her relationship status.
Did Barbour Date Chris McLaughlin?
The first instance on social media where Eilidh Barbour was seen mentioning the word 'boyfriend' was way back in 2011.
In a reply to a now-deleted tweet from someone named Stephanie Smith, Barbour asked her to not 'chat up her boyfriend,' followed up by a winky-face emoji. The person she was referring to was another BBC Sports news correspondent, Chris McLaughlin.
This was the first hint that she gave on social media about her possible connection with McLaughlin. And even though the emoji could make it seem like it was just a joke, Barbour continued dropping hints about their relationship with him on her Instagram.
On June 16, 2017, Barbour posted a collage of her trip to Key West, Florida with a caption that expressed her love for the place. The collage comprised pictures of various sceneries and cars, including two selfies with someone who looked strikingly similar to McLaughlin.
READ ALSO: David Olusoga Wiki: BBC History Contributor's Wife, Married, Family Details
Fast forward to January 1, 2018, and Barbour dropped another subtle hint about her relationship. She posted a collage, this time of a wedding ceremony that she attended. In the caption, the reporter gushed about how the wedding had been an amazing way to end 2017. And, similar to the previous collage, this one, too, featured a selfie with McLaughlin.
Then comes her post just 17 days after her wedding post. Again posting a collage, Barbour commemorates her holiday spent at Riviera Maya, Mexico, with yet another collage. And again, she includes two pictures with McLaughlin; one selfie and another picture where they are standing alongside one another on the beach.
But these were just pictures, and she had not confirmed whether the person in the pictures was actually her boyfriend. But, a few months later, she again spilled something regarding her boyfriend, and how that could definitely be McLaughlin.
In March 2018, Sunday Post noted that Barbour really 'savours' her time back home in Glasgow, spending time with her boyfriend and family. 
Further, during an interview with The Scotsman in September 2018, Barbour revealed she had a boyfriend. What's more? She disclosed her partner was a Scotland-based TV Sports reporter and that he really loved the movie The Greatest Showman.
The details point us straight towards Chris McLaughlin, who, as per his Twitter bio, is a Sports News Correspondent at BBC Scotland.
However, even with all these hints, we still cannot assume that they were in a relationship or still are because Barbour has never confirmed that it is him she was going out with. And that also rules out any speculations about him being her husband.
Other than these, the BBC reporter has kept her dating life very much a secret.
YOU MAY LIKE: Sally Nugent Is Married, Husband Identity & Family Facts Of BBC's Presenter
Barbour Replaced Her Idol At BBC
Born on December 14, 1982 in Dunkeld, Perthshire, Scotland, Eilidh Barbour got into sports through her parents. Even though her passion is soccer, she got the love of golf from her parents, especially her mum.
The television journalist started playing when she was young. In fact, her first-ever job was as a volunteer at a golf tournament in 2004.
However, she also knew from a very young age she wanted to be in the journalism sector. Pursuing that wish, the event host studied film and media studies at the University of Stirling, graduating with majors in audio and video production in 2005.
YOU DON'T WANT TO MISS: Linzie Janis Bio: Married Life And Work Harmony - Meet Producer Husband
Then, she moved to South Korea to be an English teacher. "After graduating I went to South Korea and worked as an English teacher for a year so I could make enough money to return home and spend six months focusing on finding a job by blasting out emails and meeting people," she said, talking about the decision with Women and Golf.
After returning, she landed her first job with Scottish Television, and her career took off. The 38-years-old now works with the BBC as their main presenter for golf coverage, after having taken over the position from Hazel Irvine, her idol.