Karamo Brown Getting Married To Partner; Engaged Moments With Spouse-To-Be
American Television personality Karamo Brown is on his Cloud nine as his love of life has accepted his marriage proposal. American Television personality Karamo Brown is on his cloud nine as his love of life has accepted his marriage proposal after dating for almost eight years.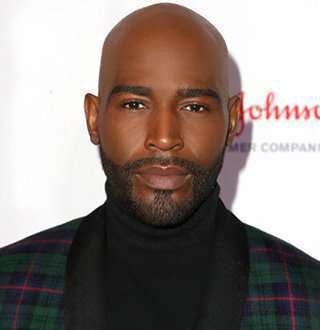 American Television personality Karamo Brown is on cloud nine as the love of his life accepted his marriage proposal after dating for almost eight years and on a brighter note, his children are supportive of it too.
Openly gay Texas native is famously known to be one-time host and producer of the on-air news magazine Huffington Post Live. His fame and stardom got globally recognized when he joined the reboot of the Netflix's Queer Eye as culture expert in 2018. 
Queer Eye: Karamo Brown talks about his Netflix show Queer Eye (Published on 25 June 2018)
He hosted the show MTV's Are You The One: Second Chances and also served as a contributing host on HLN's Dr.Drew On Call and YouTube's The Young Turks.
Don't Miss: Leslie Roberts Is Gay? Married Life No Longer With Wife, Height And Net Worth & More
Karamo Brown Bio 
African-American Karamo Brown was born on 2nd November 1980 at Houston, Texas. He was born to Jamaican parents and grew up with three older sisters. His relationship with his father turned south when he first came out as gay at the age of sixteen. 
He grew up in Coral Springs Florida and completed his schooling from Marjory Stoneman Douglas High School. Karamo graduated with a degree in business administration from Florida A&M University.
He then initiated his career in the entertainment world at the age of 22. He starred as a housemate on the MTV's reality series Real World: Philadelphia in 2004. He garnered widespread attention from the series for being the first openly gay African American to star in Reality TV. Afterward, in 2016, he made his appearance in TV One's reality series The Next 15.
Karamo Brown Had Girlfriend Before Coming Out As Gay--And Also A Son
While he is not busy on work, Karamo utilizes his time to spend on his family. He has a good relationship with his two sons, Jason (21) and Chris (17).
Before coming out as a gay, Karamo had a relationship with his high school girlfriend. When she was fifteen, she got pregnant with Karamo's child and moved away from the high school: Karamo unaware of all the things.
When their son turned seven years old, Karamo was contacted by his childhood lover who revealed him about his son. After confirming the news, Karamo fled to Texas from Los Angeles to meet his boy, Jason. 
Know more about: "Queer Eye" Hunk A. J. Brown Married Partner Andrey AKA Drey In Intimate Wedding
He halted his career and started the processing of his son's full custody while spending quality time with him. Interestingly, Karamo also bonded with his son's half-brother Chris. So, after finalizing the custody of Jason in 2007, he adopted Chris in 2010.
He then returned to Los Angeles with the kids in 2011. Since then, Karamo has been looking after his kids as a single father and replenishing his days with them. He has been a supporting father for his kids. His children, too, support their father in every decision he makes. The best instance for such scenario is when his kids supported him to be engaged with his long-time director partner. 
Karamo Brown Engaged With His Long-Time Boyfriend in 2018
Karamo has wrapped himself in a blissful relationship with his long-time partner, who happens to be the assistant director of Directors Guild of America. Though it is not clear how the couple met, it has come to the limelight that the pair started dating since 2010. 
On 9 May 2018, Karamo invited his partner Ian Jordan at the sbe's HYDE Sunset restaurant in Los Angeles. When Ian appeared, he found out that it was a surprise birthday party filled with friends, family, flowers, and balloon. 
Initially, Karamo asked Ian to open the birthday presents. When he was finished, Karamo's son, Jason made Ian turn around saying that they have one more gift. As he turned, Karamo got on one knee and proposed Ian.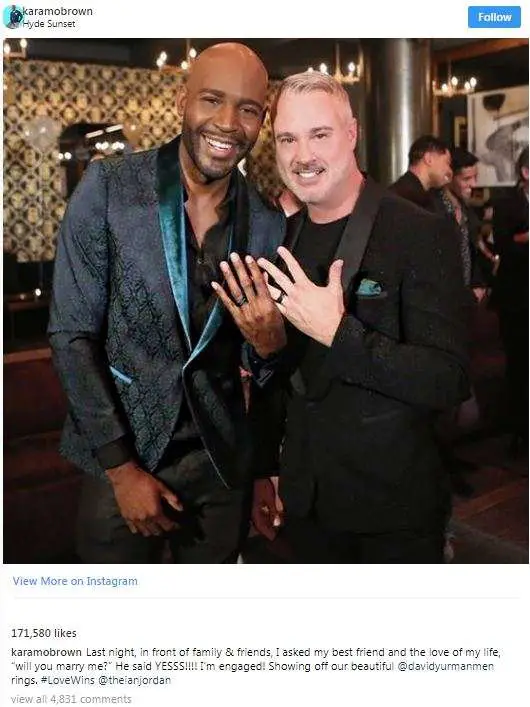 ENGAGED: Karamo Brown and fiance Ian Jordan flaunt their David Yurman engagement rings  (Photo: Karamo Brown's Instagram)
His son Jason shared a sweet video and an emotional speech then Karamo popped the question to his love and asked him to marry him. In return, Ian could say nothing but "Yes" and share the David Yurman engagement rings with his spouse-to-be.
Discover: Are Carson Kressley & Partner Married? Gay Man's Personal Life Revealed
Though the pair has blissfully leaped one level in their relationship, they are yet to spill the beans on when they are tying the knots and getting married.