Becoming Israel Gutierrez Wife Isn't Possible; He's Gay & Already Married
The ESPN Sportscaster, who is of American-African ethnicity...He publicly shared his story about being gay in his blog in September 2014...Before, the public outing as a gay, he revealed he was a secretive anchor in the sports world...handsome hunk is already taken and for all those girls dreaming of being his potential wife...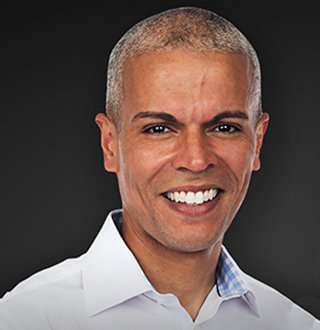 After hiding inside the closet for almost half of his lifetime, Israel Gutierrez finally came out as a gay in front of everyone. But that was not the only news that shocked the world. There was something else waiting for everyone which blew off their mind. 
The American Sportscaster of African-American ethnicity is currently working as a reporter for the channel ESPN. He became well known in the media after joining American sports roundtable discussion show Around The Horn in 2008.
Coach Tubby Smith In Trouble: The Highly Questionable crew breaks down Memphis basketball coach Tubby Smith and says transferring players are quitters, and Israel Gutierrez calls out Smith for his comments (published on 6 March 2018)
He also appears as a sports commentator on ESPN First Take and 1st and 10, along with other coveted names in ESPN's broadcasting panel Jay Crawford and Skip Bayless.
Similar: ESPN Reporter Olivia Harlan Wiki: From Age, Parents To Dating, Boyfriend & Getting Married
Israel Gutierrez's Short Bio: Ethnicity
Born on 26 June 1977, Israel grew up in South Florida, the United States with the parents of Dominican origin. He attended North Miami Senior High School and later went on to graduate from the University of Florida.
He covered Florida Marlins during his Florida days.
Israel Gutierrez's Career: Journey To ESPN
Before his fame on international television, Israel worked as a staff writer for the student's newspaper Independent Florida Alligator.  His career took a steep climb in 2008, as he debuted in Around the Horn. By July of the same year, he had already become a persistent panelist on the show; and he hasn't looked back since.
The same year in November, Israel joined ESPN's The Sports Reporters and became a regular panelist until the end of the show in 2017.  
Before being the cast of ESPN, he used to work for the Miami Herald and The Palm Beach Post, for both of which he covered the American professional basketball team Miami Heat.
Furthermore, he also was a sports commentator on ESPN2's ESPN First Take as well as a regular guest on shows like Highly Questionable and other ESPN radio shows. He also co-hosts a radio show called Izzy and Spain along with ESPN reporter Sarah Spain and Izzy and Amin with Amin Elhassan.
Finally Out As Gay After Hiding It Half Of His Lifetime
In spite of being overly secretive about his personal life, he was already being labeled a gay due to the absence of a wife in his life.
But those labels were merely based on the rumors and speculations, not something that could have driven media to a frenzy. Israel, himself, sent shock waves all around the media by actually opening up about his sexuality. 
You May Also Like: Openly Gay Anderson Cooper Split With Restauranter Partner; Boyfriend Still Family
He publicly shared his story about being gay in his blog in September 2014, which turned his life upside down. Before the public outing as a gay, he revealed he was a secretive anchor in the sports world. In a later article on ESPN, he explained the experience of laying his life bare for all to know.
Anyone who read that entry now knew not just that I was gay but that I had struggled with it. They knew about a shame so deep I couldn't speak of its source until I was in my 30s. They knew the moment I fell in love.
Happily Married With Husband; Wife Not Possible
If the fact of Israel being a gay wasn't enough, the fact he was soon going to be married certainly was. Yes, Israel is a married and happy man with his husband, David Kitchen. Few months after coming out and announcing that he was engaged, he and his fiance tied the knots in the September of 2015.
Their wedding was the talk of the town, attended by many of the bigwigs in sportscasting, including Jorge Sedano and Tony Reali. Not only did they attend their special day; but also complimented about the wedding as well as the pair.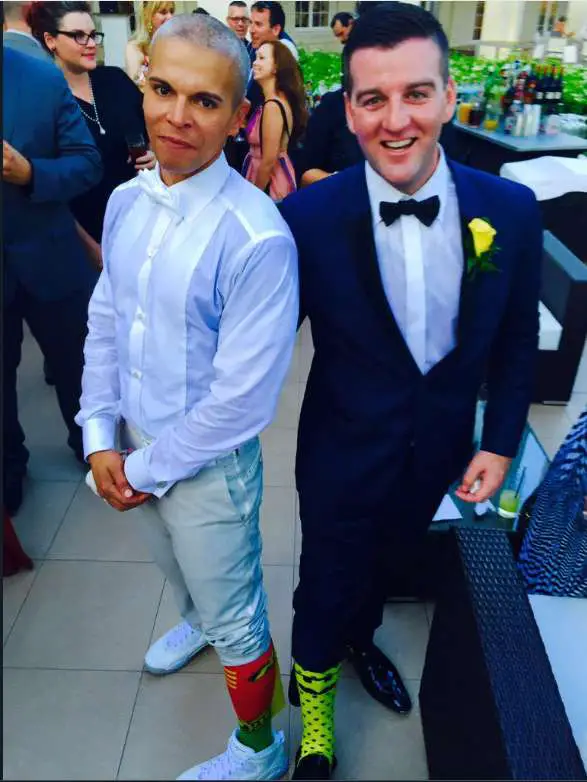 Fashion At The Wedding: Israel Gutierrez and husband David Kitchen show off their fashionable shoes on the day of their wedding on 12 September 2015. (Photo: Twitter)
Read Also: Is Graham Bensinger Gay? Personal Life Insight With Married And Wife Details
As of present, the couple is happy in their married life, living a prosperous life together.
But the sad part about Israel being married is that this handsome hunk is already taken, and for all those girls dreaming of being his potential wife, well that's another story for now.