From Grace Miguel & Usher Secret Wedding To Divorce! Bio Details, Age, Children
Grace's relationship with her husband, Usher,  by then, was already in deep waters. Their ten year age difference had little effect... The lawsuits...Grace Miguel's Bio: Chef Turned Music Executive...In September 2015 reports of a secret wedding between Usher and Grace began to surface...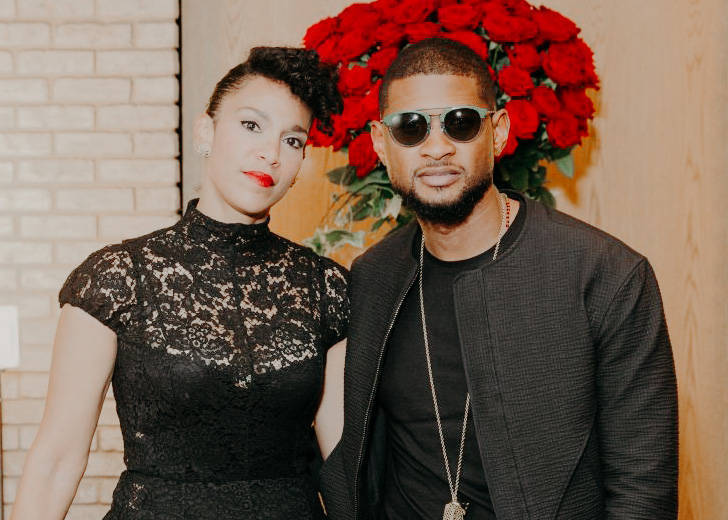 American music executive Grace Miguel decided to terminate the nuptial agreement with her client-turned husband, Usher Raymond, in what seems to be a public affair.
The 49-year-old former chef is popularly known for being married to R&B crooner Usher. She has been a force to reckon with, in the music industry for more than a decade now. Her career highlights can rival with best of the bests in the industry.
She also shares her birthday with comedian Eddie Murphy and actress Amanda Bynes.
As things stand, she's the manager at Coup D'Etat, a company she founded with ex-husband Usher to look after his business operations.
Grace Miguel's Bio: Chef Turned Music Executive
Grace holds American nationality. She was born on 3 April 1969 in New York City, New York. Her parents had named her Michelle Grace Harry.
You May Like: Fans Think Lauren Scala Is Engaged To Furtive Boyfriend, Is She Married?
She first hit the limelight for being an executive chef at the Bill Cosby Show in the mid and late '80s. While working there, she had developed some crucial relationships with musicians, artists, and photographers.
The connections helped her transition into a life of executive at record labels. By working her way up, the New Yorker would labor for various mainstream labels. Her list of the former employer includes Jive Records, Geffen Records and RCA Records.
She has also worked as the Executive Vice-President Of Marketing/Creative Services at Island Def Jam Records.
Divorce Alimony Will Make Grace Richer, Net Worth?
Grace's net worth ought to hit the eight figures mark, given the fact she's entitled to half of Usher's estate, which is reported to be around 180 million dollars. When such a large sum is involved, divorce ought to get messier; I guess we will have to wait and watch.
Nevertheless, being a top music executive, Grace has also made a fortune on her own. 
Dates Usher Despite 10 Years Of Age Difference
In 2009, when Grace began dating Usher, she was working for Def Jam Records - a competing record label to which Usher was signed too. Their ten year age difference had little effect, as the couple hit it off from the jump.
Usher was, by then, a platinum-selling artist, having risen to prominence at an early age after being signed to Puff Daddy.
Coincidentally, 2009 marked the end of Usher's relationship with his then-wife, Tameka Foster. Many attributed his fallout with Tameka to his budding romance with Grace. Soon after his separation with his wife, Grace began managing him.
Usher and his former wife, Tameka, share two kids: Naviyd and Usher Raymond V.
Also Read: Terrell Brown With Partner At Age 29? Wedding And Wife En Route?
Usher & Grace Miguel Wedding Rumors Feat Daughter & Son
In September 2015 reports of a secret wedding between Usher and Grace began to surface after the former was pictured sporting a golden ring on Instagram. He later confirmed the rumors on Ellen DeGeneres Show.
Before meeting Usher, she was already mothering a daughter, Leaf, and a son, Raiden. Her relationship with Usher, however, hasn't born any children.
Usher Accused Of Spreading Herpes: Let It Burn!
On 19 July 2017, documents alleging Usher of being a carrier of the herpes were leaked. The leaked papers revealed that Usher had settled a civil suit of more than a million dollars with his alleged victim, a woman.
Soon four more plaintiffs would sue him on allegations of fraud, sexual battery, infliction of emotional distress and more. Among the four alleged victims, three were represented by celebrity lawyer, Lisa Bloom, who revealed that one of her clients to be a male.
Usher's camp, however, denied all of the acquisition against him, saying the burn singer never had intercourse with his alleged victims.
2018 Divorce With Usher Plays Out Publically
Two days before the Laura Helm's 'herpes' allegation had surfaced in July 2017, she was reportedly recorded saying that she had protected sex with the latter. 
Grace's relationship with her husband, Usher,  by then, was already in deep waters. The lawsuits provided a much-needed push for their relationship to sink finally. But they didn't give up to protect the ties despite reportedly being at odds on many issues from baby birth to trust issues. 
Usher reportedly wanted to adopt a baby wheras Grace preferred surrogacy. 
Similar: Kimberly Woodruff Age 47, Ice Cube's Backbone & Mother To 5 Kids! Explicit Details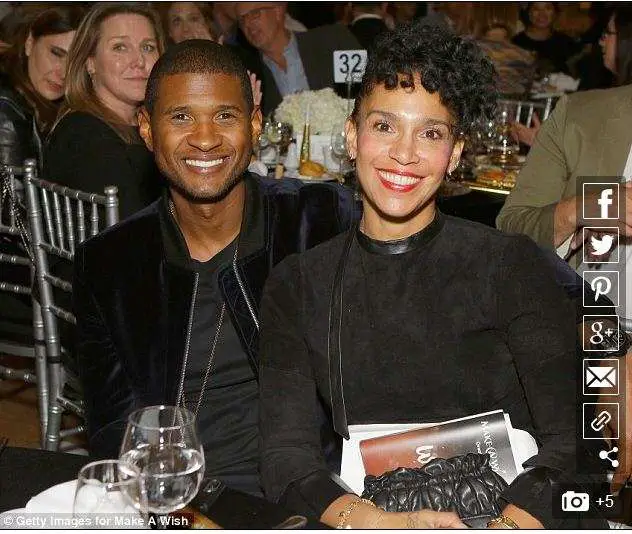 Happily Married Or Not: Usher and Grace appear all lovey-dovey posing for a camera in November 2017 at a function (Photo: dailymail.com) 
Between the time of Grace's filing of the divorce in April 2018 and their official announcement of separation on March 6, 2018, they had remained separate.
On a joint statement to US Weekly, Grace, aged 49, and Usher asserted that they remain deeply committed and would continue to support each other.
Usher Accused Of Spreading Herpes: Takes New Charges 
The accusers who came forward last year, have now seemed to take new charges to the issue that had just passed away.
A male accuser, John Doe who claimed that he had previously had sex with Usher, filed a motion to force the singer to present details of his medical history and information about any possible settlements which happened before to the court.
But following refusals from the star, that request got withdrawn.
However, the plaintiff is not the one to back down ever so soon as he's now chosen to continue with further discovery, but he still can submit a new motion to compel in the future(The Blast).
Well, it has been a rough time for the Yeah! Singer as he is also fighting a lawsuit from Laura Helm, who claims she contracted herpes during unprotected sex sessions with Usher in July 201 even after the singer denied her accusations.
The case is still going on! Stick around to get updated!