Derek Theler Girlfriend, Possible Wife To Be? Gay Talks, Height & Facts
The couple was highly anticipated to end up as each other's husband and wife... He and his former girlfriend were open about their relationship with their fans...Derek Theler started dating an actress in the 2010...a minority of fans were already speculating whether he was gay...Derek was born to parents, Beth and Robert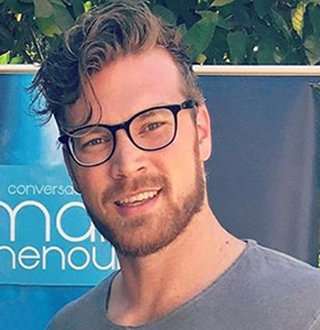 American actor Derek Theler didn't give up on his quest to find love despite suffering setbacks. He carried on until he met someone special after his heartbreak with fellow actress Christina Ochoa.
The Colorado-native is an American film and television actor and model best known for his role as Danny Wheeler on ABC Family's Baby Daddy.
Baby Daddy: In the new season of Freeform's hit comedy "Baby Daddy," Riley, played by Chelsea Kane, and Danny, played by Derek Theler, deal with his spontaneous marriage proposal  (Published on 13 March 2017)
Apart from acting, Derek has also directed a short film called Intrusion.
Derek Theler's Bio: Age, Height, Parents, Ethnicity, Acting
Born on 20 October 1986 in Fort Collins, Colorado, Derek was born to parents, Beth L. and Robert Theler.
At the age of 3, he was diagnosed with Type 1 diabetes. He is not the only child in his family as he also has a sister named Ashlea. He possesses the mixed ethnicity with ancestral roots ranging from German to Scottish and English.
He graduated from Colorado State University in Fort Collins with a degree in Sports Medicine and Nutrition. With an athletic body, weighing 218 lbs (99 kg) and height of 6 feet 5 inches (196 cm), the actor is a lover of cosplays; he posts pictures of himself trying out to be various comic heroes on his Instagram feed.
After graduation, he initially wanted to work in the medical field. But things changed, which saw him become passionate about acting. He began saving money with intentions to move to LA, aspiring to become an action star like Sylvester Stallone and Arnold Schwarzenegger.
Discover: Kodie Shane Age 19 Swirls Girlfriend & Gay Talks | Wiki Reveals
Derek Theler's Career: Baby Daddy, New Warriors, The Middle
Taking small steps in minor roles in TV series such as The Middle, Cougar Town, and The Hills, he started his career in 2009. To make meets end, he also appeared as a model in TV commercials along with his acting gigs.
His first commercial was a Coke Zero commercial in 2009. His other significant ads and brand endorsement include State Farm, Nike, Kayak, Arby's, and Verizon.
The small steps helped him land his first significant role in 2012 when he was cast in the ABC family comedy called Baby Daddy, portraying the role of the title character's brother, Danny Wheeler. During that same year, he starred in the web series Project S.E.R.A as Riggins.
In 2015, he starred in the movie Shark Killer. He also starred in the Funny or Die parody titled Chicago Sanitation in November that year.
A year later, he starred as Jake Kenman in family movie Secret Summer, which was released on April 2 on PixL (On Demand and YouTube). He also appeared on short Princess Rap Battle, which was released on YouTube on April 6.
In 2017, he featured in the short film Brotherly Love alongside Krista Kalmus. The same year, he was cast in the upcoming Marvel Cinematic Universe series New Warriors as Craig Hollis / Mister Immortal.
In 2018, he played the role of Aric Dacia/X-O Manowar in the Valiant Entertainment's Ninjak vs. the Valiant Universe.
Derek Theler's Dating History: Ex-Girlfriends Include Giangrande, Kane, And Ochoa
Derek Theler started dating actress Meredith Giangrande in 2010. The couple went for about two years, ultimately splitting with each other by the end of 2012.
A year later, he started dating fellow co-star Chelsea Kane from the series, Baby Daddy, in February 2013; they grew intimate during the shooting of the Baby Daddy series. Unfortunately, they broke up about a month later in April.
Derek then started dating Spanish actress Christina Ochoa sometime after meeting her at the comic con event in 2014. He and his former girlfriend were open about their relationship with their fans. They showed rigorous passion for one another;  they would shoot their version of the Discovery's Naked and Afraid series and post their naked pictures from it on their Instagram; the couple was highly anticipated to end up as each other's husband and wife.
Unfortunately, this relationship also didn't last as the duo broke up in 2016.
Is Derek Theler Gay?
Year after year, Derek broke up one girlfriend and soon dated another. The continuous cycle raised eye-brows as fans started to question as to why he couldn't settle down with any of his former girlfriends.
When he started to date Christina, it seemed like he was enjoying the relationship with her, however, after two years of intimacy, they broke up with no citation as to why. In the background, while he was changing girlfriends like socks, a minority of fans were already speculating whether he was gay. His surprising split with her gave the baseless speculations a spine.
Gay-related: Meet Jackson Krecioch's Only Sister! Boyfriend & Gay Love | Meets End 
However, Derek isn't gay. He just wasn't compatible in his past affairs; he's just a romantic searching for that right person!
Meet Derek Theler's New Girlfriend Lisa Marie Summerscales!
Despite the heartbreak from his two-year relationship with former girlfriend, Christina Ochoa, Derek carried on towards his quest of finding love; a choice that turned out to be a good one as he met someone special that same year.
He met actress Lisa Marie Summerscales. By May 2016, they started going out with each other.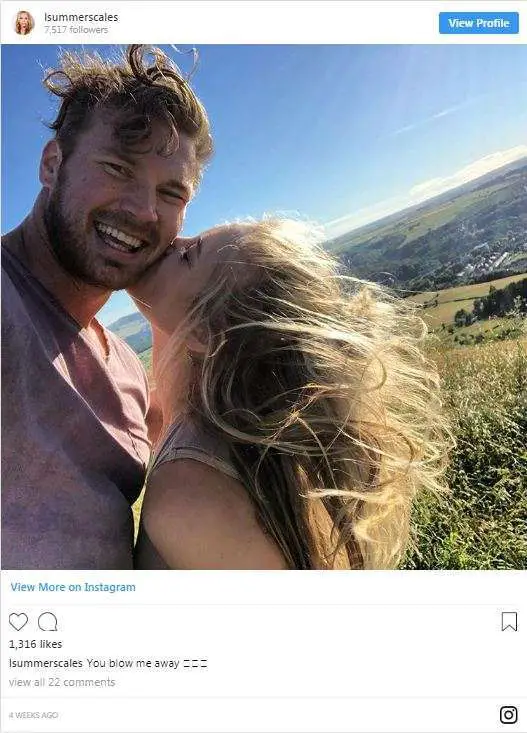 Couple Goals: Derek Theler and his girlfriend, Lisa Summerscale mix romance with nature on 19 July 2018. (Photo: Lisa Summerscale's Instagram)
Since then, he and his girlfriend have been reaching milestone after milestone-- from traveling together, celebrating special days like Valentine's day together to attending a friend's wedding together-- they've created a new set of couple goals.
Similar: Avengers' Ty Simpkins Massive Net Worth At Young Age; Family Details
Derek Theler's Quest For Love: Will Lisa Summerscale Be His Wife?
Most people live their lives wondering what love is, and thinking that there is no such thing as love.
Fortunately, Derek wasn't one of them; he was like Ted from the series, How I Met Your Mother. Despite suffering so many heartaches, he carried on believing he'll inevitably find his soulmate. 
Ultimately he met Lisa and has been with her for two years now.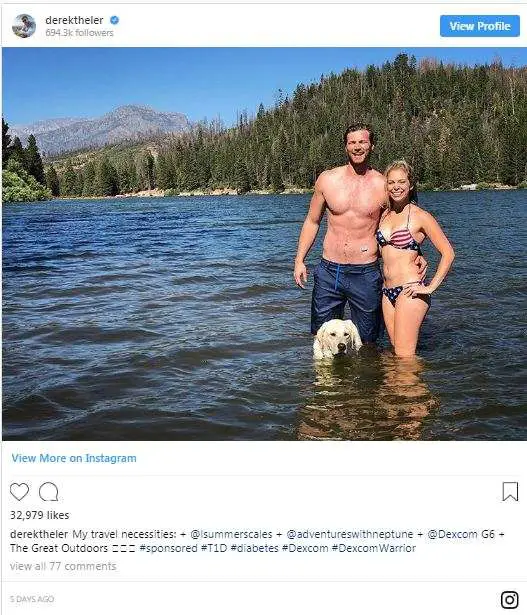 Wife Tag Coming Soon: Derek and his girlfriend, Lisa travel as family with their pet dog on 12 August 2018 (Photo: Derek Theler's Instagram)
There seems no sign of slowing down between them. It's hard to predict the future, but it's easy to hope.  Derek's relationship with Lisa gives hope to many out there who have given up on love altogether. 
To sum it up, there are positive signs that Lisa could end up becoming his wife. However, nothing is set in stone!