Catherine Mooty and Troy Aikman Toasts for a Lifetime, Raise #teamsix Family
Catherine Mooty is a prolific fashion personality who is married to football quarterback Troy Aikman.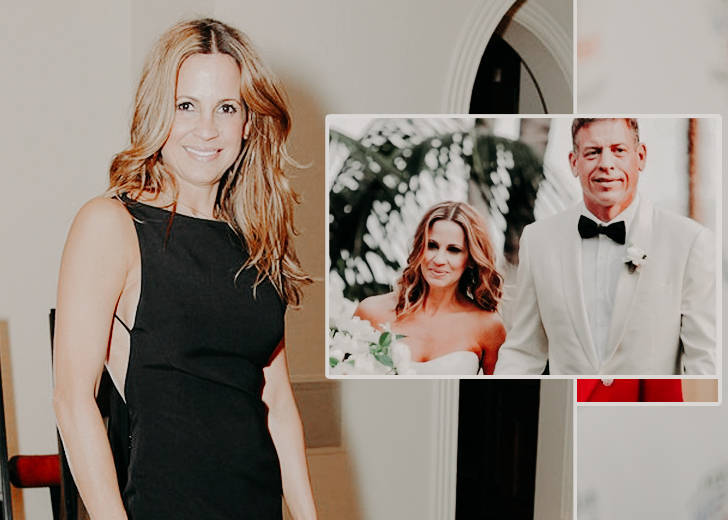 Catherine Mooty is a prolific fashion personality who rose to fame after getting engaged to former American football quarterback Troy Aikman. Their engagement was soon followed by their wedding in September 2017.
The celebrity wife who now goes by the name Catherine Capa Mooty or Capa Aikman, co-owns a famous mobile fashion boutique named Luxeliner with her friends, including Charlotte Jones Anderson, Jennifer Clark, Alyson Griffith, and Wendy Poston. The boutique deals with fashionable releases, clothing accessories, and gift items.
Catherine's Bio: Birthday, Parents, Childhood
The Dallas area fashion retailer Catherine was born on October 13, 1970, as Catherine Cecile Person, in Dallas, Texas. Her birth date suggests her zodiac sign to be Libra.
She was raised in a small family by her parents. Her father's name is George J Person, and her mother's name is Pamela Person.
Being a loving daughter, Catherine took to Instagram on the occasion of mother's day on May 10, 2020, to wish her mother a happy mother's day. In her post, she shared a couple of pictures with her mom while writing, "Happy Mother's Day Sweet Pam! I love you and so blessed I won the Mom lottery!! Xoxo."
Likewise, the fashion personality had also posted an adorable picture of her parents on Instagram on December 5, 2019. Her parents were cheering for Catherine's son and their grandson Val from the stands, as Val played American football. 
That being said, Catherine is mum about her early days and her family, which hinders us from knowing more information about her childhood, family, and siblings.
Personal Life: Married To Troy Aikman
Catherine is a married woman. She happily tied knots with retired NFL quarterback Troy Aikman on the first weekend of September 2017, in Santa Barbara, California.
According to The Dallas Morning News, the wedding was a low-key affair where only close friends and family members were invited. The small ceremony was held on the beach, followed by a reception at the Four Seasons Santa Barbara.
For a man whose personal life has been under the microscope for decades, he handled this wedding with perfect subtlety. The ceremony was for close friends and family only. 
Troy was the first one to confirm the wedding, sharing a beautiful picture on Instagram with his bride in their wedding attire. The retired athlete wore a white tuxedo and shirt with black pants and bowtie while Catherine flaunted a matching white gown.
The couple had first met each other in early 2016, and subsequently, they started dating. After dating for a year, Troy proposed to Catherine in June 2017, to which she happily replied, "Yes!"
The proposal saw the couple holding glasses of wine while boarding on a boat during their romantic outing in Lake Como, Italy. The special occasion was later shared on Instagram by Troy.
Second Marriage For Both Catherine and Troy
Catherine and Troy's marriage with each other isn't the first time they got married. Both of them were previously married to different partners and even had children. 
In that race, Catherine's husband Troy was previously married to his ex-wife Rhonda Worthey, who worked as the Cowboys publicist when Aikman played for the team. The two were married from 2000 to 2011. The former couple had two daughters, Jordan (born 2001) and Alexa (born 2002), together. 
At the time of splitting, the Hall of Fame quarterback had stated that the decision to separate was difficult for both him and Worthey. He further mentioned that the two would be committed to their children despite their decision to separate.
"This has been a difficult decision for Rhonda and me, but after 10 years of marriage, we have decided to separate. We remain deeply committed to our children and respectfully ask that you honor our family's privacy during this period of adjustment."
Troy also paid $1.75 million to his ex-wife Worthey as part of the divorce settlement.
Similarly, Catherine was previously married to lawyer Jerry Mooty, and together they gave birth to two sons named Luke and Val. Jerry is the nephew of Cowboys' owner Jerry Jones.
Interestingly, Catherine's now-husband Troy won three Super Bowl titles with the same Cowboys.
The Blended Family 
After their marriage, Catherine and Troy adopted each other's children [two kids each] from their previous relationships and formed a blended family.
The power couple also has a name for their family of six members. They call their blended family "#teamsix" on social media. Doing that, Troy posted a picture of all six members on Instagram on July 8, 2019.
The social media posts and their public appearance evidently show support, love, and appreciation amongst the family. They are often snapped together while they are on vacation; mostly, they go hiking and paddleboarding.
Moreover, the former American football quarterback even makes time to coach his daughters in a couple of sports. However, his competitiveness made the job tougher for the girls, and he quickly gave up coaching them.
Speaking with GQ, Troy stated, "I coached the girls as an assistant coach in a couple of sports, and I was way too competitive for that."
I had the girls running sprints one day. One girl, she was playing grab-ass in the back of the line. She was probably six. I said, 'If you want to goof around, there's a playground over there…I knew my girls would see me in an entirely different light and I just didn't want that. I just want to be Dad.
Catherine's Career And Net Worth Details 
By profession, Catherine is an entrepreneur who runs a fashion store in Dallas. And the most popular venture happens to be Luxeliner, a fashion boutique.
Describing how she started their business, Capa and her business partner Clark talked with DFW Style."We bought a FedEx truck, lacquered it black, and filled it with our most favorite things. We want it to feel like you are shopping in your best friend's closet, and we have focused on buying what we love best. We also carry fun, easy gifts, and are striving to be like a Kitson-on-Wheels," they said.
With an up and running career, Catherine has maintained a luxurious lifestyle and amass a decent net worth. And although she has not revealed the details of her net worth figures herself, outlets have reported that she owns an estimated net worth of around $3 million.
Husband Troy's Career & Massive Net Worth
Catherine's husband Troy is one of the NFL legends who gained huge fame for being the quarterback for the Dallas Cowboys for 12 seasons from 1989 to 2000. During his stint there, he achieved several accolades, including a six-time Pro Bowl selection and the Super Bowl XXVII MVP award.
The current Fox Network sportscaster was also inducted into the Football Hall of Fame in 2006.
His successful NFL career helped him earn $27.4 million in base salary and $17.85 million in bonuses, which makes for a total of $55.5 million. 
Moreover, his broadcasting stint also earned him a healthy amount of net worth. Initially, he was paid $1 million per year by Fox, but by 2019, his salary was raised to $7.5 million per year, making him the highest-paid sports broadcaster in the world for a while.
Besides that, Troy is also an active and successful investor. He formerly co-owned the NASCAR Sprint Cup Series racing team Hall of Fame Racing along with his fellow former Cowboys quarterback Roger Staubach.
He also owns shares of the San Diego Padres and serves as a partner and spokesman for IDLife. His local restaurant business has also helped him whoop his net worth. 
According to Celebrity Net Worth, the former NFL champion owns a net worth of $50 million from his varied career and investments.