Bria Myles Age 34 Bio: Baby & Boyfriend, Engaged In Pregnancy Bliss?
Bria's relationship controversies started back in...it was believed that Drake hooked-up with Bria...The relationship surfaced the media only when the couple was pictured celebrating...acknowledged to have dated basketball player...The news only made headlines after...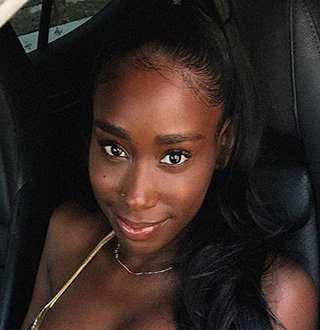 While all the models hit the limelight with their appearances and attires, Model Brya Myles keeps the limelight not only with her looks but also from her long list of boyfriends that still hasn't got over the edge.
The L.A.-native has been ruling the modeling world with her hot body for more than seven years. She got more fame when she was mentioned in the famous rapper Drake's songs, From Time and Bria Interlude. 
Modeling: Brya Myles shows off her curves in fashion nova jeans (Published on 15 August 2018)
Read Also: Lisa Desjardins Bio: Decade Long Married Life With Husband Stumbling?  
Bria Myles featured on BET Rap City's "Who's That Girl" on 20 March 2007.
Bria Myles' Bio
Bria was born on 21 May 1984 to Trinidadian and Guyanese descent parents. She belongs to Afro-American ethnicity.
Even with a height of 5 feet and 6 inches (1.68 meters), Brya Myles has been successful to befriend the media as the other models do equally.
At Age 34, Is Brya Myles Engaged To Any Of Her Boyfriends?
Bria has not only managed to hit the limelight with her glamorous body, but she's been equalling it with her long history of boyfriends. 
Bria's relationship controversies started back in 2009 when she started getting mentioned by Drake in his songs.
While it was believed that Drake hooked-up with Bria, Drake, on the other side, made his feelings clear that there always has been a lot of girls who have come into his life and inspired. 
And he loves to speak about these women through his songs which somehow clarified that Bria was an inspiration to him in some way back then. This statement made it clear that they were not in a relationship.
However, it was not the end of the road for Bria's relationship, instead, a start to her unusual relationship journey.
After four years since being linked with Drake, she found herself a partner, Sean Newell Martini.
The relationship surfaced the media only when the couple was pictured celebrating Sean's Birthday.
You May Like: Journalist Katie Pavlich Grips Wedding Vows Looking To Better Married Times With Husband
Their relationship never really fascinated the likes of media, and even after their separation, it remained undisclosed.
Later in August 2017, the Instagram sensation once again came into limelight after she added another scene in her boyfriend cameo. This time it was with a famous rapper, Tory Lanez. However, like the previous happenings, the relationship ended with undisclosed information.
After a couple of months in December 2017, she was acknowledged to have dated basketball player Victor Oladipo after she'd attended his basketball match.
However, it later turned out to be just a rumor as Bria was accused of being in a relationship with rapper, Rich The Kid in March 2018.
The news only made headlines after Rich's wife leaked the screenshots of text messages shared between Rich and Bria while she had filed in for divorce.
Explore: MATT OX Bio: From Age, Nationality To New Songs & Net Worth
But Brya has not openly talked about the accusations and is yet to let the cat out of the bag on her recent relationship status.
Moreover, proof of her being engaged in any of the relationships is beyond the grasp of media.
Brya's Baby Rumors With Tory Lanez Turns Out Hoax 
Her Cameo with Tory was highlighted by an Instagram post where Tory was looking very cozy with Bria.
Moreover, the picture not only created buzzes with their relationship but even grabbed everyone's as Tory was pictured embracing Bria's tummy.
This gave rise to rumors of Bria being pregnant with the baby of Tory.
However, the rumor turns out to be a hoax, as after a year later, she hasn't had any baby in her life.