Alexandra Lenas & Husband Sean Paker, Age 38 Wedding Lists In History; Still Reminiscing
Alexandra Lenas' big day was a thing of art. The lavish ceremony was perfectly arranged and choreographed which has left a lasting impression on everyone's mind and was a ceremony to be cherished. The aspiring singer is known as the better half of Sean Parker, a billionaire entrepreneur and former president of Facebook.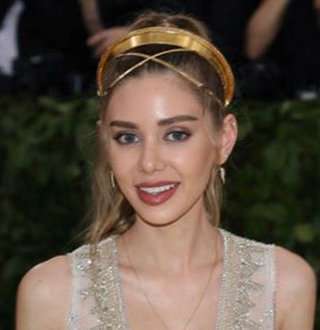 Alexandra Lenas' big day was a work of art. The lavish ceremony was perfectly arranged, and no stones were left unturned in the choreographed event, which has left a lasting impression on everyone's mind and was a ceremony to be cherished. 
The aspiring singer is known as the better half of Sean Parker, a billionaire entrepreneur and former president of Facebook. 

GOT: Alexandra Lenas and husband Sean Parker visits the sets of Game Of Thrones in 2018 (Photo: zimbio.com)
Alexandra was into singing from a young age. And following up on here dreams, Alexandra had already made an MTV appearance by 2010 and was a big hit at NY parties and posh circles, all at the age of 21. 
It was during one of those big apple events where she got to know Sean Parker. Alexandra, then 22 years of age, had accompanied Sean to the New York event as his date in the middle of 2010.
Find Out: Why Freema Agyeman Isn't Married Now? Boyfriend & Dating Status, Age
Sean Parker was single at the time after going through two quick splits with girlfriends Kate Jurkiewicz and Julia Allison.
What's more, it was not the first time Sean had hit the headlines as he was forced to resign as the president of Facebook after getting arrested in cocaine-related offense in 2005. 
The date resulted in love between the pair and started dating in October 2010. The romance between the two intensified when Alexandra reportedly saved Sean Parker.
Sean had been invited to World Economic Forum conference 2011 and had a severe allergic reaction after consuming nuts filled lamb chops. 
It was Alexandra's quick thinking of transporting Sean to a hospital which saved his life. The event strengthened the love between the two and was engaged the same year.
Sean had chosen a big square shaped diamond ring for his engagement proposal, and the couple's engagement surfaced after the petite singer flaunted the big diamond ring. 
The couple had their first daughter, Winter Victoria Parker in January 2013. And six months after the arrival of their daughter the loved-up duo got married in a lavish wedding in front of 300 invitees in California.
You might like: Siesta Key's Juliette Porter On & Off With Boyfriend, Reunited Again? Details
And the family of three became four when Alexandra welcomed a son Zephyr Emerson Parker in December 2014. As of now, the one-time aspiring singer is living her life in bliss with husband and kids. 
Sean's marriage with Alexandra has seen an upturn in his fortunes and is now one of the most known business people in the States.
What's more, despite having a sour taste with Facebook, he now has a diversified business interest possessing a whopping net worth of $2.6 billion.
And despite spending a hefty sum for his wedding with Alexandra, that is just a mere drop in the ocean for the entrepreneur. 
Game Of Thrones Like Wedding In Midst Of Redwood
Alexandra and her husband Sean got married in a fairytale wedding at Big Sur, California in the middle of a redwood forest in June 2013.
The ceremony took place in medieval settings with a modern twist, and the spot was decorated with an artificial waterfall and long ancient styled feast tables.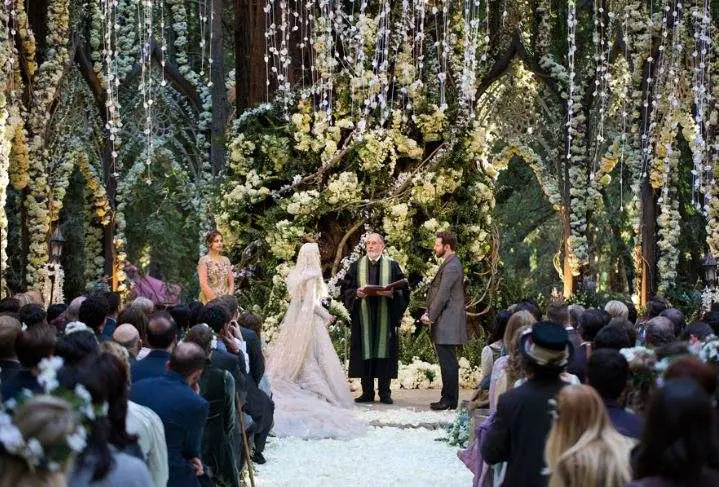 Wedding: Alexandra Lenas and Sean Parker  exchange the vows in a beautifully designed wedding ceremony in 2013 (Photo: weddingblissthailand.com)
Alexandra for her part looked every bit the Daenerys Targaryen, and her free-flowing blonde locks perfectly complemented her white embroidered gown.
Sean looked neat in a grey suit and resembled a knight in his perfectly styled long hair. 
300 friends and family attended the wedding ceremony, and each one of the invitees was provided with a fur coat to match with the one-off event.
And the wedding cake signified the enormity of the occasion as it was a beautiful multistoried cake, with floral designs placed all over it. 
Despite the couple having already had their fifth wedding anniversary the vividness of the ceremony remains. 
Alexandra Lenas Celebrates 10th Anniversary With Her Husband Sean Parker in 2018
On 2 June 2018 Lenas celebrated 10th Anniversary with her husband. She was dressed in a beautiful golden glittery gown while Sean was dressed up in a suit. She shared a beautiful picture on Instagram of the two kissing with perfect sunset lightning which magnifies this lovely moment even more. 
See more: Ruth Wilson Goes Explicit On Married & Dating Talks! Curious Personal Status Revealed
In the caption, she even sated 'Here's to forever' which indicates that the couple is happily in love together for decades.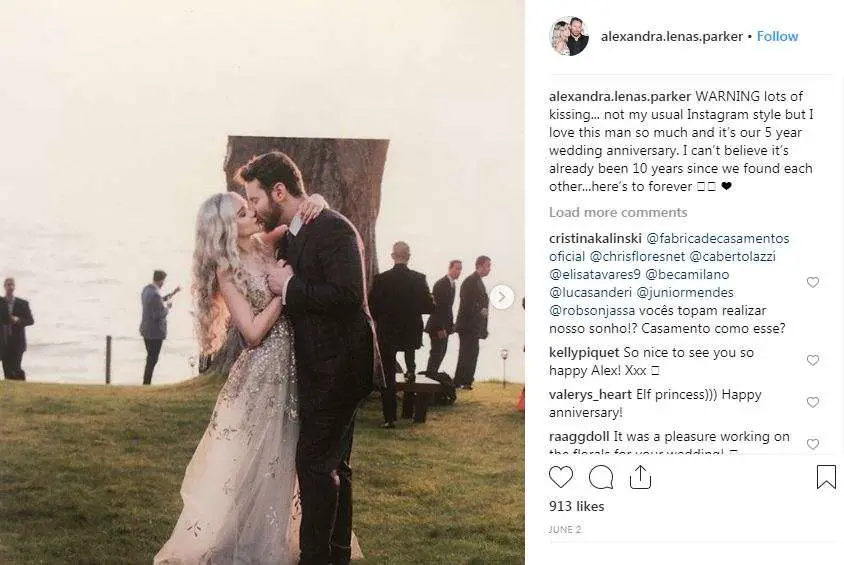 Romance With Husband: Alexandra Lenas celebrates the 10th anniversary of their wedding with husband Sean Parker (Published on 2 June 2018)
She has been also traveling with her husband and children to Bora Bora in August and at New Zealand in November of 2018. She traveled to Bora Bora together with her husband and children for her sister's engagement. She also shared a beautiful picture with her family.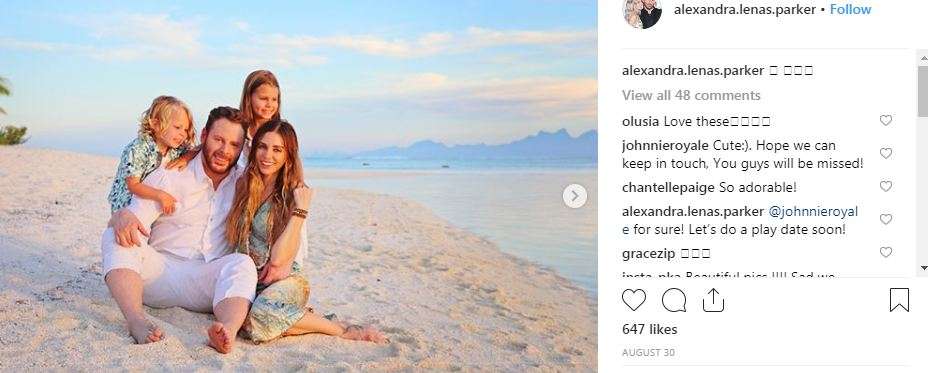 Family Trip: Alexandra Lenas shares a glimpse of her trip to Bora Bora with family (Photo: Alexandra Lena's Instagram| 30 August 2018)
It looks like Alexandra has found a perfect companion to travel with forever in her life!