Siesta Key's Juliette Porter On & Off With Boyfriend, Reunited Again? Details
The American teen is a star of the entertainment series Siesta Key...a reality TV show that follows a group of young people chronicling their lives...Juliette Porter's on-off relationship with her boyfriend...The 21 years old actress has a very good relationship with her parents, especially with her mom

Some people might think of Juliette Porter as a spoiled rich kid with a penchant for dramatics, but no one could deny that the said "dramatics" provided the audience with ample entertainment. Juliette Porter's on-off relationship with her boyfriend, Alex Kompothecras kept the audience on the edge of their seats, as it took one bumpy turn after another.
The American teenager is a star of the entertainment series Siesta Key, a reality TV show that follows a group of young people chronicling their lives, as they deal with their romantic relationships, friendships, and the shifting landscapes of both.
Siesta Key: Follow Juliette Porter in her relationship-journey with her friends and boyfriends (Published on 5 March 2018)
The love-square between Juliette and three of her fellow cast members, Alex Kompothecras, Kesley Owens and Garett Miller, and its ever-changing equations was the main feature of the Siesta Key.
The show's first season ended in March 2018 and the second season is expected to roll out in 2019 with the cast members busy filming for it. 
Juliette Porter Bio: Age, Parents, Height
The American actress was born on 7 July 1997 in Florida to a wealthy family and grew up sporting a lavish lifestyle. The 21 years old actress has an excellent relationship with her parents, especially with her mom, who she finds to be her greatest supporter.
Also Read: Jessica Parido Bio: From 'Trouble' Boyfriend To Cancer Battle & Dating Status Now
The young reality show star is a student at Florida State University. A little short of average height for American female, Juliette stands at 5 feet 5 inches.
Juliette Porter's Career: Siesta Key
An exciting thing about Juliette Porter's personal life is that it is basically also her professional life; the two are so intertwined together that one might not even exist without the other.
As part of the Siesta Key, Juliette is involved in over the top drama, which could be either the script of a juicy TV show or the real-life story of a rich and spoiled bunch of youngsters. The show's creators do claim that it is unscripted, but one can always argue.
Siesta Key Is A Fest Of Changing Relationships & Back-Biting
One key part of the said over the top drama is Juliette's relationship with the show's heartthrob Alex Kompothecras--and storm surrounding it; and believe it, there is a storm.
Juliette, Alex, and two other cast members Kesley and Garett are involved in an insanely complicated mess of a love-quadrangle, where the relationship status changes every episode. If one is involved with someone in one particular episode, they might be dumped or cheated, or the couple might break up without any apparent reasons--giving the show a genuine unpredictability.
Another Reality Star: Brooke Hogan Nearly Married Turning Boyfriend Into Husband; Why Didn't She?
What is even more curious is the shifting of loyalties amongst the friends because of the relationship tussles--oh, and the cat fights in twitter.
Juliette and  Alex's Current Relationship Status
During the second leg of the Siesta Key, Juliette and Alex got together, in spite of the reservations from Juliette's best friend, Hannah. Except for Juliette's tussle over Hannah, things remain quiet for a while (as long as they can in the Siesta Key).
During the season's finale, in the typical Siesta Key fashion, Alex and Juliette had a thundering row, leading many people to speculate that they will be breaking up.
In the very un-Siesta Key fashion, however, after the finale, after the camera stopped following their personal lives, the couple was able to patch things up between them and reconcile.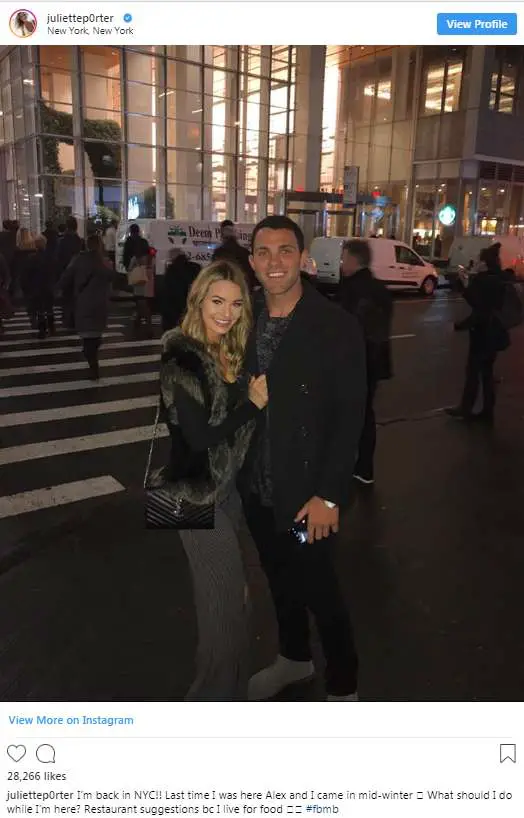 Touring With Boyfriend: Juliette Porter visits New York City with her current boyfriend Alex Kompothecras on 7 September 2018 (Photo: Juliette's Instagram)
It will be interesting to see where the hilly-road of Juliette relationship with her boyfriend goes from here. For now, the couple looks satisfied with where they stand.
Similar: Abby Miller On Large Family & Daughter Who Disappointed Dance Moms Star With Massive Net Worth
With the arriving new season of Siesta Key and the temporary calm in the Juliette-Alex chronicle (the calm before the storm, if one may say that), there will be a barrel full of entertainment ahead of us. No, doubt we'll be waiting eagerly.