Adam Demos and Partner Sarah Shahi's Chemistry on 'Sex/Life' Fueled Their Real-Life Relationship
Adam Demos found love in the sets of Netflix's steamy show.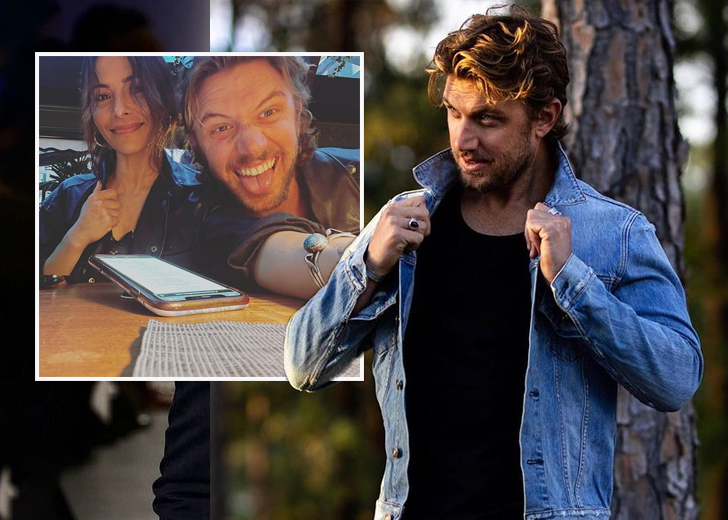 Netflix's Sex/Life showcased an extramarital affair between Adam Demos's character Brad Simon and Sarah Shahi's Billie Connelly. They carried the strong on-screen chemistry over to real life.
In the series, Billie bounces between being a responsible wife and a free-spirited woman when she meets her ex-boyfriend, Simon.
She can't help but go down memory lane, miss her old independent self, and fantasize about being intimate with her ex. The fantasy becomes true multiple times, shaking the very roots of her marriage.
While the plotline demanded Demos and Shahi's characters to have passionate chemistry in reel life, the romance budded behind the camera as well.
Adam Demos and Sarah Shahi Started Dating in 2020
Demos was the first among the lovebirds to be vocal about their relationship, or at least it seems so now. He first Instagrammed a picture with Shahi, which sparked romance rumors.
On September 22, 2020, he posted a picture with Shahi from the set, and his followers were quick to ship the duo. One of them wrote, "I'm so loving that they're dating in real life." Another added, "Your guys, so cute couple. I'm so happy."
Their budding romance became apparent in the posts that followed. And finally on January 10, 2021, the stunning actor went Instagram official with their relationship on his girlfriend's 41st birthday. Posting a photo with her, he wished, "Happy bday my baby. You're everything."
Shahi also poured her heart out on her partner's 36th birthday. She uploaded his pictures and referred to him as her soulmate in the caption. The Texas native then gushed how she had "never loved deeper, and harder." She added, 
I do know I'm overly grateful for him. I do know I've loved him for a thousand lifetimes before and will love him for a thousand lifetimes more. Happy birthday my baby.
Shahi raved about her relationship with Demos in an interview with People in June 2021 as well. She disclosed she was impressed with him the moment she set her eyes on him. 
How They Met
Demos and Shahi met in the makeup trailer and bonded over their common interest in music and alcoholic beverages. The mother-of-three recalled how she was blown away by his personality and his acting skills.
I will say, sitting across the other side of the camera with him was just a privilege.
Without a doubt, the duo is head over heels for one another. Their relationship progressed amid Shahi's divorce finalization with fellow actor ex-husband Steve Howey on January 29, 2021.
Shahi and Howey, who share three children — William and twins Violet and Knox — separated in April 2020 after 11 years of marriage. The Fairly Legal actress filed for divorce in May 2020, citing irreconcilable differences.
Victoria Justice and Demos to Star in New Netflix Rom-Com
Co-stars Victoria Justice and Demos are gearing up to star in the latest Netflix rom-com. The new show is a project from creators of shows like Falling Inn Love and Love, Guaranteed.
According to Elizabeth Hackett and Hilary Galanoy, the yet-untitled new show is about "a hard-driving LA wine-company exec that travels to an Australian sheep station, where she ends up working as a ranch hand and sparking with a rugged local."
The film will be shot in Queensland, Australia