Annabelle's Talitha Bateman Dating Status In 2018; Family & Siblings Detail
For Talitha Bateman, acting came quickly, as she had a long list of siblings she could look up to pursue a career. However, despite seeing her siblings drifting away from Hollywood, she has been carrying the family torch and its shining as bright as ever. Talitha Bateman came to prominence after appearing in an episode of The Middle.

For Talitha Bateman, acting came quickly, as she had a long list of siblings she could look up to pursue a career. Despite seeing her siblings drifting away from Hollywood, she carried the family torch and its shining as bright as ever. 
Talitha Bateman, age 16, came to prominence after appearing in an episode of The Middle. After the series, she has been a part of numerous big projects and shared screen spaces with the biggest names in Hollywood including Kevin Spacey, Chloë Grace Moretz, and Steven Speilberg.
Another actor from The Middle: What Is Atticus Shaffer Net Worth Now? Also Family Details, Parents, Height & More
Her most significant release till date has been Annabelle: Creation, where she played the titular role.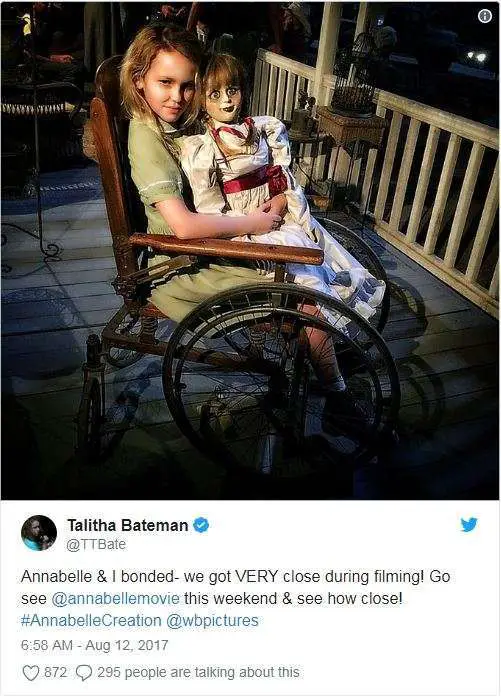 Talitha Bateman as Annabelle: Creation with the doll Annabelle in 2017 (Photo: Talitha Bateman's Twitter)
Talitha's career started after she became a part of an episode of The Middle; The Kiss in 2013. After that, her career took off and appeared in Pilot episodes of Maker Shack Agency, Furst Born, and Mamma Dallas. Furthermore, her work in series Hart Of Dixie was widely praised. 
Her big screen journey was also running in parallel after making her debut in 2011 through The Hive. However, her crowning moment came in 2015 when she was cast as the lead of American drama So B. It. The same year she shared screen spaces with Kevin Spacey in comedy flick Nine Lives and Chloe Grace Moretz in The 5th Wave. 
Her acting skills in So B. It was highly appreciated which led her to Annabelle: Creation the fourth installment of The Conjuring franchise with a global fanbase. She did not disappoint the spectators with her portrayal of Janice. What's more, she was nominated for the MTV's Most Frightened Performance in the Movie and TV Awards 2018. 
Not only was Annabelle: Creation a massive success with the critics, it was also one of the highest profit making movie of the year 2017. Built on a modest budget of $15 million, the film grossed more than $350 million worldwide. The success of the movie not only established Talitha as one of the most exciting up and coming actress today it also boosted her net worth by millions.
As of 2018, she starred in the famous LGBTQ themed movie Love Simon as Nora Spier. The young Bateman is not only an on-screen actress but also a voice actress and dubbed her voice as Violet in the animated movie The Boxcar Children: Surprise Island.
The Turlock native despite being in front of the camera is an introvert on the inside and generally prefers to stay away from the limelight. That could be the reason her dating life has not surfaced into the media. Another reason could be the lack of the perfect boyfriend. The teenage actress lists the young Leonardo DiCaprio as her celebrity crush. Since there can be no match for the one and only Di Caprio, we might have to wait a bit longer to hear about her boyfriend.  
You might be interested: Charlie McDermott Married Or Casually Dating? He Just Can't Be Single
Born on 4 September 2001 to a movie-mad family, Talitha was into movies from a young age. And the most critical factor for her move was her siblings, who had a brief flirtation with the industry. 
Talitha's elder brother Noah Bateman had a brief fiddle with Hollywood and appeared in a movie George Biddle, CPA. Her sister Leah Bateman is an established name in small screen who appeared opposite David Devaunchy in the NBC series Aquarius. She also has KC Undercover, Shake It Up, Ray Donovan, CSI, Rizzoli and Isles among other silver screen credits. 
Her younger brother Gabriel Bateman is also an up and coming actor in his own right and has numerous movie and series credit to his name.
What is Talitha Bateman's Net Worth in 2018?
Having established her career as an actress in the land of Hollywood, Bateman has been successful to earn for herself at a very young age.  She has been a part of big and high grossing movies since 2015 and up to 2018, she has done nine movies.
As a child actress in many blockbuster movies, it is of no surprise that she earns well enough and maybe possess a net worth of five figures. But with a talent so full and bright future ahead as an actress, her net worth will soon turn into six figures few years ahead!
See more: Reginae Carter Blessed Bio! Nasty Huge Net Worth & Loving Boyfriend & Still Young
Being an influencer to a young generation, she could have also earned more from brand endorsements and sponsorship from her social media account especially Instagram. But sadly her Instagram account is on private with 93.7k followers and we are abandoned from her personal life updates as well.
Let's hope she will keep her account on the public next time so we can delve into her personal life!
Follows Family's Lead: Soaring High In Her Career
The Bateman clan had their family band Wee Urchins, which performed in various fetes and events around the Turlock area. That was where Talitha got her first taste of acting.
The band served up to whet her appetite, and her thirst has never been quenched. She has been hitting the right notes and picking up the right movies in her short career which has helped her amass a cult following.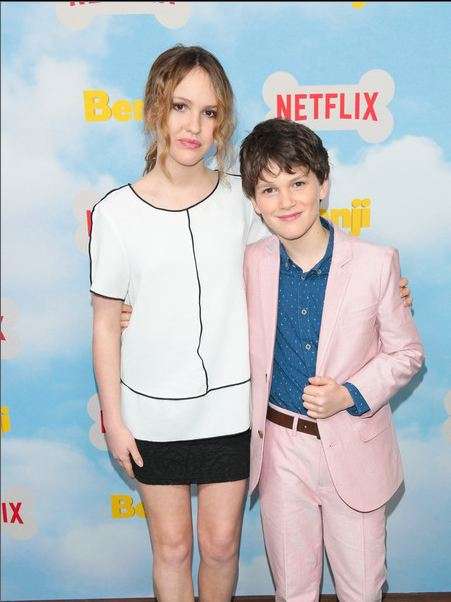 Talitha Bateman attends the premiere of Benji in March 2018 with brother Gabriel Bateman (Photo: zimbio.com)
Her older siblings have drifted from Hollywood and decided to join the college and pursue other interest. However, Talitha along with her younger brother Gabriel has taken up the mantle and have been flying up the flags for the Bateman family.