Nick Lachey's Wife Helped Him Pick His Songs on the Way to Win 'The Masked Singer' Season 5
Singer Nick Lachey credits his wife, Vanessa Lachey, for helping him win 'The Masked Singer.'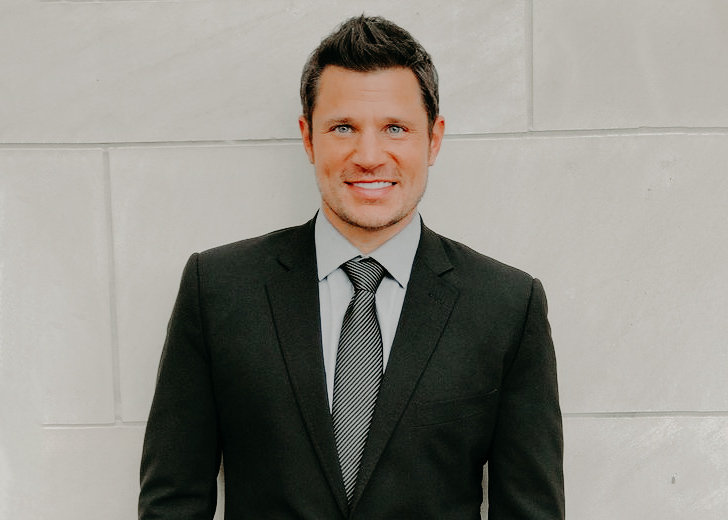 SPOILER WARNING: Plot and ending details for The Masked Singer, Season 5.
Lead singer of the multi-platinum-selling boy band 98 Degrees, Nick Lachey, recently received a massive feat. 
On May 26, The Masked Singer (TMS) aired its season finale revealing that 'Piglet' Nick won, leaving 'Black Swan' JoJo, and 'Chameleon' Wiz Khalifa in second and third position, respectively. 
Following his win, the singer sat down with US Weekly and shared his experience on TMS and how his wife helped him win the show. 
Nick On His Family and 'TMS' 
Beloved reality TV show TMS features different celebrities who wear costumes and facemasks to hide their identity. While concealing themself behind extravagant outfits, they sing covers of various songs. Nobody knows the identity of the singers other than the singer themselves. 
However, such was not the case for Nick. He confessed that his three kids, Camden, Brooklyn, and Phoenix, knew that 'the piglet' was their dad on the first episode itself. Nick was excited that his children recognized him right away, but the surprise element that TMS held was gone too soon. 
Nick had a lot of support from his wife, Vanessa Lachey, during his time on the show.
He confessed Vanessa would help him choose which songs to sing and credited her for being a bigger music lover than the singer himself. 
He explained their process of choosing the song. After they put their children to bed, the duo would sit on the back porch with a glass of wine and listen to songs.
They would select wide varieties of songs from different genres that would excite the audience and panel every time 'Piglet' went on stage. 
Their motive was to try things that differed from what was done on the show previously. Nick sang an array of songs, from the opera interlude for 'Superstition' to country songs and even Foo Fighters' songs. 
We kept it interesting for the viewers, but also interesting for me as an artist. That was the goal!
The couples method worked since Nick ended up winning the audience's and panelist's hearts as well as the show itself.
TV personality Jenny McCarthy, singer Robin Thicke, Actor Ken Jeong, and artist Nicole served as panelists.
Niecy Nash hosted the first five episodes, while Nick Cannon hosted the remaining episodes of the show. 
Season 5 of TMS aired from March 10 to May 26, and it has already been renewed for Season 6. The upcoming season will air in the fall of this year on Fox.
Timeline of The Lachey Couple
Before Nick met Vanessa, he was married to Jessica Simpson. They started dating in 1999 and got married in October 2002. However, because of irreconcilable differences, Simpson filed for divorce in December 2005, which eventually completed in June 2006.
On April 2006, Vanessa starred in Nick's music video 'What's Left of Me.' The song was about Nick and Simpson's relationship, and ironically, Vanessa played the girl who broke his heart. Although, the situation was not as such off-camera. 
Vanessa had a massive crush on the singer and regarded the music video as the beginning of their relationship. Fast forward to the summer of 2006, and the couple started dating.
They made their relationship public on January 1, 2007, by sharing a kiss on-camera during MTV's New Year's Eve special at midnight. 
The pair briefly separated from June to October 2009. As if the brief break made the couple's relationship even more robust, Nick proposed to Vannessa in November 2010. 
They tied the knot in July 2011, on a private island in the Caribbean. While the ceremony was private and intimate, after nearly a month of the ceremony, the duo showcased their wedding on TLC with the feature-length special titled Nick and Vanessa's Dream Wedding.
The pair have been together ever since. They have a small family with three children.
They welcomed their eldest son, Camden John Lachey, in September 2012. Their second child and only daughter, Brooklyn Elisabeth Lachey, was born at the beginning of 2015. On Christman eve, 2016, the couple welcomed their second son Phoenix Robert Lachey.